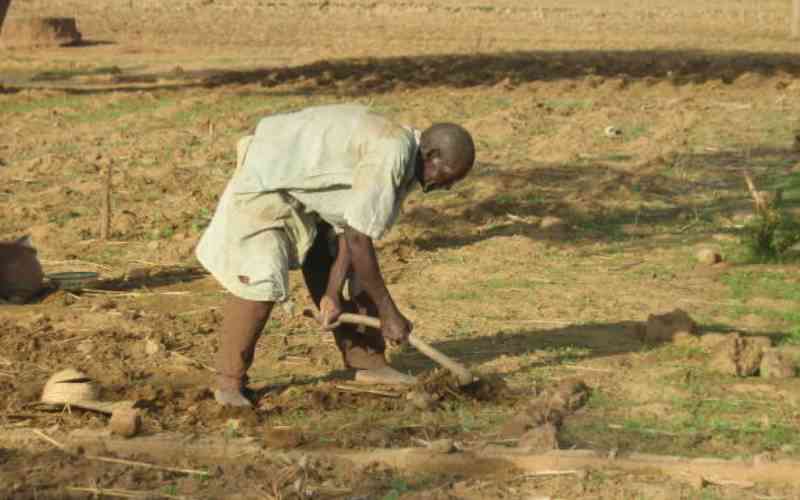 Climate change is a global phenomenon with far-reaching impacts. For arid and semi-arid communities in Kenya who are dependent on natural resources, including rainfall, for their livelihood, the adverse effects of climate change are hurting them greatly.
Available data show that Agriculture contributes 26 per cent to Kenya's Gross Domestic Product (GDP) In Arid and Semi-Arid Lands with livestock as the main contributor. About 90 per cent of family income and employment in these areas comes from livestock, but the sector faces multiple challenges. The land is often overgrazed and overstocked, human population growth causes competition for land use between agriculture activities and livestock (settlements), soil fertility is declining, and climate change - including prolonged droughts and flooding - pose threats to both the vulnerable population and the herds.
Exacerbating the effects of climate change is the lack of coordinated efforts by the government, private sector and those owning large tracts of land in form of conservancies and ranches. The lack of an enabling policy framework and environment adds to the puzzle of how agro-pastoralist communities can have better livelihoods. The inadequate supply of certified forage seeds and vegetative planting materials, not to mention the low uptake of commercial forage production also leaves few options for improved livelihoods.
In efforts to enhance the adoption of improved fodder varieties, including high biomass, high protein content and nutritive grasses and legumes, as well as sustainable landscape and grazing management practices; SNV Netherlands Development Organisation(SNV) in partnership with the Kenya Agricultural and Livestock Research Organisation (KALRO) are implementing the Integrated & Climate Smart Innovations for Agro-Pastoralist Economies and Landscapes in Kenya's Arid and Semi-Arid Land (ICSIAPL) Project.
The project which is active in three ASAL Counties of Narok, Kajiado and Taita Taveta seeks to enhance the livelihoods of communities through improved forage production and livestock husbandry, building on market-driven climate-smart innovations and sustainable landscape management. It is Funded by the European Union (EU) and The Ministry of Foreign Affairs of the Netherlands (DGIS) and has been active since January 2021.
In a learning event preceded by field visits held recently, the project engaged donors, National and County Governments, the private sector, conservancies as well as farmers from participating counties in interactive discussions on their experiences and needs in efforts to accelerate their adoption of climate change.
"ICSIAPL focuses on ways to improve resilience for agro-pastoral communities, including commercialisation and resilience. SNV has a long-standing experience in working in the ASAL areas, especially the Northern frontier and we are happy to now be in the Southern Rangelands" Said Jean Kootstra, Country Director, SNV. He went on to explain that SNV currently has 13 projects across the 47 Counties in Kenya that are focusing in changing the lives of millions of Kenyans by helping them access basic needs and work their war out of poverty. " I am really hoping that all participants here today can network and learn from each other." Concluded Jeen in his address.
The project is using Peer-to-peer learning through demonstration plots and farmer field schools to achieve its targets. It is also building on existing social structures, such as cooperatives and farmer groups, as well as making training needs-based, organised by KALRO on fodder production and livestock feeding innovations. Farmers get a chance to see for themselves how different fodder varieties adapt to or fail to adapt in the different agro-ecological zones across the three Counties and only upscale what works best.
Kenya is currently in its second year of drought without any guarantee that there will be rain in the near future. According to KARLO, good seeds being bred at its Seed Unit as well as by other private seed companies like Adavanta Seeds under the project will increase the chances of harvesting sufficient feed for livestock.
"Communities have the opportunity to commercialism these seeds. But good robust strategies will be key in ensuring communities can be resilient through the ongoing drought. It is also important that these strategies are sustainable". Said Dr Evans Ilatsia, Director, KALRO
The Head of Rural Development, Agriculture and Food Security, Delegation of the European Union, Ms. Myra Bernadi praised the project indicating and positioning it as key to the future of the pastoralist communities and Kenyan at large
"We must think about how we conserve our biodiversity and this will require forward-thinking, new technologies, research and more importantly deploying this research to communities so that they can utilise it. Integrating women and youth in value chain activities are also very important and this project is doing that well". Bernadi said.
On his part, H.E. Amb. Maarten Brouwer of the Embassy of the Kingdom of the Netherlands in Kenya termed the project as one that will change culturally embedded practices for the betterment of society.
"This project is ambitious in every way and especially because it seeks to change practices that are culturally embedded within the communities in which we work. But these changes are necessary in order for communities to build resilience to the harmful effects of climate change."
Pastoralism, herding of a large number of animals as a means of livelihood, is one of the oldest viable and potentially sustainable systems if properly managed. However, without proper grazing management plans, this soon fails and becomes cause for desperate times for pastoral communities.
However, market-led fodder production and livestock feeding innovations are needed to scale productivity and expand the opportunities within the sector. And SNV supports this through an Innovations Fund which was awarded to various ranches, conservancies and two youth groups across the three Counties. The fund requires that the applicants provide 50 per cent contribution of the total amount requested accompanied by a business plan that makes a case for innovation and improving the forage value chain.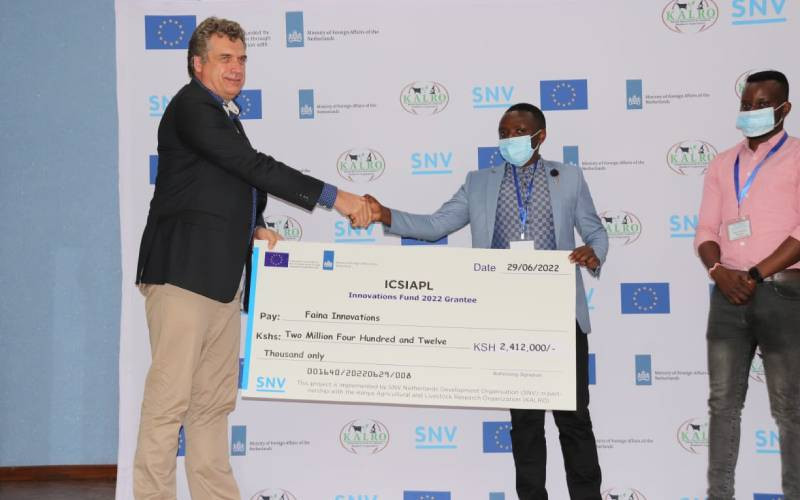 Gerishon Mngerezah, a youth from Taita Taveta County was granted 800,000 Kenyan shillings to support his venture to grow improved fodder varieties, specifically desmodium, panicum siambasa, sweet potato vines, forage maize and improved napier grass on 10 acres of land accompanying it with good agricultural practices and scaled mechanisation.
In Kajiado County, Faina Solutions Limited was granted 2.4 million Kenya Shillings to set up demo plots for certified fodder tree seeds, including Caliandra, Sesbania and Leucarena. Faina Solutions is certified by Kephis as a forage seed producer, confirming the efforts mentioned by Mr Simon of Kephis on engaging private firms to boost seed production.
These two were just among the several other ranches and conservancies that bagged the over 27million Kenyan shillings grant fund invested in strengthening the forage value chain. "We do recognise that this is just half of the total amount that will be invested, and we appreciate the interest shown by different stakeholders towards commercialisation," said Julius Rono, ICSIAPL project manager.
A second phase of the Innovation fund will be rolled out later in the year with a focus on women to increase their participation within the forage value chain.
At the end of the three days of engagements, Mr Julius Rono affirmed the comments of the Directors of Livestock from the three Counties that the project will continue to collaborate and increase the capacity of county governments to develop local strategies/frameworks for drought-resilient sector development compliant with national policies.
This article was written by Bibiana Wanalwenge and Julius Rono.