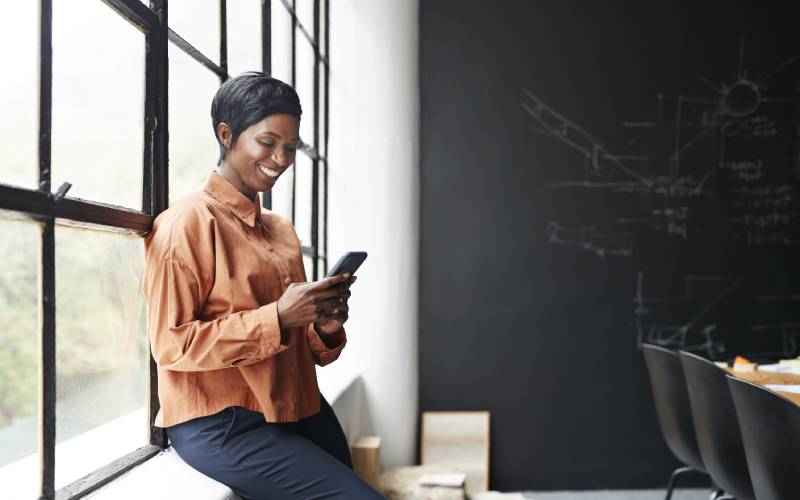 The Digital banking landscape keeps evolving with increased consumer demand for more convenient and efficient ways of accessing banking services and managing their finances anywhere anytime outside of bank branches.
We have witnessed, as a result of the current pandemic, virtual banking services taking a pivotal position in the banking space. A survey by the Kenya Bankers Association released in February 2022 indicated that "six out of every 10 bank customers preferred Mobile Banking, with another two out of 10 recording their preference for Internet/Online Banking."
For the banking sector, this has created a need for increased investment in technologies that enhance productivity and increase operational efficiency in order to offer reliable and more secure digital banking solutions to customers.
Equity has been at the forefront of innovation to ensure that it provides customers with tailored solutions that simplify lifestyles and meet their needs. In line with the Bank's innovation strategy, the Bank has introduced a new single sign-on digital banking platform that enables customers to access digital banking services via the platform as an App, Web or USSD service. These platforms offer the Bank's customers a seamless experience - simplified customer journeys and enhanced security.
Customers who wish to access services through the App can download the new Equity Mobile App on Play Store: http://bit.ly/EquitymobileAndroid or App Store: http://bit.ly/EquityMobileIOS. The App, which is highly scalable, versatile, and efficient now provides Financial, Saving and Borrowing services. Those that wish to access services via the web can sign up on the Bank's online banking platform Equity Online: https://equityonline.equitygroupholdings.com/en/access/login, previously known as EazzyNet.
The Bank has also introduced Equity Virtual Assistant (EVA), the Bank's chat banking platform that takes financial services to the next level by presenting banking transactions as virtual conversations on social media platforms including WhatsApp, Facebook Messenger and Telegram. The platform can be accessed via:
Equity's newly updated USSD service (*247#) accessible by dialling *247# on any mobile network also offers customers a unified service offering across mobile networks and an enhanced customer experience with simpler customer journeys. Customers in Kenya can now easily access the USSD service on Safaricom, Airtel, Telkom and Equitel. Some of the new features on the platform include:
Access to instant loans that range between Sh100 and Sh3 million
Loans that can be repaid for up to 12 months
Self-registration or onboarding of both existing Equity and non-Equity customers on the service
Ability to save or maintain recipient's bank details which makes it easy and convenient to do repeat transactions.
The *247# USSD service also enables customers with any mobile device, to access bank services regardless of the device's make - feature phones (Kabambe) or smartphones.
Customers can conveniently send money, transfer funds, borrow loans, and print statements among many other services on these platforms at the comfort of their mobile phones, laptops, desktops etc at home, office or anywhere else.
For instance, to get an instant loan through *247# from Equity, a customer simply dials *247# from any mobile network and follows the simple steps; Borrow > Get Loan > Loan, then follow the instructions. The service also allows customers to check their loan limit, loan status or loan balances as well as make partial or full repayments for their loans. To apply for a loan of any amount using the *247# code, one does not need to fill out any physical forms or present guarantors or collaterals.
Customers can self-onboard the service by first, simply dialling *247#, then selecting their preferred language (English or Kiswahili), linking existing Equity Bank account, entering their Equity account number, their ID number, accepting terms and conditions and setting up their PIN.
As the banking sector transforms due to technology advances, Equity has leveraged this to offer customers digital solutions that are tailored to conveniently meet their needs. This has progressively led to consumers preferring to carry out most of their transactions digitally as opposed to going to the branches. The Bank's transactions on mobile, internet and third-party channels rose to 97.1%, in the first quarter of 2022, as compared to only 2.9% of transactions happening in physical branches and ATM outlets over the same period last year.
The increased adoption of out-of-branch transactions while offering convenience has also come with its fair share of challenges. Fraudsters have also evolved and are now using advanced technologies and social engineering techniques to defraud targeted institutions and customers.
Some of the common fraud schemes affecting customers include account takeovers, where a fraudster successfully gains access to a customer's bank account and performs fraudulent transfers. This could be through the unauthorized access of personal information that allows the fraudsters unauthorized access to customer accounts.
To ensure that they are not victims of fraud on digital banking platforms, customers are advised to never share personal information such as username, password, PIN and OTP with anyone including merchants, relatives and friends. Sensitive information such as passwords or account numbers should also not be stored on their mobile phones as they have a high likelihood of being stolen or lost. Additionally, customers are encouraged to make immediate reports to their mobile phone service providers whenever their mobile phone losses connectivity or reports a SIM card issue to avoid being a victim of SIMSwap fraud.
Those using mobile banking apps should ensure that they sign out of their mobile banking App when done using it as opposed to just closing the app. This protects them from unauthorized transactions on their bank account in the event that the device lands in the hands of someone else.
Other safety measures include regularly updating mobile banking applications, and ensuring that customers only download banking applications from approved sources (Play Store or App Store). When using internet banking platforms, only submit online account login information to websites using encryption which is indicated by "https://" (the "s" is for secure).
For additional protection, create difficult passwords by use of a combination of letters, numbers and symbols whenever possible. These should not be personal details that may be easy to guess like date of birth, city or town of residence or birth, or names of family members.
Equity customers are encouraged to contact the Bank whenever they feel that they may be targets of fraud. One can reach out via the Bank's verified social media channels on Facebook and Twitter: @KeEquityBank and also call 0763 000 000 with details of their fraud complaints. Customers are also encouraged to forward suspicious SMS messages and numbers to 333. Equity advises that it will only call customers from 0763 000 000, and to ignore anyone who calls from another number pretending to be from Equity. Always remember, your PIN is your secret and Equity staff will never call to ask for your PIN.