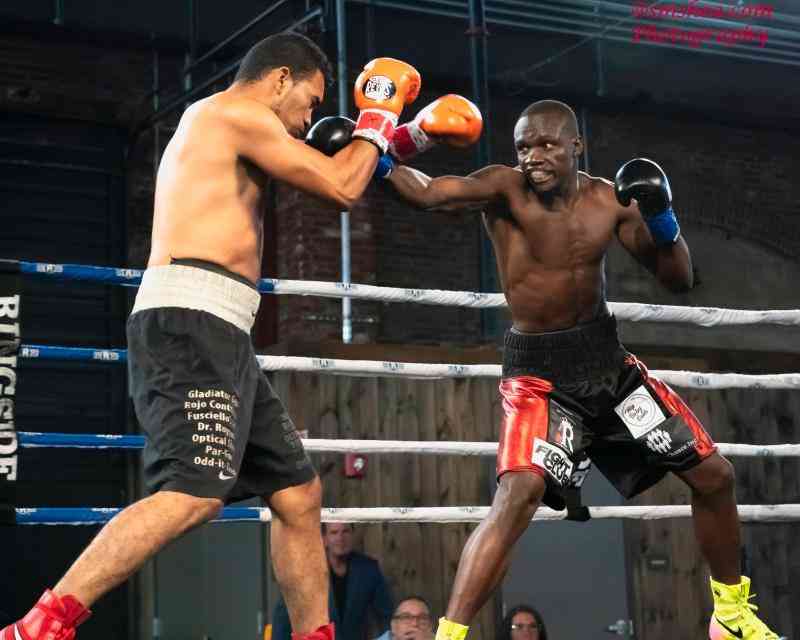 Former Africa Boxing Union super middleweight champion Rayton Okwiri has lost his first professional bout since he joined the paid ranks in 2017.
Okwiri lost to Emmany Kalombo of Democratic Republic of Congo in the International Boxing Federation (IBF) super-middleweight title fight hosted in Johannesburg, South Africa on Thursday night.
Kalombo defeated Okwiri via Technical Knockout in round 8.
Before the match, Kalombo had said "I have known Okwiri as an amateur boxer for a long time and I'm gonna chop him down and stop him from taking the title."
On his part, Okwiri retorted "I have done it (beating my opponents) before and it'll not be any different this time round. This is a big fight for me and the title must come back home as I'm serious to win it."
The loss has affected Okwiri's march to a world title after the ABU-super-middleweight title was snatched away from him by World Boxing Council for featuring in the 2020 Africa Olympic Qualifiers in Dakar, Senegal in February 2020 against their rules.
He was hoping to win to increase his chances of being accorded a chance by ABU to go for a world title by any of the prestigious global professional boxing bodies.
With that victory, Kalombo increased his wins to 16 (with 15 knockouts) and a loss as Okwiri remained at eight wins (with six knockouts), a loss and a draw.
The fight that was sanctioned by Boxing South Africa and IBF in consultation with the Kenya Professional Boxing Commission saw Okwiri injure his right finger in the seventh round and could not proceed on with the 12-round-fight.
He was accompanied to South Africa by his coach and team manager David Kiilu.