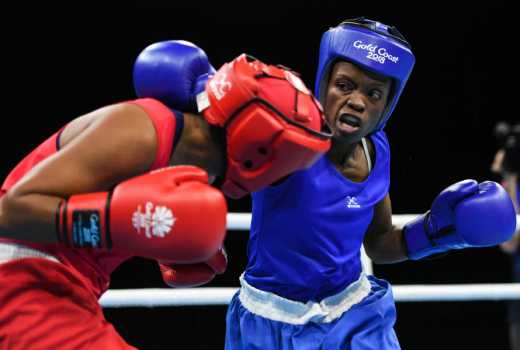 Former world 400m hurdles champion Nicholas Bett and Jonathan Kitilit will lead men's onslaught in the battle for the first gold medal for Kenya at the Commonwealth Games in Carrara Stadium today.
Bett will team up with his elder brother Aron Koech, the Africa bronze medallist, in the one lap barriers race.
Bett won heat three in 49.24 seconds ahead of Jeffrey Gibson (49.75) of Bahamas while Koech (49.28) finished second behind England's Jack Green (49.24). William Mbevi (50.92) quit the championship after finishing sixth in heat one.
Wycliffe Kinyamal and Jonathan Kitilit will chase men's 800m jewels today against Botwana's defending champion Nijel Amos.
On Tuesday, Kinyamal won heat one in 1:45.56 ahead of Kyle Langford of England, who posted 1:46.61.
Amos, who stunned two-time Olympic champion David Rudisha two years ago at Hampden Stadium in Glasgow beat homeboy Luke Mathews (1:46.53) and Cornelius Tuwei, who bowed out of the championship in 1:47.10.
Kitilit won heat three in 1:45.12 ahead of Scotland's Jake Wightman (1:47.43).
Stephen Gram of Great Britain basks in the championship record of 1:43.22 set in Edinburgh in 1986.
Joshua Chelang'a, one of the coaches, said the track charges are ready to stop any aggression.
"These men have prepared well. I see no problem. Let us not talk or try to look at athletes from other nations (referring to Nijel Amos). We must prepare and run our race," said Chelang'a.
Meanwhile, Christine Ongare won her 51kg quarter-final bout yesterday at the Oxenford Studio.
Ongare knocked out Sri Lanka's Dulani Jayasinghe to be assured of a bronze medal after reaching the semi-finals.
Ongare said: "I will use the medal to encourage young girls to take up boxing."
Patrick Maina, the boxing coach, admitted that they finally have something to celebrate about after six days of searching.
"To say we are happy is understatement. This girl has put us back in the limelight although we still have a lot to do," he said.
"She is in a good position to even win gold. She will inspire other young girls," Maina said.