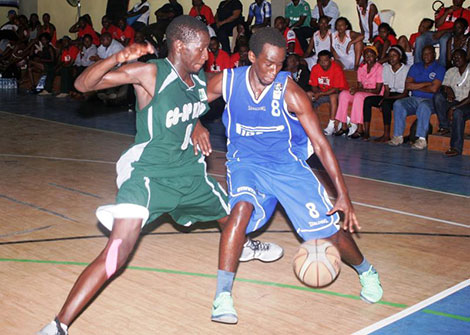 Elvis Hakizimana right) of Urunani from Burundi dribbles the ball against Allan Ouma (left) of Co-operative Bank from Kenya in a men's basketball match during the on going FIBA Africa Zone Five Club championship at the KPA Makande Gymnasium, Wendesday August 27, 2014. Hosts Co-op bank lost 54-62. [Photo by Gideon Maundu/STANDARD].
Defending champions Co-op Bank suffered a shock 67-59 loss against Kenya Airports Authority (KAA) in the Kenya Basketball Federation men's Premier League quarter-final play-offs staged on Sunday at Nyayo Stadium.
Evans Ochieng sunk 14 points as his team mate Billy Ongute added 18 to destroy the reigning champions. Allan Ouma buoyed the bankers with 14 points.
KAA were on the go, winning 16-8 in the first quarter. They took the game to the next level in the second quarter, which they dominated to finish 21-14. However, Co-op Bank reorganised their defence and challenged KAA dominance to claim a 20-10 win for the third quarter. However, that was not enough to turn the tide to their favour as KAA went on to win the fourth quarter 20-17.
However, Co-op Bank succeeded to shine in the women's Premier League play-offs by beating Strathmore University 41-30 .
It was a low-key start for both sides as the losers led 9-6 but failed to get anything in the second quarter, which the bankers dominated 13-0. The bankers went ahead to record 12-10 and 10-11 performance in the remaining two quarters with Celine Okumu netting 11 points for the winners as Molleta Achieng led the students win 14 points.
Unlucky Strathmore failed to contain the United States International University (USIU) Tigers, who won the men's play-off 59-35 after taking a 29-15 half time lead. Cameroon import Abel Nson led with 13 points for the Tigers. He had great help from Kevin Kigotho, who added eight more. Hugh Ayara had 12 for Strathmore.
Regional champions Eagle Wings failed to soar high against the mighty Storms, who gained a slim 39-34 victory. Storm's Angela Luchivya scored 12 points with Silalei Shani also netting 12 for Eagle Wings.
Kenya College of Accountancy University stunned World Hope 62-45. Erick Kanyera and Samuel Siocha scored 13 points apiece for the losers while Lawrence Wandera and Brian Ondari had 18 and 14 for the winners.