By John Lawrence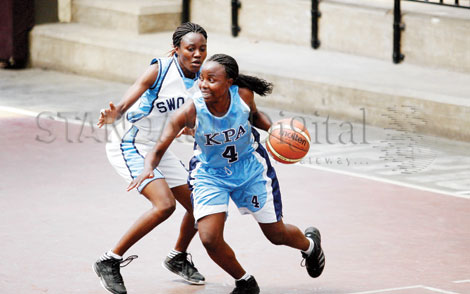 KPA basketball player Lucy Ohaga (4) battles for the ball with Strathmore's Rachel Opinya.
"What happens to a dream deferred? Does it dry up like a raisin in the sun or fester like a sore and then run? Does it stink like rotten meat or crust and sugar over, like a syrupy sweet?"
These words, from the poem A Dream Deferred by celebrated American poet and social activist Langston Hughes, sums up the pain of every city kid who dreamt of growing up into Michael Jordan.
That Kenya is a goldmine of massive basketball talents is no news. But inexplicably, the players' desire to scale the ladder of excellence and shine beyond Kenya's borders like their peers in football, rugby and athletics remains a dream deferred — a pipe dream.
When did the downslide begin?
Read More
Former international Evelyne Kedogo, now Eagle Wings assistant coach, told The Nairobian that basketball was at one point such a premium game that she got a job straight from Tigoi High School in 1992.
"I was absorbed by Railways Basketball Club and given a job due to my talent in basketball. In 1989, for instance, a record seven players from Tigoi Girls were absorbed by Kenya Ports Authority and given permanent jobs which they still hold to this day even after retiring from the sport," narrates Kedogo.
In a sharp contrast, a number of parastatals have withdrawn financial sponsorships while corporate firms now shy away from the sport.
According to Kenya basketball Federation Secretary General Vitalis Gode, it has become almost impossible to effectively run basketball in the country without a regular source of income.
"We are not short of basketball talent or technical knowledge of the sport. It is just KBF has concentrated on the game at the expense of the game's commercial value. We have the players, the officials and the coaches but there's no one to market the sport or give it a commercial value," Gode told The Nairobian.
But according to Kedogo, the federation must change tack because the people who run basketball are killing the sport because of poor management and making it difficult to attract sponsors.
A number of current players who spoke to The Nairobian on condition of anonymity narrated how they have suffered at the hands of KBF.
"Last month when we travelled to Maputo, some of us were left behind because 'there was no money'. But to make matters worse, we haven't been paid any allowances to date," a disgruntled player told The Nairobian.
While confirming that players' allowances have not been paid, Gode said, "In Dar, the government paid all the player allowances but the Maputo trip faced a few logistical hitches at the last minute.
"We are still following up the matter with the government. Initially, we had set aside Sh180,000 for player allowances but for some unknown reasons, someone at the technical bench deliberately increased the Maputo delegation from 15 to 16 persons, forcing us to spend an extra Sh106,000."
Angela Luchivya, currently team manager cum player with ladies basketball team STORMS was banned from representing the national team in 2011 after a debacle in Rwanda where she was accused of leading players to protest against lack of uniforms (officials ferried dirty uniforms to Rwanda) and unpaid allowances.
She says, "Donning the national team colours is no longer a source of a pride. Players go through so much pain but the worst thing is that nobody cares."
She says Kenya's goals are too low and the national team is not given the seriousness it deserves.
"There's no need of taking a national team to Maputo just for the sake of participation. We should instead prepare a team that will play to win to improve the standards of the game.
"You can work so hard through thick and thin to win the league but so what? The federation has this 'I don't care attitude'. How do you explain a situation where a club is given three consecutive walkovers?
"There was more commitment from players back then unlike today where the players don't go out of their way to build endurance levels in the gym. Inconsistency in match officiating is also killing the game and is so bad that it forces players to change their style of play depending on the match referee," says Luchivya.
So bad is the situation that the Universities league and high school basketball is bigger, in terms of following and the number of players involved, than the club and National teams' basketball.
"Elected officials charged with running basketball in Kenya have left the fixtures secretary Joseph Amoko to run Basketball affairs countrywide. They only show up at the end of the season during play offs," a player who did not wish to be named complained.
And indeed a look at KBF office holders show that teachers basically run basketball, with five out of eight Federation officials being men of chalk based upcountry yet money and sponsorship, which the federation badly needs, lie in Nairobi.
Not surprisingly, KBF has no youth structures and lacks the capacity to keep track of players who fly out after high school upon being lured by lucrative scholarship deals overseas.
Such players would boost the national team due to superior level of the game foreign countries, especially the US.
More curious is that KBF officials who are teachers, have found their way into the Kenya Secondary Schools Sports association (KSSSA) executive committee, a situation that could breed conflict of interest.
"They do not help the game at club level; all they do is use their influence to support their respective schools," complains our source.
But Gode dismisses the 'tyranny of teachers' as a non-issue since all positions are elective.
"We had an election presided over by IEBC which was given a clean bill of health by all stake holders including the solicitor general. We met all the rules and regulations and all parties were involved," says Gode.