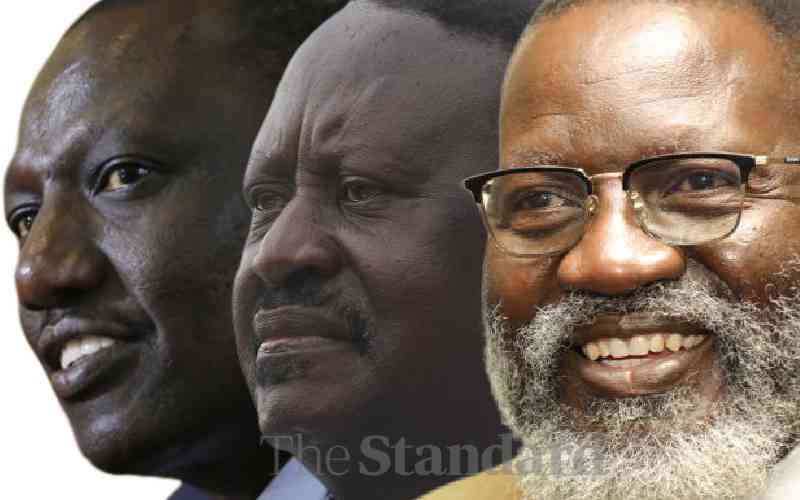 Prof George Wajackoyah and his weed manifesto are the sensation of the moment. The Roots Party presidential candidate has taken a slew of Kenya's youthful population by storms with his spirited call for the legalisation of marijuana.
His two-page manifesto is crisp and concise. He will create 10 states, each with a regional government and freedom to make its own laws. Idle foreigners will be deported. The capital city and administrative nerve centre of public administration will be Isiolo. Kenya's working week shall be four days. And every two weeks, every Kenyan will be paid a living allowance.
The Roots Party manifesto further says that the Wajackoyah government will shut down President Uhuru Kenyatta's pet project of SGR and bring down everything with any symbolism of "Chinese colonialism" in Kenya. They will build their own railway, with their own money. Moreover, there will be public hangings of all who have engaged in corruption, and of future corrupt persons. Condemned people will choose how to die – by hanging, lethal injection, or firing squad.
Do manifestos count?
But, the real big stuff in the Wajackoyah manifesto gravitates around dog meat, snakes and cannabis (bhang). Kenya will rear dogs and export dog meat – presumably to China and other dog eating countries. She will also breed snakes and grow excessively wealthy from international trade in snake venom. The mother of all investment is, however, remains the proposed legalizing of marijuana and selling it in millions of tons, on global markets, to return trillions of dollars.
Wajackoyah does not see the need to go into lengthy rambling testimonies and promissory avowals. His communication philosophy seems to be, "More is less, and less is more." His manifesto is laconic to a fault. The point is made, multum in parvo. If manifestos counted in Kenya and elsewhere in Africa, this would be one manifesto worthy of serious reflection, debate and perhaps even consideration.
Yet, manifestos are just that in Kenya's politics – mechanical electoral exercises that don't live beyond the launch. It is not as if both the owners and the voters care much for manifestos. Yet, if you did not launch one, the electorate would not take you seriously at all. You must therefore go through the motions.
Three parties, so far, have launched their campaign promissory notes – Azimio la Umoja-One Kenya Alliance, Kenya Kwanza Alliance, and now Roots Party. They have been circulated online and you could, perhaps, stumble into a few printed copies, if you are sufficiently lucky.
Will these manifestos influence the voting patterns? Will they make people change their mind and switch between candidates? Can they impact on the election outcome? This is very unlikely. Indeed, these questions are easily rich in their rhetorical character than in seeking information. Kenyans are the kind of people who swing wherever persons they perceive as their leaders go.
Three manifestos so far
Hence, you will have heard – for example – that many did not read the 2005 and 2010 draft constitutions, because someone had already read and told them they were good, or bad – whatever the case. That was all they needed, a messiah to tell them to vote for, or against, the draft law. The country has in more recent times heard presidential hopefuls confess that they signed political party cooperation covenants that they had not read.
By this token, it is unlikely that Wajackoya's snake narratives and marijuana scenarios will win him any new followers that he did not have before. Deputy president William Ruto launched the Hustler's Manifesto at the same time as Wajackoyah. The fundamental difference was the lucky-go-happy character of the Wajackoya occasion and the sedulous nature of the Ruto function. Azimio's manifesto came out nearly two weeks earlier. The Agano Party will probably launch a manifesto, or, perhaps, Mr David Mwaure Waihiga will muddle along without one.
It is doubtful, however, that any of the three manifestos so far will change voters' minds. From the outset, during the Raila and Ruto launches, you could see the supporters and critics alike, taking their usual stances for or against them. Mr Mutahi Ngunyi, a Ruto friend-turned-foe rubbished the DP from the start. He was boring. He was saying nothing. Early the next morning, Mr Danstan Omari, an Azimio sympathetic lawyer, was on national television tearing Ruto and his manifesto into pieces, with commentator Mark Bichachi as his sidekick.
Conversely, Ms Gloria Orwoba, a Ruto enthusiast, strived to defend her candidate and his manifesto. Flip up the picture and you will see Raila's acolytes and hagiographers are in their element singing praises to their leader and his manifesto. Where is the truth about the good, the bad and the ugly in the manifestos? For, it is not possible that there will be absolutely nothing good in any one manifesto, or that it can be a blueprint to eternal happiness on earth.
On close scrutiny, Raila and Ruto have been saying the same things, and they are evident in their two manifestos. Both acknowledge that the cost of living has gone through the roof. They blame the heavy burden of the cost of living and the economy on each other. Ruto blamed it on the handshake government, which he says is insensitive to the plight of the majority. They are an elite class that has been bred in cozy environments that have known no want. They have ostensibly never gone hungry, or slept hungry all their life. Hence, when the cost of living is rising, they don't understand what Kenyans are complaining about.
Raila says the cost of living is on the rise because of corruption – which he blames on Ruto. The Raila brigade blames what has not worked in the Jubilee government on corruption and Ruto, while Ruto blames it corruption and the Raila factor in the Uhuru Season Two government.
In more practical terms, both say they will fight corruption, Raila by clamping down heavily on the corrupt, and Ruto by strengthening institutions that were fashioned to fight corruption. Ruto says he will give them funds and freedom. Raila emphasizes interdependence of State institutions and that there can be no absolute institutional independence. Ruto sees the hand of the Executive in the work of the independent institutions as weaponization and abuse of the entities.
Beyond fighting corruption, the two leaders want to build the national economy. Raila will build it by injecting into big push projects funds rescued from corruption, which like President Kenyatta, he says is about Sh2 billion a day. Ruto wants to expand the base by growing the macro, micro and small enterprises sectors (MSEs) so that they become good for taxation. They both, however, speak the same language of lifting the bottom to the top. Ruto calls it the bottom-up economic approach. Raila calls it strengthening devolution and lifting up the poor.
Further, Azimio proposes a utopian welfare State approach, complete with cash transfers, while Kenya Kwanza focuses on easy loans for MSEs. Raila's welfare state flows into education, where he proposes free education from preschool, all the way to university. It is unlikely to realize this, not even with every single loophole sealed tightly. In another utopian promise, both leaders will employ all trained teachers in the country and pay them well.
The country has a huge debt burden that the two leaders have skirted around, and which is going to be the heaviest yoke around the national neck. Only Wajackoya, with his seemingly outlandish ideas on selling to global markets the hitherto illegal merchandise of marijuana, and other curious produce, attempts to a granular approach to funding the national budget. To achieve some of these, Wajackoya proposes to suspend the constitution, a matter that would most likely impeach him and remove him from power, were he to become the next president.
Where Raila, Ruto agree
Similarities between Ruto and Raila are also seen in their proposals on healthcare. Raila speaks of Babacare, as a State driven medical insurance scheme for every Kenyan. Ruto talks of insuring all Kenyans through the National Health Insurance Fund. There is absolutely no difference between the two. Yet their supporters and detractors believe that their side got it perfect, while the other side said absolutely nothing helpful.
Elsewhere, both manifestos are heavy on agriculture and animal production, a digital economy and on housing as the foundations of the much longed for economic revolution in Kenya. They seek to create an environment that will make agriculture spur other sectors to sudden growth and development with multiple multiplier effect. They recognize the place of environmental protection and the need to secure the country against climate change.
In the end, Azimio captures its dream for Kenya under the ten-point agenda of focus on devolution, enterprise development, inclusion of women, agriculture, industrialization (manufacturing), people development, accountability, child and youth development, water and healthcare. The Kenya Kwanza seven-point agenda focuses on agriculture, housing, healthcare, ICT, inclusion of women, infrastructure, manufacturing (industrialization), tourism, aviation, governance, education and sports).
Regardless of the integuments, the contents are the same. These are two sets of people competing for the same goals, purporting to be saying different things, but basically saying the same thing, using different postures and language. The only radical departure from what is familiar is the bizarre agenda of the Roots Party.