NASA tough test is to win where past alliances flopped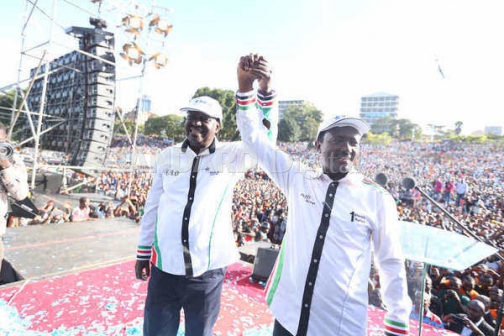 When it comes to building political alliances, Raila Odinga is Kenya's ultimate political grandmaster. His present flagship in the National Super Alliance (NASA) is the latest feat in a history rich with alliances that have had both meaningful measures of success and political close shaves.
Raila's first crack at alliance formation began in 2001. He started working with President Daniel Arap Moi on what the two leaders termed "cooperation" between the National Development Party (NDP) and Kanu. Ten years of multi-party democracy had failed to bring about discernible change. President Moi had stoically remained in power, amid ever-mounting internal agitation for political transformation and external pressure from international development partners pushing for a new order in the political economy.
NDP-Kanu ties
Sections of the collective Opposition keenly anticipated the end of the Kanu Dynasty. Yet here was Raila, getting cosy with Kanu. Kivutha Kibwana, then a fire-eating revolutionary, accused Raila of "deliberately frustrating" the effort to bring about change in Kenya. Raila went on, regardless, thwarting resistance both NDP and Kanu.
Hawkeyed Kanu power barons like George Saitoti and Joseph Kamotho were afraid of imminent tectonic shifts in the centre of power. They spoke angrily against the proposed cooperation and subsequent merger at the start of 2002. Within NDP were loud doubters, like former Education Minister Peter Oloo Aringo. Notwithstanding, the cooperation gave way to a merger in March 2002, with Raila as Secretary-General of what was touted as New Kanu — and with a cabinet position.
Yet this would turn out to be a short-lived alliance, built on political quicksand. If Raila thought President Moi was now so enamoured with him that he was going to help him ascend to the presidency through Kanu, the President had other thoughts. His choice for the top job was Uhuru Kenyatta and with it the seed of Raila's next migration and effort at alliance formation. The Liberal Democratic Party (LDP) was acquired from former journalist Denis Kodhe.
Raila and his running mate in NASA, former Vice President Kalonzo Musyoka, have claimed credit for being the brains behind the acquisition of LDP. Whatever the truth, this was a titanic move. The migration from Kanu to LDP in October 2002 was earthshaking. It served Kanu a devastating blow that has left the independence party staggering to date.
Kanu's woes
While there were many political players in the ensuing formation of the National Rainbow Coalition (Narc) that dimmed Kanu's political fortunes in 2002, Raila was certainly the man of the moment. Both former powerful minister Simeon Nyachae and Kalonzo recall how Raila pulled the rug under everyone's feet to pave the way for Mwai Kibaki to become Kenya's third president. Nyachae has recorded this in his story 'Walking through the Corridors of Service', while Kalonzo tells his story in the book 'Against All Odds'. While some protagonists thought that they were still dialoguing, Raila had already made up his mind. Kibaki was the man to beat Uhuru. "Kibaki anatosha," he proclaimed before a frenzied mammoth crowd. The gates of State House opened up to Kibaki.
Once comfortably ensconced in State House, President Kibaki played the Machiavelli card, throwing the kingmakers of yesterday overboard and turning his back to every pre-election dream. Simmering tensions broke into a full-blown confrontation in June 2004. In the place of delivering the new Constitution he had pledged to give Kenyans in that month President Kibaki forged his own alliance with Simeon Nyachae. He brought the Ford People party in government while marginalising Raila and his LDP brigade.
As an answer to Kibaki, Raila reached out to Uhuru Kenyatta and William Ruto in Kanu. If Kibaki could form new alliances, the master of alliance making in Kenya could do better. The LDP-Kanu nexus positioned the matter of a new Constitution at the heart of its engagement with the public mind. The public conversation climaxed in the 2005 referendum on the Constitution in which Raila and his allies humiliated President Kibaki by leading Kenyans to reject the Kilifi constitution that he had crafted under the stewardship of Nyachae and Attorney General Amos Wako.
In the process, the Orange Democratic Movement (ODM) had been born. ODM was a star-studded outfit. Many thought it would win the 2007 election. So what went wrong? Besides Raila the ODM galaxy had such luminaries as Kalonzo, Musalia Mudavadi, Najib Balala, Uhuru Kenyatta, William Ruto, Joseph Nyagah and others. Did they lose sight of what they should have done after the referendum victory? Should they have hounded Kibaki out of power in 2005? In developed democracies leaders who lose referenda like Kibaki did to ODM will usually resign. ODM lost the chance to push their momentary victory to full advantage in 2005. They paid the price.
De facto leader
There is ancient wisdom that when fighting a snake, you crush its head. ODM allowed the rattled snake to live on. President Mwai Kibaki sacked the LDP brigade that he had so far allowed to hobble on, on the fringes of his government. Meanwhile, as the ODM stalwarts conjured up images of being equals, Raila was the de facto leader. And he wanted to ride the ODM wagon all the way to the 2007 elections, all the way to State House.
The wagon suffered two major casualties, however — fatalities that contributed in part to the defeat of the 2007 presidential dream. There was disagreement over whether to dissolve existing parties and form one solid ODM or, conversely, make ODM an umbrella movement of political parties. Uhuru, who had so far been a visibly uncomfortable guest at Raila's side, saw the perfect opportunity and excuse to decamp. He pulled Kanu out of ODM. He took it into a new alliance, the Party of National Unity (PNU) with President Kibaki. PNU itself was the product of repeated trials and failures to find a proper re-election bid outfit for a beleaguered Kibaki.
Second was Kalonzo's flight from Odinga's wings, complete with the new party, which was now operating as ODM-Kenya. Happening in mid-2007, the election year, this left Raila flatfooted. He had a team without a political party. Mercifully, a certain Mugambi Imanyara had registered the Orange Democratic Movement Party. He placed it at Raila's disposal.
The migration of Uhuru and Kalonzo only made minor and insignificant dents to Raila's alliance of leaders. He still had Ruto, Mudavadi, Nyagah and Ngilu with her own party, Narc. They were still a political behemoth and President Kibaki's living nightmare. So what happened? Did they pay the price of complacency? Many believe that this leviathan was robbed of victory in the December 2007 General Election, through a dubious use of State apparatus. Those who hold this view have always wondered why a sitting president who considers himself legitimately re-elected would sneak to be sworn in at a hurriedly convened ceremony within the tight confines of State House, and this at the crack of twilight, a few minutes after the announcement of the election results. Things seem to add up only to the possibility that even Kibaki did not believe in his heart of hearts that he had won. Another missed opportunity, nonetheless.
The subsequent post-election violence is now the substance of painful history. It is history that brought Uhuru Kenyatta and William Ruto together for the second time, having found themselves ingloriously before the International Criminal Court (ICC) as the prime suspects from either side. Meanwhile, one ally after another ditched Raila. Balala left. Omingo Magara fled. Joe Nyagah went away. Mudavadi hung around for a while, but also took flight. Charity Ngilu took off in the eleventh hour to join Uhuru and Ruto. Balala brought his newly-formed Republican Party into the UhuRuto fold. Raila was a lonely man.
Yet the son of the Bull has a nark for picking himself up from the ashes. His quiet diplomacy brought back Kalonzo and a new entrant into his scheme of things, Moses Wetang'ula. The two had recently been marginalised in the UhuRuto camp, the ICC duo being convinced that it could finish and win the presidential race without their input.
CORD formation
A quick alliance was cobbled up under the umbrella of the Coalition for Reform and Democracy (CORD). It did not have ample time to position itself and generate excitement, as the election was just around the corner. There was, however, a sufficiently dejected population that stood by CORD, despite absence of anything exciting around the leadership and its visionary thrust. It seemed that to belong to certain tribes was enough reason to decide on who should vote for which formation.
This reality remains today. As NASA and Jubilee Party prepare for the August showdown, the only issue on the table is which tribe one belongs to. It is a tribute of sorts to Raila that he has managed to hold together the tribal kingpins outside the Kikuyu and Kalenjin communities. Together, they are trying to propel a rather ideologically rickety vessel to the habour of victory. Can they deliver the ultimate prize this time? NASA's biggest asset could be weighty public consternation and resentment against a duopolistic Jubilee government.
Uhuru and Ruto go to town with the message that they have fused together a dozen or so parties to offer Kenyans one political outfit that represents all tribes. Such is the substance that political mumbo jumbo is made out of, however.
Jubilee remains a Kikuyu-Kalenjin outfit. You don't need special apparatus to help you to see this. Everything about the Jubilee government has been about ethnic hegemony and transfer of public resources into the private laps of well-heeled individuals, riding on spurious ethnic ideology.
Surprisingly, even the factor of ethnic exclusion by Jubilee has failed to generate much excitement about NASA. The coming on board of Amani Congress (ANC) leader Musalia Mudavadi generated a bit of enthusiasm. However, protracted internal competition has been bad for NASA. The principals have engaged in mutually harmful campaigns, planting in their followers' minds the harmful seed of in-house ethnic competition.
Ethnic brigades
Already, their adversaries in Jubilee are capitalising on the ethnic fissures within. What seem to be externally sponsored ethnic brigades among the Kamba and Luhya communities are already crying foul. These include voices like former Youth for Kanu '92 chairman Cyrus Jirongo's and that of Minority National Assembly leader Francis Nyenze. They seem to have been opportunistically waiting to strike at the right moment. They now talk about their tribes having been cheated in the NASA line-up. Raila has a difficult assignment ahead. Together with the original three other NASA principals, and the new entrant Governor Isaac Ruto of Bomet, they must credibly push the seemingly sponsored dissenters from Luhya and Ukambani to the fringes of irrelevance. They are up against infiltration by a financially well-oiled Jubilee war chest that is selling that propaganda.
Equally important is the need for them to be more strategic in voter mobilisation. In past elections, Raila has failed to see the need to convert crowds into voters. He believes that people know how to vote and that they will just leave their homes and work to turn out to vote. Often ignored is the need for creation of wall-to-wall patriotic cells of voters and other vigilante type of movements that ensure everyone is made to come out to vote.
The need for a call centre that remains in touch with the electorate round the clock has also been ignored. So, too, has been a structured network all the way from the presidential campaign centre through the regions and counties, down to the constituencies, all the way to the polling stations. There has been some naïve belief that somehow things will just work out well, just because "we are popular."
These things, away from Jubilee-sponsored propaganda among the Luhya and Kamba peoples, are the biggest threat to the NASA effort. In the last election, they did not even have presidential agents in a single polling station in the country.
The naïve belief was that other party candidates would take care of their needs. They paid heavily for this. And they could just do it again.