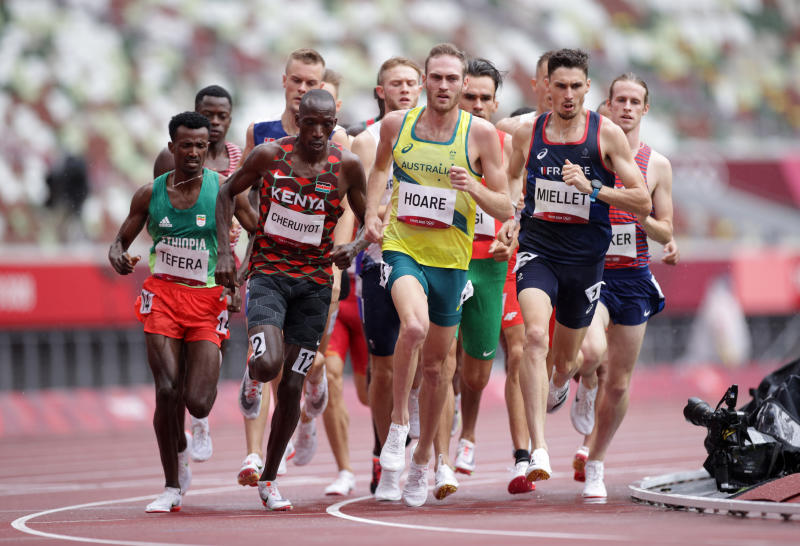 The rivalry between Jakob Ingebrigtsen, Timothy Cheruiyot and Samuel Tefera will reignite at the Prefontaine Classic on May 28, when the trio of global gold medallists will clash in the Bowerman Mile.
Norway's Ingebrigtsen is the Olympic 1500m champion, having beaten Kenya's world champion Cheruiyot to the title in Tokyo, while Ethiopia's Tefera got the better of Ingebrigtsen in Belgrade to retain his world indoor crown.
Now they will meet in the mile at this season's third Wanda Diamond League meeting in Eugene.
Ingebrigtsen already has a rich history of success in the Bowerman Mile. At the 2017 Pre Classic, the now 21-year-old became the youngest athlete to ever break the four-minute barrier, running 3:58.07 at the age of 16.
One year later he lowered his time to 3:52.28, before returning again in 2019 with 3:51.30.
In last year's race, Ingebrigtsen captured his first Bowerman Mile victory, running the fastest ever time on US soil of 3:47.24.
Cheruiyot, meanwhile, won the Bowerman Mile and claimed world gold in 2019, before going on to secure silver behind Ingebrigtsen at the Olympic Games last year.
He would ultimately bounce back to beat the Norwegian in the Zurich Diamond League to claim the 2021 Diamond League title.
Meanwhile, former Boston Marathon champion Sharon Cherop received a heroic welcome after her employees pulled a surprise party to celebrate the athlete's third place finish at the Uhuru Classic Nairobi Marathon on Sunday.
Traditionally, athletes are feted by friends and relatives at the airport, but Cherop was surprised by employees and customers at her Beauty Smiles Cosmetics business premises in Eldoret, on Monday evening.
Cherop, who won the Eldoret City Marathon in 2018, said one of her employees called to inform her to sign a cheque at the beauty shop, and little did she know that song, dance and cake-cutting party was awaiting her.
She ran 2:29:37 behind winner Agnes Barsosio (2:24:45) and runner-up Shyline Jepkorir (2:29:04).
"I was on my way back from Nairobi and I just wanted to head home to see my young twins. But my accountant persistently told me not to alight at Poa Place because there was a supplier who wanted a cheque and could not wait. I didn't expect any surprises," Cherop said.