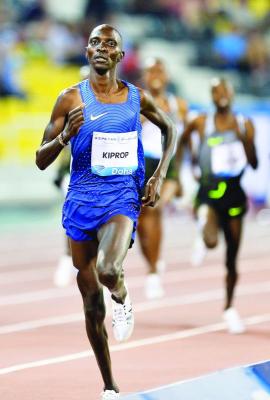 When Asbel Kiprop announced his switch to motorsport from athletics, it was a picture of a frustrated athlete, who seeks to find peace at the steering wheel after his legs were slowed down by the World Anti-Doping Agency (WADA). The agency in recent years has gone hard on Kenyan athletes with testing of banned substances nearly putting a break in the Kenyan domination in field and track events. The affected athletes have time and again cried foul in the manner in which the test and the results have been done by the body. Many of them have been discrediting the results as marred by multiple human errors. "All I can say is that I want my issue to be addressed as soon as possible because the results that came out had a lot of errors," complained Mercy Kibarus, the first runners up in 2015 First Lady's Half Marathon.
SEE ALSO: Obado in court over poisoning case
Kibarus was banned that year after she tested positive. To date she calls on the anti-doping agency to relook into her case. The athletes' complaints have caught the ear of a human rights group that has now appealed to WADA and the Athletics Integrity Unit (AIU) to waive bans on all athletes sanctioned for doping, basing their argument on "questionable errors" in anti-doping programmes. According to Africa Alliance for Health Research and Economic Development (AAHRED), doping cases mostly targeting Kenya and East Africa have become rampant and most athletes in the region do not feel they are given a chance to a fair hearing. "The punishment meted present misery and painful punitive actions based on evidence of results with discrepancies from both human and equipment technicalities, leave alone the naturally occurring biological conditions beyond their (athletes) control requiring extensive research," said Gilbert Kiplom, the sports, and human rights officer of the human rights group (AAHRED). The civil society group claimed they had done their separate analysis on sample processing, laboratory chain of custody. A-Sample confirmation and analysis process which are the key indicators used by WADA to determine the credibility of the athletes and the examination has "raised serious doubts."
SEE ALSO: Kenyan athlete charged with forging medical documents
"The errors preceding suspension cannot and must not be neglected as they can portray the highest level of impunity and presumptive outcome that can damage lives and destroy the future of our hardworking athletes," said Justine Kurui the CEO of AAHRED. For Kibarus, the ban cut off her livelihood and she hopes her case will be looked into soon enough. "I would wish to go back to athletics because I have nowhere else to go to. My whole life revolves around athletics," she said.