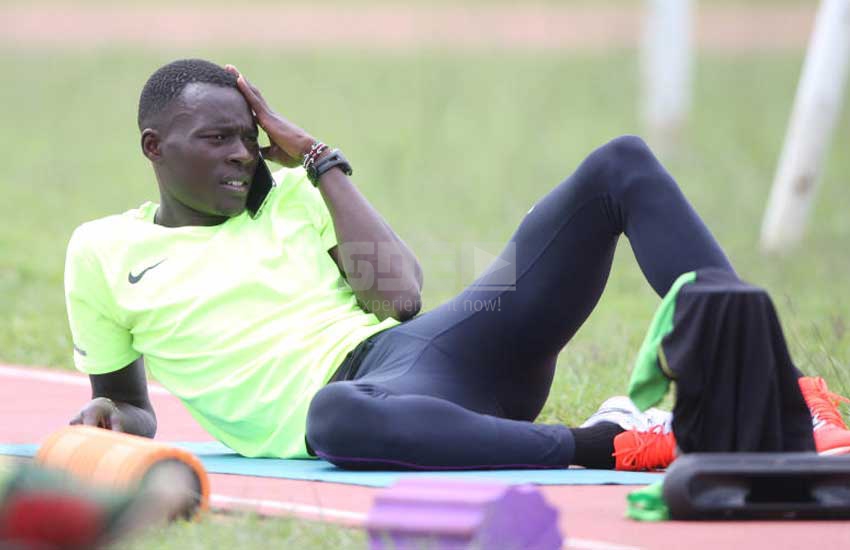 Shock and grief yesterday greeted the death of former 400 metres hurdles world champion, Nicholas Bett as details of his last moments came to light.
The 28-year-old athlete's Toyota Landcruiser is said to have hit a bump at Sochoi area before he lost control of the car. Bett died on the spot.
The athlete's father, Joseph Boit told The Standard his son, a father of two, was on phone with his wife Gladys Bett when the accident occurred.
"My daughter-in-law called me and informed me that something might have happened to Bett as her call had been suddenly disconnected as they were speaking. I immediately called him but there was no response. Later, someone picked the phone and told me that the owner of the phone had been involved in an accident. He then disconnected."
"I called again and had to plead with the person on the other end to tell me if my son was alive or dead. That is when I received the shocking news," said Boit.
Through windscreen
The vehicle rolled several times and Bett, who had just returned from the Africa Athletics Championships in Nigeria was thrown off the vehicle through the windscreen.
The vehicle smashed a tree stump and landed upside down in a ditch.
"He may have hit a road bump at Sochoi area before losing control and rolling several times," Nandi County Commander Patrick Wambani said.
"Bett was the only occupant in the vehicle, his body has been taken to the Kapsabet County Referral Hospital to await a postmortem examination," said Wambani.
Two witnesses, Mary Sitieney and Emily Tanui, who retrieved the athlete's ringing phone from the wreckage minutes after the accident corroborated his father's version of events.
"We rushed to the scene to find the vehicle upside down; the driver had been thrown off and was lying still about three metres away. We saw the frantic calls from someone saved as Daddy," Sitieney said.
"On close observation we discovered that the athlete had already died. We then covered his body with a blanket and called the area assistant chief who called the police," said Tunoi.
The athlete who is also a police officer planned to pick a colleague at Koilot before driving on to Kapsabet, but met his death just two kilometers before he picked his colleague.
The colleague, who did not want to be identified, confirmed that he had just spoken to the athlete minutes before the accident.
At their home and the Moi Teaching and Referral Hospital mortuary, where the body was later transferred to, friends and relatives were struggling to come to terms with the athlete's death.
His wife and mother were too distraught to speak to the press. His brother Haron Koech (4x400 metre Asaba Gold Medalist) arrived at the scene of the accident.
Among the items in his vehicle, according to athletics Kenya President Jack Tuwei was a Magnetic Resonance Imaging (MRI) document 'a clear indication that he might have gone to his doctor to check on his health and specifically on the hamstring injury that denied him a medal in Asaba."
"Had it not been the injury, he would have brought a gold medal. It is a sad day for the athletics fraternity after death robbed us of a young and industrious athlete," said Tuwei who spoke to The Standard on phone.
World 3000 steeple chase champion Consenslus Kipruto was among a host of athletes who rushed to Kapsabet mortuary after receiving news of the demise of his longtime friend.
"I was shocked when I received a text informing me that my friend Bett had died. We had traveled together from Lagos to Nairobi. We could talk and stand while on the plane, a move that caught the eye of the hostess who motioned us to minimise our engagements," said Kipruto who won a gold medal in Asaba.
Nandi Governor Stephen Sang said the county and Kenya at large had lost a star.
Athletics coach Julius Kirwa said he spent the last moments with the athlete on Tuesday morning at Athletics Kenya offices in Nairobi.
"We met before he left for his home in Simat area and he was in good spirits. He was picking some attire from our office. He was an individual who was feared by his competitors for his sterling performance and his demise has left a big gap in the sprinting discipline," said Kirwa.
World 1500 record holder Elijah Manangoi also recalled the last moments with the deceased in Nigeria.
"He was a close friend and the news that he is no more is hard to believe. We boarded the same chartered flight from Lagos to Asaba and even embraced each other when we landed at Jomo Kenyatta International Airport (JKIA)," said Manangoi.
He added: "In the plane, he was jovial and was always talking about his plans to make a comeback by reclaiming his championship title in next year's world championships."