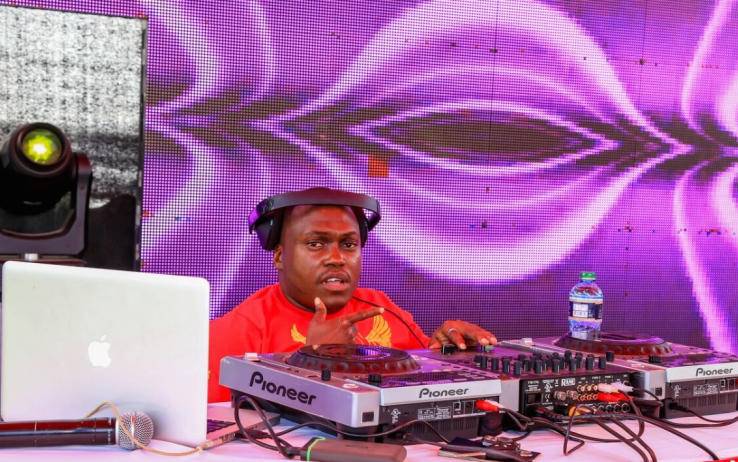 Before President Uhuru Kenyatta stood up to give his address at the Bomas of Kenya during the launch of the Building Bridges Initiative report on Monday, the latest tune in town, Simama Wakenya, rent the air.
The auditorium got electrified as hundreds of invited guests took to their feet, singing and dancing to the tune. A unification peace song recorded by the Permanent Presidential Music Commission (PPMC), the sound was just the right therapeutic dose in an atmosphere heavy with political energy.
Little did the crowd know that the man behind the hype, Ignatius Ogeto alias DJ Euphorique, was on a wheelchair; his wheels of about 10 years that have seen him face discrimination and acceptance in equal measure.
On face value, you would hardly know that the rather social and cheerful 28-year-old is confined to a wheelchair. And even more, that he is President Kenyatta's deejay, one of the men responsible for putting the president in a good mood and one of the few who knows what music sound tickles the most powerful man in the land.
"Deejaying for the president is like a dream come true. It is what every deejay would want. When I started in 2017, it was like a joke. I got a call from State House and somebody said I was needed there to play during a function. Little did I know I was the only deejay who had been invited there, leave alone the thought that I was going to entertain the president. That is the first day I met Uhuru," a jubilant DJ Euphorique tells this writer during an interview.
"I was a bit nervous when I started at State House after I found out that I was playing for the president and his guests. After a while, the president came looking happy, shook my hand and gave me a warm embrace. He said he liked my work and that I should continue inspiring more youth."
Three years down the line, the mix-master, who attended St Joseph's Kisumu Primary School and Joytown Special School in Thika, is the president's deejay.
"After the first gig at State House, all else fell into place. I became a regular State House visitor as I got invited to play during special functions. I got to learn the kind of music the president likes and what sounds make him happy. I also learned that when you are working for the president, you should be nice and disciplined, never one to let emotions dictate what you are doing," remarks the deejay who describes himself as visionary and optimistic.
From Christmas carols, New Year songs, national day tunes to political hype songs, DJ Euphorique is the man with Uhuru's fine tunes at heart. He has a playlist for each of the occasions. Besides, having been attached to PPMC has given him a wider scope on the protocol issues that go hand-in-hand with his duties as the president's entertainer.
With conviction, he reveals that Uhuru loves his fun and is never one to shy from dancing and singing when a tune he likes is played.
"There are some songs he likes very much; top on the list is reggae, gospel and local music. He loves Carol Wanjiru's Munduiiriri and Bob Marley's classic Iron Lion Zion. He also loves music by Sauti Sol. Sometimes you can be playing then he makes a request, so you should be ready. He likes dancing especially when he is with the First Lady," Euphorique reveals.
A public speaker and mentor, DJ Euphorique says that life presents opportunities to all and that disability should not be viewed as an excuse for one to be locked out of jobs they can perfectly deliver.
"Being in a wheelchair really changed my life because I felt I had no freedom anymore. I realised that everyone will leave you, but God can never forsake you. I lost many friends after I was confined to the wheelchair. Most of the friends I have now are the ones I met after my illness and who have accepted me as I am."
Before DJ Euphorique got his State House job – a position that mandates him to play his deejaying roles during national functions – he was already an established name in the local entertainment industry.
He had trained with Spin Trade Academy – a stable owned by DJ Wesley and Don Ben – and started spinning in ordinary entertainment gigs. Soon, big corporates and international agencies such as Safaricom and the United Nations Scientific and Cultural Organisation started offering him opportunities to deejay and participate in offering motivational speeches in their mentorship programmes.
However, his big break came in 2016 when the local entertainment industry united and fundraised for him to buy a full set of deejaying equipment – a function that saw them raise Sh500,000 in minutes.
"This is how I got my connections with Big Ted who doubled as State House's director of brands. This is the union that finally got me to State House. I believe Big Ted had everything to do with my first visit there. Even though there is no official job description around the official president's deejay job, I am advised to always be on standby," he says.