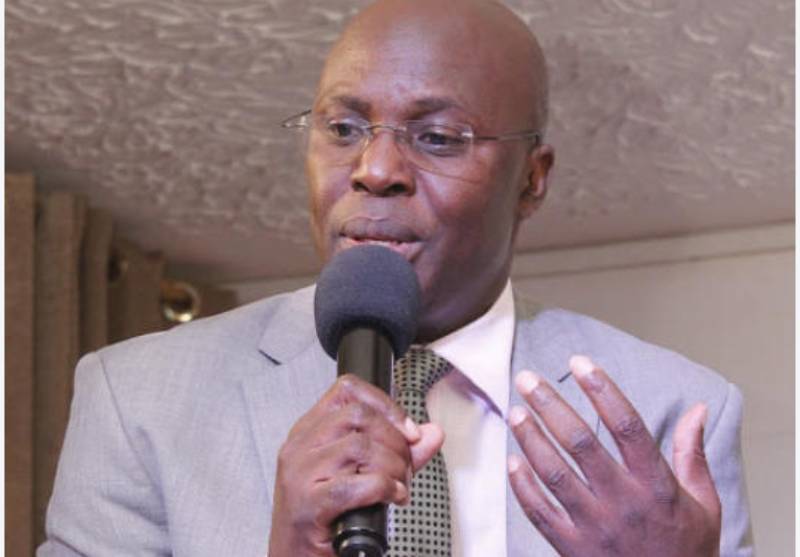 Nothing shakes the conscience of mankind than an unexplained death of a celebrity.
Ken Walibora (pictured) was not your ordinary celebrity pushed to fame by benevolent spirits. He earned it. At the time of his death, he was one of the most celebrated Swahili writers in Kenya and one of the universally acclaimed authors.
Lovers of literature are pained not just by his death but the brutal manner in which it came. Such death is reserved for troublesome characters in literary works.
In such extra ordinary circumstances, the people of Khabondi would seek solace in the emotive Luhya dirge "Olumbe luno toto lwakhabere lurungungwa, mana lukhaya khwira, ndakhaluwere ing'ombe!" translated to mean "If death could be paid to spare someone, I would have given death a cow".
Death is painful. Admittedly, I have never physically met Walibora. Our continuous interaction has been through his works. I first knew him in Standard Seven in primary school when my Kiswahili teacher Peter Busolo insisted that I read Siku Njema and explain the synopsis to him in seven days.
By that time, Siku Njema was a compulsory Kiswahili set book in secondary school, but here was a village-bred juvenile being asked to interpret it. I took the challenge and read the book. I later thanked my teacher for the challenge. Mr Busolo understood the kind of books that would inspire students' passion.
That was the last time he asked me to read any of Walibora's books. I took it upon myself to monitor the author's publications and read them. Walibora was a gifted story teller. He understood an African village with magic. His characters lived among us.
Walibora wrote about things that we could see in our daily lives as students. Most of his characters were an inspiration. I drew quite a number of lessons from Walibora's works that have guided me to date. In his master piece Siku Njema, Walibora demystifies the long held African concept of illegitimate children with a single phrase "Mwanaharamu hamna, kitendo ndicho cha haramu" to mean "there is no illegitimate child, it is the act that is illegitimate".
Walibora's main character in Siku Njema, Msanifu Kombo happens to be such a child. Through him, we are exposed to traumatising experiences that single mothers and their children go through.
Children's law
The contempt with which society treats such children, and above all, their determination to succeed amid such challenges. In my teaching of Children Law, I have found myself citing Walibora more than any other literary scholar. His contribution to jurisprudence cannot be gainsaid.
As a lawyer, I draw inspiration from Walibora's book Kufa Kuzikana, translated by Prof Egara Kabaji et al as "Friends for Life".
In this text, a litigant who has made several trips to a lawyer's office to claim money paid to the lawyer by an insurance company after an accident eventually commits suicide when the lawyer becomes uncooperative.
Such lawyers within the legal circles are known as ambulance chasers. They exist in every corner of this country; taking advantage of victims of accidents to mint millions of shillings. My prayer is that the fate of Walibora's characters will not befall him in death.
In such a society as ours, it calls for the courage and sobriety of men like Walibora to expose the social evils bedeviling mankind. The social pretense, political expediency and economic marginalisation are some of the things that informed Walibora's works.
He was a brutally honest man. Perhaps it is because of his humble upbringing or the strict Christian upbringing under Jehova's Witness denomination. Writing was not his training-it was a talent. It was inborn. He wrote with ease. The simplicity with which he told complex stories reveals the character of a man who was attached to society. Through his works, we see a reflection of society. The mastery of African idioms runs through his works. He tells the truth laughingly.
Literature can be very predictive. Many things that Walibora wrote about have come to pass. His death and burial resemble that of the characters he wrote about.
Blessed are the soils of that quiet village in Cherangany, where Walibora was laid to rest. The soils will consume the finest brains of our land. In William Shakespeare's words, my heart is in that grave where Walibora's remains are being preserved. His soul rest in peace.
Dear Walibora,
To those who never read your works, Kidagaa kimewazoea. To your fans, we shall remain friends wa Kufa Kuzikana as we wait for that Siku Njema that we shall join you wherever you are!
The writer is a teacher of Literature, lawyer and tutorial fellow at the University of Nairobi