Central Kenya men turn to old customs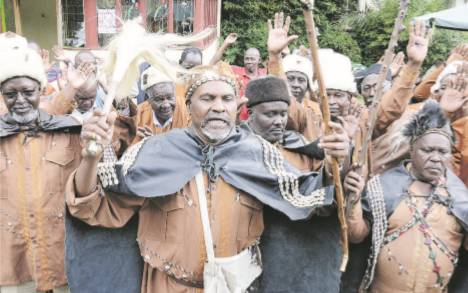 In 2018, the Presbyterian Church of East Africa caused a storm when it banned its congregation from Kikuyu traditional rites. Two years down the line, it appears that the ban only accelerated the spread of customary practice that is pulling in Kikuyu men across the social status into what is known as ' Kiama Kia Ma', directly translated as the council of the truth.
Kiama Kia Ma is the cultural pillar of the Kikuyu Council of Elders, whose other pillars include economy, politics and social welfare. To understand how ' Kiama Kia Ma ' has captured the Kikuyu middle class, one just needs to know that its top leader is Dr.
David Nduhiu Muthoga, an accomplished engineer, who is the Chairman of the Kikuyu Council of Elders. Muthoga offers a break from the education challenged elders, who more often, allocate themselves the roles of communal custom overseers. "We are calling people to come back and retrace and embrace their roots from where the colonialists derailed us," says Muthoga.
"We thank God for this cultural reawakening that is sweeping across the land of Agikuyu and among our people in the Diaspora. "At home and in the diaspora, middle-class Kikuyu men are seeking to be initiated as bona fide members of their community." On Saturdays, it is not unusual to spot a Kikuyu man with a type of a double-edged dagger known as 'Kimindo'.
The dagger, hoisted on the belt or placed strategically in the car, is used to slice roasted goat meat during regular goat eating ceremonies when 'Mburi ya Kiama' (the goat for the council) is slaughtered. The goat eating ceremonies are often held on a monthly basis and have various chapters that independently recruit other men. The customary embrace is also now visible in nearly all Kikuyu ceremonies where the traditional Muratina beer has become part and parcel of the menu.
This is even more prevalent among the middle-class Kikuyu were ceremonies ranging from birthday parties, weddings, dowries, and even burials have to feature the traditional beer, something that was unusual a few years ago. Another pointer is that during informal introductions, it is becoming more common to hear a man declaring that he is a member of 'Kiama' and encouraging those not yet members to join. Guidance on how to join the 'Kiama' is offered generously in such forums.
The concept of Kiama Kia Ma
One of the chapter leaders in Naro Moru, Nyeri County, Murimi Githui points out that the concept of 'Kiama Kia Ma' dates back to the pre-colonial times. "After the Mzungu came, his basic idea was to destroy the 'Kiama' so that he could establish his rule", said Githui.
He says that 'Kiama' encompasses all religions in the country, but is absolutely against all criminal gangs and outlawed sects. Currently, 'Kiama' is loosely divided into chapters, often at constituency level known as Mwaki (fire). Membership is free and open to all male Kikuyus.
For one to be a member, one has to produce a 'Mburi ya Hako' (a goat) and one guard of muratina (Gikuyu traditional beer).
"After a thorough vetting on one's integrity, conduct and behaviour and establishing that one is married and has children, the prospective member is then allowed to produce two goats and two guards, which qualifies the man to be a full member," said Githui. A young boy may be introduced by the father, who must be a full member, to the 'Kiama' by producing a goat and a beer gourd. The other two goats and two gourds will be produced after he gets married, for him to qualify for full membership. Only Catholic Priests are allowed to join the 'Kiama' without the qualification of marriage. He said the key ideals of the 'Kiama Kia Ma', is to instill truthfulness, discipline, and responsibility amongst its members. The other idea is to oversee conflict resolutions in regard to land and family matters by making sure that all judgments are fair.
Young men are taught about their 'Muhiriga' (clan) as well as which Mihiriga's do not intermarry. After marriage, they are taught their duties and responsibilities for a successful family. The 'Kiama' assembles at a specific 'Iriuko' (a public utility permitted by the government). The assembly starts and ends with a word of prayer offered to 'Ngai' (God) while facing Mt. Kirinyaga.
The 'Kiama' has no chain of command or leadership hierarchy but puts more emphasis on speaking with one voice. This goes in the manner of taking children's discipline as a communal affair where everyone is under obligation to guide the children on all important matters.
Restore culture
Dr Muthoga says that due to Western education and Christianity, Kikuyus have lost their traditional values, with a big percentage almost denying their socio-cultural heritage. The middle class, the majority who were brought up in rural areas, and went to elementary school without shoes, feign ignorance of their ethnic traditional practices. Some would not be caught dead speaking their mother tongue, a language they were taught within the lower primary school.
He says many community members have little or no knowledge of their age-old culture, traditions, and spirituality. Basically, the majority of the Agikuyu have lost the thread that linked them to the community's past. Due to various negative forces, there is a glaring disconnect between how the community used to run its affairs, and how it does today.
But things are changing fast, as Dr Muthoga says. "Kikuyu Council of Elders was formed in 2005 by an eminent group of elders, after realising that the Kikuyu community did not have a legal framework for representation in any forum."
While Churches like PCEA dismiss the council's practises like slaughtering of goats for sacrifice as idol worship, Dr Muthoga says is the opposite; that Kikuyus had their functioning religious ceremonies and worshipped the Supreme God before the Church collaborated with colonialists to disfranchise the community spiritually.
"I do not deny people their right to go to Church, but it is a high time we started thinking seriously of where the rains started beating us," observes Muthoga. "Christianity destroyed our religion and our overall way of life, including our identity and traditional foodstuffs." Socially, the Agikuyu community is disintegrating from erosion of values, and vices like drug abuse, crime, and prostitution.
Although politically Kikuyus seem strong, it is an area that they can easily lose grip of if they are not focused and united. Muthoga regrets the loss of previously rich agricultural land through environmental degradation and sub-division into small pieces, particularly for commercial purposes. Definitely, this has greatly affected the mainstay of the Kikuyu community's livelihoods.
"Single motherhood is also a huge challenge, with Kikuyu women comprising the highest number of unmarried women and commercial sex workers in Kenya."
Family tree
He says that it is extremely sad that many children of the Kikuyu have totally lost touch with reality, and do not even know their clan or lineage since their grandmothers were single women. Some even wonder what dowry is all about, since they have never witnessed their parents or relatives doing it. Young men born out of wedlock are increasingly behaving in a feminine manner because they do not have male role models in their homes, he says.
"There is a high risk that these young men will end up being gay, since they empathise more with femininity," he says. But the KCE leader is also realistic and is quick to admit that some things like female circumcision – what the Western world craftily baptised as female genital mutilation – should now be left to fizzle out.
"People should be educated that female circumcision has been overtaken by the times, and is also unhygienic. The reasons for female circumcision are no longer valid since there are now modern ways of enculturing our women. For men, it is still necessary, for both cultural and hygienic reasons," he said.