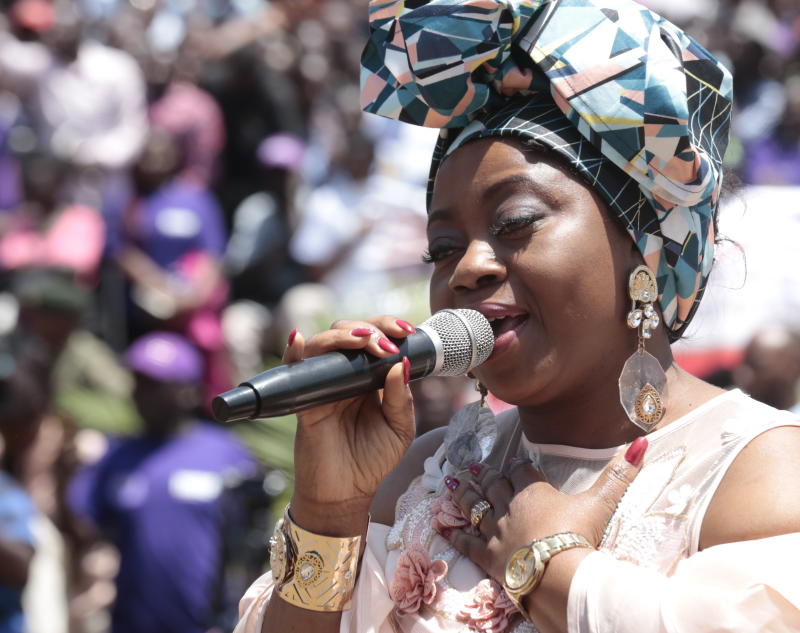 ?With an easy smile that lights up his round face revealing the gap in his upper teeth, Congolese rhumba maestro Wuta Mayi takes his eyes off the plate of fried fish and osuga (African nightshade) to acknowledge our arrival.
Elegantly dressed, the former TPOK Jazz musician has not lost his flamboyance.
Surrounded by an entourage of officials from the Congolese embassy, local promoters, friends, band members and hangers-on, at the Meladen bar and restaurant in Upper Hill, Nairobi, the affable musician from the Democratic Republic of Congo (DRC) then turns his attention back to the food, digging into the steamy ugali- alongside celebrated musicians, Nyboma Mwandindo and former Afrisa International lead singer Faya Tess.
Save for Nyboma, the other muscians were vising the country for the first time.
"When I came to Kenya in 2009, I did not know English. I could not even say 'hi'. So, I decided to take evening classes in Paris. Now I believe I can speak English like an Englishman," says Nyboma.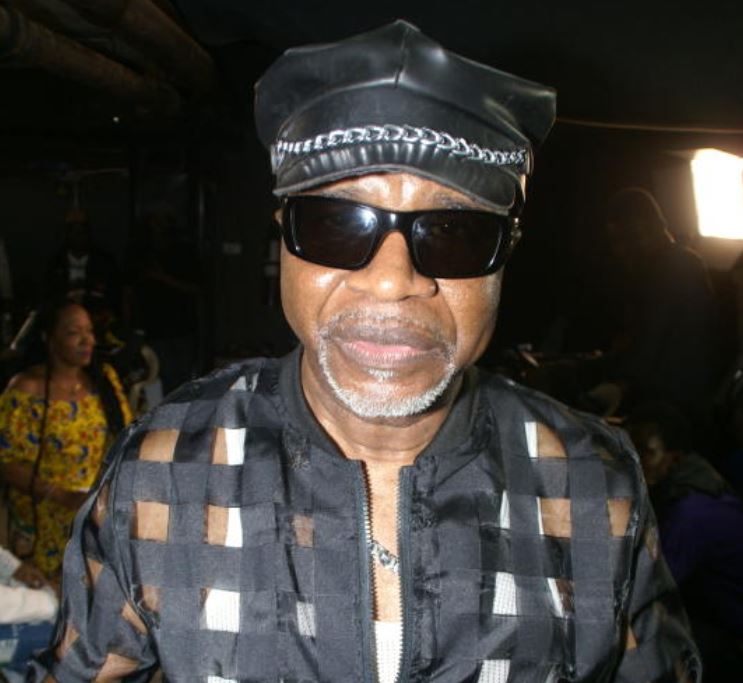 Dominated
For a man of 69, Mayi's look belie his age. His secret? "I don't smoke and I drink occasionally. I also don't eat red meat, preferring fish and seafood," says the soukous recording artist, composer and vocalist who worked as a member of the soukous band TPOK Jazz, led by Franco Luambo Makiadi- whose music dominated the Congolese music scene from the 1960s through the 1980s.
On the other hand Nyboma says: "To maintain the quality of my voice, I only drink water and fresh juice." The musician's greatest show in Kenya was at KICC alongside Sam Fan Thomas in 1986 and has since visited here six times. He returned to Club Afrique in 2009 alongside Roi Babel formerly Madilu Magic System lead singer and composer.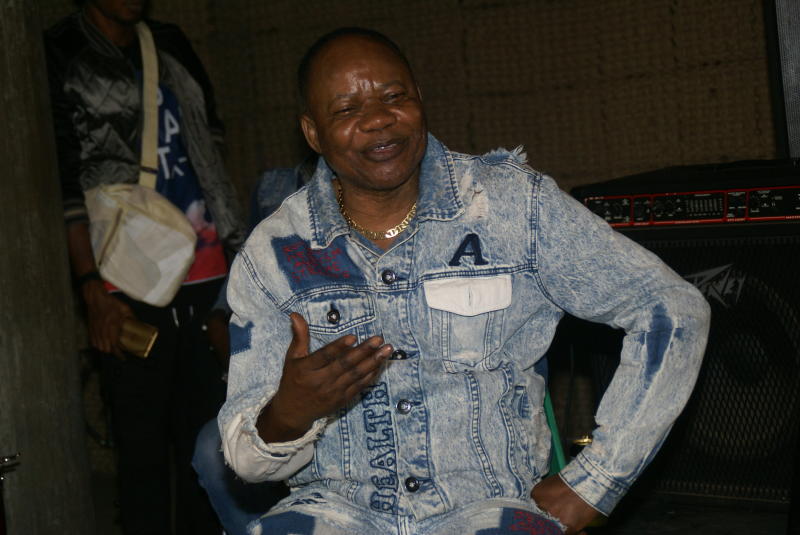 As glasses and cutlery clink from a distance, Paris-based Congolese songstress, Tess, takes a deep breath before responding to our question on her rivalry with dancer-turned-singer Mbilia Bel, who was married to Congolese Tabu Ley Rochereau in the mid-eighties.
It was alleged that Faya Tess's intimate relationship with Tabu Ley at the time led to the breakdown of the marriage between Mbilia Bel and her 'estranged' husband.
"A lot has been said about us but I believe it is high time we put behind the past and focus on the future. My mission has always been to rework the late Tabu Ley's songs in honor of the musician who nurtured my career," says Faya Tess who unveiled her fifth volume, a double CD of 18 tracks in Kinshasa.
The songbird who recently released a new offering of rumba classics explains that the package of her project features cover versions of songs by veteran guitarist and former TPOK Jazz and Bana OK band leader Lutumba Simaro Massiya and mercurial singer Madilu System, both key contributors to the rumba revolution of the late 1980s.
But the mood of the three musicians quickly changes, almost turning hostile, when we ask them about the ongoing war and humanitarian crisis in eastern Congo.
"Let's talk about something else. What is happening in my country is a shame and is caused by poor leadership in the past," says Wuta Mayi with a dismissive wave of the hand.
"We hope that with the coming in of the president Felix Tshisekedi and his government things will be able to change for better," adds Nyboma.
The trio who refer to Kenya as their second home say they would not turn down any invitation to perform in Kenya.
Acknowledging that Kenya has accorded Congolese musicians a platform to showcase their talent locally they explain that the friendly and welcoming nature of Kenyans towards foreigners and their undying love for Lingala music has always made them feel at home.
"The fact that Kenyans have kept Rhumba/Lingala music in their hearts, topping the list of Lingala lovers in Africa, I have found a soft spot in the hearts of many Kenyans," concludes Nyboma.
Despite their immense success, some critics feel that the trio have not done well like when they collaborated with several popular artistes (most of whom are dead) while others say they were riding on the giant musicians' fame.
"Well, everyone is entitled to their opinion. Truth is, I never rode on anyone's back. I composed five albums with Madilu System after Pepe Kalle's death. They include Voisin, Jian, and Povour among others. "I am currently on the verge of completing and launching my latest album, which is unique and different from what other Congolese artistes have done in the past," says Nyboma.
His sentiments are echoed by Tess and Mayi. "We believe that music requires adequate time and research in order for one to come up with something good that will be appreciated by many over the years, as opposed to doing things in a rush," says Tess.
Asked why they have kept a relatively low profile compared to the likes of Werrason, and Koffi Olomide, Fally Ipupa, Ferre Gola who are known to have staged shows in Kenya and abroad, even eliciting suggestions that their fortunes had dwindled, the trio say most of their shows have been abroad and at home in Kinshasa.
"We operate between Paris and Congo,"says Wuta Mayi. His heart is, however, in Congo where he has been mentoring a number of musicians.
To prove his intent, he reveals he has just completed his new album, which is currently doing well in Congo and Paris.
"For many years I was busy recording and producing music in Plus 30 Studio Paris. I am glad it has been worth the time," says Mayi.
As for why his new music is not available locally, he blames piracy and lack of reliable distributors for his reluctance to venture into the Kenyan market.
"However, my music is available in Congo (DR) and Europe.
I hope to soon get a distributor in Kenya," he says.
Asked about their take on the new crop of Congolese musicians who many believe have diluted rhumba music for fame and money, the trio concur that unlike the older generation of musicians whose music have longevity and powerful educative messages- the new musicians are in it for fame and money.
"They do music for the sake of it without taking enough time to research well and come up with something that will be appreciated over the years," says Nyboma.