Painful truths in Miller's tragicomedy sting audience at National Theatre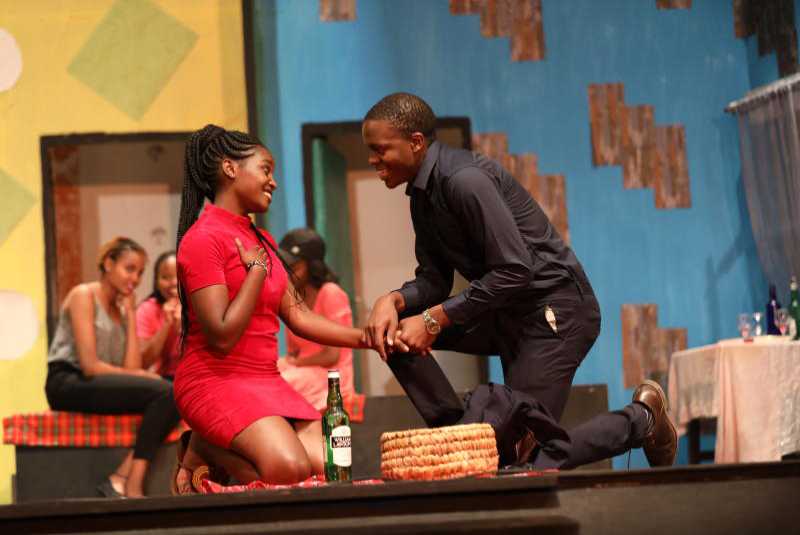 Opiyo takes the stage with raw youthful love for a girl he should never be involved with. This insatiable flame would push him to do the unimaginable. There would be murder, tears and later joy. But when it is a little too late.
The scenes that follow in the two-hour drama would test Opiyo's love for Juliet to the limits. Juliet, who fights her own battles at home is a beautiful innocent girl he bumps into accidentally at a masquerade party.
But Opiyo's love would lead him to literally jump over walls, throwing all caution to the wind, and run afoul with brutal police officers who will spare no bullet if it will help restore law and order.
Opiyo would later disobey his father, a conservative lawyer from Nyanza who will go to great lengths to kill their flame. Opiyo would have none of this. As the tension builds, he finds himself at the wrong place at the wrong time. The scene of the crime is Karura forest, at a picnic. He becomes a helpless participant and witness to a crime that would send him to prison.
But it is until the cold blood murder of his bodyguard, and the free flow of blood that would jerk him back to reality and push him to break free from the codes that have entangled him and his family for decades. Their bond thrives in prison, feeding on the forces against them. Even behind the humbling walls of the prison gates, he never stopped fighting. An opportunity comes to escape and he takes it. He would hide in a coffin and be driven out sleeping with the dead.
In Juliet, Opiyo finds this freedom, albeit when it is too late, at her graveyard.
Here, amid tears and pain, their warring family eventually learn their lessons and resolve their differences through a handshake to a roaring applause from the audience.
In this tragicomedy, Millers Production served the audience with just the right proportions of pain and laughter in a play that unearths the fight between a generation that wants to free itself from the tribal past of its parents.
The production is mixed with the right doses of music to support the act on stage.
Tribal hate
Written and Directed by Xavier Nato, Opiyo and Juliet is inspired by William Shakespeare's tragedy; Romeo and Juliet, cleverly scripted to perfectly suit the Kenyan society.
It is a tale of two well off families, the Otieno's and Mwauras who hold so much hate between them based on tribe. Living parallel lives does well for them until their children, Opiyo and Juliet fall in love. No amount of threats or violence seems to separate the two, the failure to explain why the two cannot be together, drives them even deeper towards each other.
This drives especially the Mwaura's into desperation as they need to marry Juliet off to the son of the Gikuyu Business Community to cover up a debt they owe him, after he loaned the Mwauras when they lost property after the post-election violence in 2008. Betrayal, deceit and painful revelations take centre stage resulting to an extremely tragic end with painful lessons. But love triumphs.
Mr Nato, an award winning actor and scriptwriter says he was inspired to come up with a production that truly speaks to the Kenyan audience at this time. "My previous works have been just about comedy. People would laugh and go away. But this time I was challenged to do something different. They would laugh but also go home with something to think about," Nato said.
His play was staged at the Kenya National Theatre last week and the jury is still out. The acting could do with a little more speed and some scenes could have been knocked off.
Otieno is starred by Robinson Mudavadi and Mwaura was acted by Andrew Smollo, a father who would fast slap his daughter before asking what her crime was. Mr Wachira is acted by Brian Irungu. The main character Opiyo, is acted by Ken Aswani.
Juliet was done by Fulky Agnes, a bubbly and warm character that any audience can easily fall in love with.
Nato, who has acted in various TV dramas among them Wash and Set, says he is coming back 'home' to full-time theater having tried his hand at employment and failed.
He believes that with time, and as players stage more impactful plays, Kenyans will stream back to the National theatre. Until that happens, he will continue to tell these stories