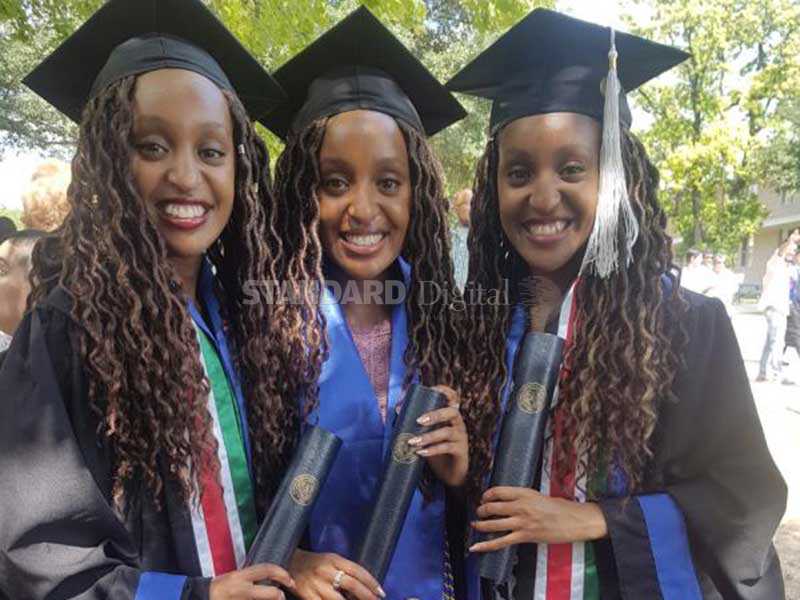 One of Kenya's most celebrated musical trio graduated top in their music class last weekend.
The Moipei triplets graduated with first class honors at the St Mary's University in Antonio, Texas, USA yesterday.
The three-Mary, Marta and Magdaline, and their youngest sister Seraphine formed the a musical group called the Moipei Quartet.
Mary, Marta and Magdaline were born in 1993. Their younger sister Seraphine was born on October 1995.
They were the youngest winners of the 2011 4th SABC Crown Gospel Musical Award-Africa's biggest gospel music awards.
Read More
Then aged 12 and 10, the four were chosen by the United Nations Children's Fund (UNICEF) as ambassadors, becoming the first UNICEF child ambassadors in Kenya.
Mary, Magdalene and Marta have been on the dean's list every end of semester, and have been darlings of the campus with their angelic voices that made them a delight in San Antonio in the four years of their studies. "I am very proud of the girls for the achievement they have made thus far," said their father and director Nicholas Moipei, who together with their mother, Christine, and youngest sister flew to Texas and joined the girls in their big day yesterday.
The trio has performed at the campus in different functions as well as Tobin Centre – a Broadway level facility in the city of San Antonio.
The most remarkable was their performance of the American National Anthem "The Stars Spangled Banner" at the start of a National Basketball Association match between defending champions San Antonio Spurs and the LA Clippers.
Last year, they had a sterling performance at San Antonio mayor, Ron Nirenberg's inauguration ceremony.
"Marta has a deeper voice, Mary is a high soprano and Maggy somewhere in between. Together their voices beautifully complement each other," said Meredith Kiesgen-Schilling, their professor at St Mary's University.
Besides the clarinet, Mary also plays the saxophone. Maggy plays the flute as well as the piccolo, while Martha is great at the piano and the trumpet.
In two weeks, the sisters will be performing their maiden show after graduation at the Tobin in a concert dubbed "Too Darn Hot."
Before going to St Mary's the quartet had performed at President Uhuru Kenyatta's inauguration in 2013.
They have a 12-track album In the Land of the Lion. They are working on their second album that will include themes of their experiences in Texas.
Their songs include Amazing Grace, Ashe Naleng Enkai Ai, Ave Maria, Country Roads, Kokoliko, Malaika, Nakuapia Yesu, O Holy Night and The Little Brown Church in the Vale.