Drama fete climaxes with applauds on play on rot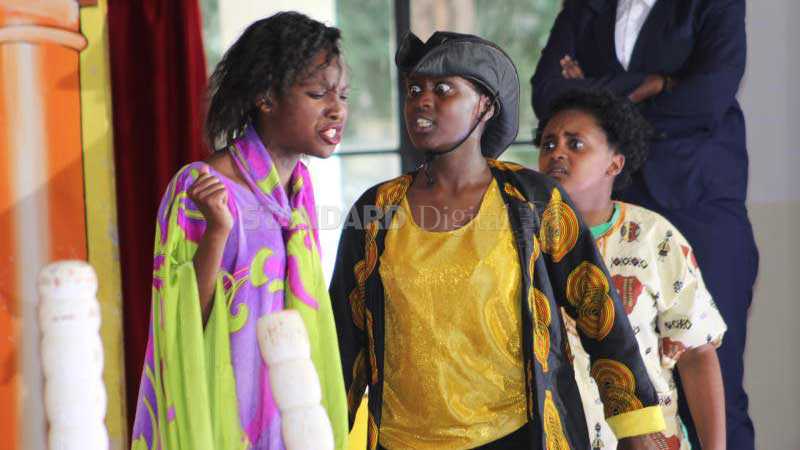 A play that depicted the cut-throat competition at national drama festivals, sometimes fuelled by underhand dealings, thrilled the audience yesterday.
The play by Mugoiri Girls School from Murang'a tells the tale of adults fighting to ensure that their teams reach the national stage and win.
Since it addressed some issues that crop up during drama festivals, it resonated well with the audience.
Titled No More Drama and directed by Wanjiku Mukuura, the play depicts a callous character named Madam Super Maestro, who pulls strings to win the fete.
Owners of festival
Her team fails to respond to the bell seven times and when asked why, she quips: "We are the owners of this festival. The curtains will not open because our costume are still in a lorry stuck on the road some four kilometres away."
The Ministry of Education has banned non-TSC trainers from handling actors in schools but the truth paints a different picture.
"You reason like a jigger!" retorts Maestro when a non-TSC teacher Omondi comes to demand his pay before the play could commence.
This leaves the audience in stitches as 'jiggers' is a popular nickname given to such trainers by Prof Peter Barasa of Moi University.
The play boldly suggests that money exchanges hands among adjudicators through mobile money platforms to be assured of a win.
Treacherous role
Ironically, the play was staged on the day Kakamega High School delayed appearing on stage for nearly five hours. They were scheduled to open the stage at 8am, but did not perform until well after noon.
Agou Bol of Moi Primary School Kabarak was witty with his comedy piece.
"I am so dark that if I wore a white pair of pants and folded it, you could think I am wearing black gum boots," he said.
Kanyamedha High School from Kisumu presented a narrative depicting the treacherous role of class and school prefects who have to balance their academic work with other duties.
Gikumene Girls entertained the audience with their cultural creative dance, Ntruura Yetu, depicting a society with broken law and order.
The festival comes to an end today and the next two days will feature the very best performances at the winners' gala at Lenana High School.