Writers must develop their own imagery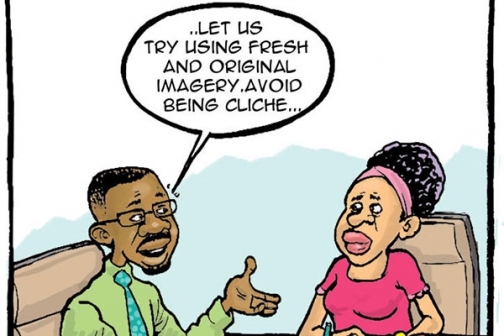 NAIROBI: Every writer is taught to show instead of telling. One way writers are taught to do this is by use of imagery, which consists of metaphors and similes. If you read say, Things Fall Apart, you will see that Chinua Achebe employs imagery from the outset as he describes the fight between Okonkwo and Amalinze the cat, painting a clear mental picture that transports the reader to this fictional village of Umofia before the missionaries and as such the colonialist arrived.
Further, writers are taught to avoid clichés, a term that easily translates to overused phrases. Interestingly, I have had conversations with young and old writers and some of them never realise that most of the similes ad or metaphors that they use are in themselves clichés. For instance, as black as soot; swift like an antelope; he is a rock and so forth. How many times have these phrases been used? When do you think they were first used? This imagery is as old as English – these terms have been overused until they have lost taste. The question is should we continue using them? I would say we must do better than this if we expect readers to appreciate our fiction. This is the reason I have been encouraging our writers to develop their own imagery.
Consider, Lesley Nneka Arima's ingenuity when she talks about one of her characters holding a grudge the same way she held water in her hand. You don't need to be told what an impossibility it is to hold water and yet, no one needs to remind you about the newness of this imagery! One time I was chatting with an old writer friend of mine and he said, "It doesn't matter anymore where you graze the cows provided they produce milk." He could have as well said the end justifies the means. Where shall we 'borrow' these additives from?
Resonate with the readers
Over the years, I have watched our writers struggle with English imagery as they forsake our own local similes and metaphors. Surprisingly, what some of our writers avoid could just be what is required for their work to resonate with readers. Have you ever asked yourself why it is always interesting to listen to elders speaking back in the village? They employ imagery in their speech at all times and hardly ever lack something new to help explain what they are saying. They simply don't struggle. Every community has a culture captured in wonderful imagery. Look around you, listen and you will realise this. Recently, I was home and someone describing an evil person said the fellow had shaken hands with the devil himself after winning a race against ghosts. Ouch, but how refreshing!
Developing your own imagery requires you to think about issues and develop expressions that can aptly communicate certain aspects of life while engaging the reader's five senses through the mind. For instance, how do you think we should refer to this generation of pupils who burn schools? May be we could call them firemen, firebrands or arsonists but then all that is common-place. How about the firebug generation? That could just be it! Whatever imagery you come up with must be witty and must obviously capture what you expect your reader to 'see'. It must produce vivid mental pictures that enable the reader to understand what you are talking about. One must remember that imagery should fit in to style and setting – you can't use images that express humour in a serious situation just as you can't employ urban imagery to express something that is rural-based.
Plot alone cannot pull the readers into the story hence, the urgent need for imagery. However, I must caution anyone who now feels energised enough to develop their own imagery that wit is different from outrageous formulations. Create that which will present you and your work as an act of class and not someone who is struggling to fit. If you can't hack it, stay put; creatively use what you already know and are comfortable with. Your ability to make the wheel spin faster will save you the pain of reinventing it. At the same time, practise makes perfect – you must try to improve your writing by thinking and wondering how you can connect words to make your sentences sounds better. Do not just use phrases; ask yourself if you can get alternatives that can enhance your writing. Establish a beat; create rhythm in your work using assonance and consonance and you will soon be pleasantly surprised at the reception that your readers will give your writing.
Legendary artist who gave art the African perspective
Renowned painter, writer and academic Prof Elizabeth Orchardson-Mazrui organised an auspicious event to celebrate this historical personage together with his African-American wife, the artist-poet Philda Ragland-Njau.