Suzanna Owiyo's dream for an art centre takes off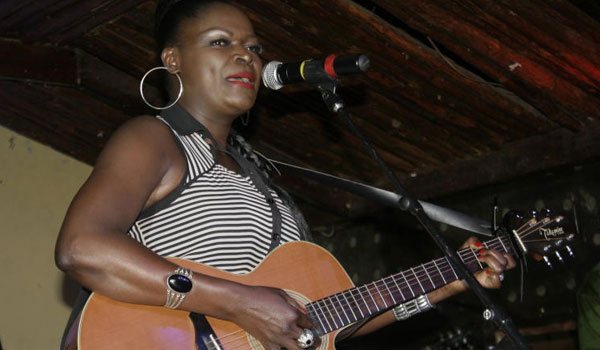 Suzanna Owiyo
She is one of the very few artistes who have stood tall on the music realm through fusing of traditional western music, traditional instruments and contemporary rhythms.
This, despite the influence of creating 'easy' music through contemporary programming where beats are solely created using a software.
Suzanna Owiyo is a force to reckon with in the music industry and her live performances always attract large audiences.
It is with this in mind that she developed a vision to nurture talents, her way of giving back to the society.
This dream of lifting artistes who will not only sing but also perform music and restore African culture has already kicked off through the construction of Suzanna Owiyo Art Centre at Riat Hills in Kisumu City.
"I launched my career in Kisumu and as a way of giving back to the society, I always had a dream of beginning an art centre where young talented youths, without a platform to do music, can be given a chance," she says.
It is 13 years since the renowned afro-fusion icon released her first music album, Kisumu 100 that was produced by Tedd Josiah and for which she received nomination in the Kora Music Awards 2002 in the 'Most Promising Female Artist' category.
Owiyo's says her main focus is talent development which will begin in Kisumu, and with time get extended to other parts of the country.
"Once everything is put in place, I will focus on the entire country. A 1,000 miles' journey begins with one step. We are currently on the baby-step stages," she says.
Owiyo says the centre will not only focus on fresh talent but also consider those already in the industry, focusing on improving their productions to greater standards.
"We would like to look at this venture broadly. Even those already in the industry will benefit from the art centre because it will be equipped to international standards," she says.
The eight-acre art and cultural centre that will have state-of-the-art recording studios' construction has already begun.
Erick Ounga, the centre's marketer, says the place will serve both local and international artistes.
He says they have have already bought the land, done landscaping, and have started developing structures. "The art centre will have a recording studio and houses for artists to stay in for at least six months while under training. It will be very big and diverse and will also have video shoot scenes," he says.
Mr Ounga says Owiyo's dream for the centre began 15 years ago and will soon become true with help from other players.
"The focus of this place will be to have youths learn to play music and not just to sing. Our youths need to stop aping the western culture and start doing live bands which I believe is real music. It is sad that our current musicians can neither sing without the help of back up CDs, nor play any instrument," he says.
The centre, which is raised up the hill, gives one a view of the entire Kisumu town and Lake Victoria.
Ounga says together with the serene view, the art centre will also have a tourism attraction site called Adujo Lodges, that will showcase western Kenya culture.
"Western Kenya has very rich and deep cultures from the Luo, Luhya, Kisii and Kuria communities that need to be showcased as a way of attracting tourists," he says.
Even as the construction goes on, events have already commenced at a field within the art centre for weddings, corporate events, tented camps among others.
"Money from events done in this field will be used to sustain the centre," Ounga says.
It also has part of the land allocated for a helipad for four helicopters.
"Those under training will also have time for recreational activities hence in our plan we have allocated some space for a sports pitch. We have also brought about 100 monkeys to the art centre. I believe that after one year we will have developed this place immensely, "Ounga says.