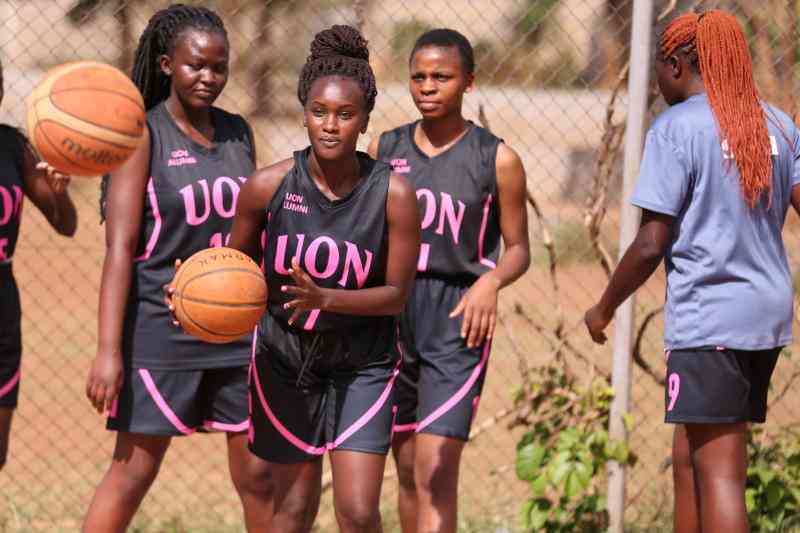 University of Nairobi Dynamites completed a double after registering a solid 56-36 victory over Eagle Wings in their women's Kenya Basketball Federation Premier League tie at Nyayo Stadium Gymnasium, on Sunday.
The university students proved hard to crack after building on Saturday's 60-48 overtime victory against Eldonets at the same court to move fourth on the standings with seven points.
Both teams were locked in a 45-45 draw at the end of fourth quarter before the hosts, Dynamites, erupted with a dominant 15-3 win in overtime to humble the newbies.
Lynn Vanesh, Shalon Gacheri, Faith Atieno and Liz Okumu scored a combined 44 points for the university students in the win.
On the other hand, Sheila Cherotich of Eldonets' scored a game-high 17 points despite the loss as Cynthia Kiptoo added nine points.
On Sunday, Liz Okumu was in a class of her own after scoring 18 points while Faith Atieno and Susan Jepleting dropped 20 points as the Dynamites cruised to victory against Eagles.
Coach Juma Kent's outfit braced though an early first quarter scare to lead 33-14 at the break.
Eagle Wings had forced a tight 9-9 tie in the opening quarter before being outplayed 24-5 in the second quarter by the university side.
The students then stretched the scores to 49-23 by the end of the third quarter before finishing off the Eagles with a 56-36 win.
Dynamites, who finished fourth last season, have won three of their four opening matches.
Ten days ago, Dynamites lost 64-30 to champions KPA but re-grouped to beat Storms 31-16 in a low-scoring encounter.
However, wins against Eagle Wings and Eldonets have seen the students crawl back on track as the season slowly starts to gather pace.
"The girls played much better than they did on Saturday against Eldonets and we have a lot of positives to pick from the win. We are not where we would want to be, but I believe we will get there soon," said Kent.
In another women's Premier League match at the same venue, Kenyatta University Oryx opened their new season with a resounding 53-35 win over Eldonets as Strathmore Swords
saw off Africa Nazarene University (ANU) 65-53
In the men's Premier League, former Ulinzi Warriors bounced back to winning ways after a close 68-64 victory over Strathmore University Blades.
The Warriors had surrendered their unbeaten record to champions Kenya Ports Authority 62-54 in Mombasa two weeks ago.
Ulinzi Warriors, who lost the 2021 title to champions KPA, had won in four straight outings before losing to the dock men. At the same time, University of Nairobi Terrorists defeated Eldonets 77-65.