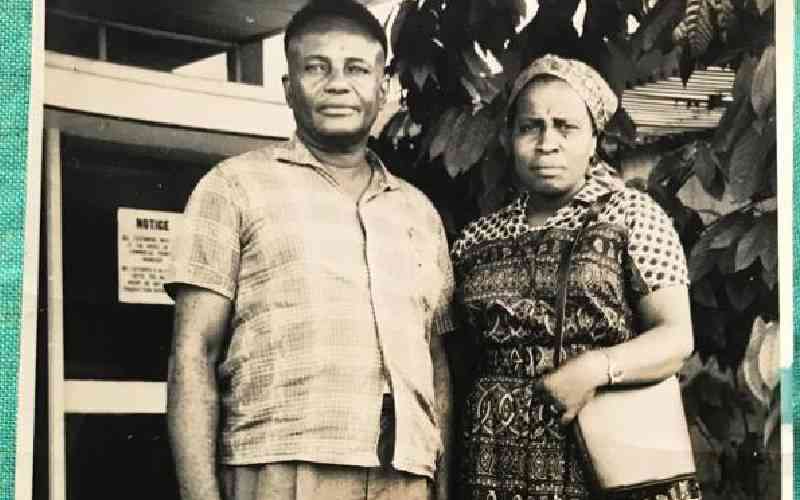 At Lang'ata Cemetery on Langata Road is buried a freedom fighter and great Pan-Africanist by the name Ras Makonnen.
He was born Nathaniel Thomas Griffiths in the Caribbean state of Guyana but changed his native name to Ras Makonnen as symbolic gesture to identify with his African roots and the struggle for Black liberation.
Ras Makonnen is the name of the father of Tafari Makonnen, the Ethiopian leader who was popularly known as Emperor Haile Selassie.
While living in Britain in 1930/40s, Makonnen met and made life-long friendship with Jomo Kenyatta. In later years, Kenyatta welcomed his friend to take up Kenyan citizenship and live in the country where he worked as an adviser to government and Mzee Kenyatta's special envoy. He passed away in December 1983.
While in the US for further studies, Makonnen was inducted to Black consciousness by students from African colonies and African-Americans battling segregation. The Ethiopians he met made him develop great admiration for Emperor Haile Selassie who was in exile after invasion of Ethiopia by the Italians.
Makonnen went to Denmark for further before relocating to Britain where he briefly lived in London, later settling in Manchester and established a successful chain of restaurants. Prosperity in business however, didn't divorce politics from him.
Like Kenya's Kenneth Matiba in later years, he invested proceeds from his hotel business in politics, generously supporting the cause of Black liberation in Africa and the Caribbean. Makonnen, for an example, used substantive personal resources to host the famous Fifth Pan-African Congress in Manchester in 1945, and which laid ground for final lap in the grand march to independence of many colonies in Africa, Kenya among them.
Jomo Kenyatta was a key-note speaker at the Manchester Congress.
In his book titled Pan-Africanism from Within, Makonnen tells how he met Kenyatta, the impressions formed, and the ensuing friendship. At one point Kenyatta was a manager at one of his restaurants, known as Hotel Cosmopolitan, and which was the melting pot of Black politics.
This is what he wrote of the Jomo he met in London: "Kenyatta was obviously marked for leadership. He was a man sought out by many Africans who simply wanted to talk to a seasoned revolutionary. There also was a fascination about him that led whites like Baroness Karen Blixen to invite him to Denmark. Other friends in Germany and France too, invited him (Kenyatta) to visit their countries."
Makonnen reckons that Kenyatta was a great speaker with a great sense of humour. He tells of a meeting he attended at London's Trafalgar Square and addressed by Kenyatta to express anger at Italian occupation of Ethiopia.
Kenyatta made fun of the British Foreign minister, Sir Samuel Hoare (pronounced w-h-o-r-e) who had supported Italian aggression on Ethiopia. He said: "Sir Hoare….He supports the invasion…You wonder about him…. But what else do you expect from a whore? A whore is a whore! He will sell anything to buy anything!"
It is at the Fifth Pan-African Congress where Kenyatta was first exposed to the wider world. Makonnen writes: "One place where Africans like Kenyatta and Kwame Nkrumah (Ghana's founder President) could be seen as professional rebels was at the Fifth Pan-African Congress in Manchester. This obviously was an important occasion for projecting the African leadership upon a wider audience. It was a ferment of Pan-African activity."
Also, it is Makonnen who found suitable publisher for Kenyatta's 1938 book: Facing Mount Kenya and negotiated for him handsome loyalty payment that greatly helped in those difficult days. He recalls in the memoir: "Kenyatta was concerned that he get certain things known about his people. With encouragement from his professor at the London University Department of Anthropology, Prof Malinowski, he had put together a series of essays on the social life and customs of his Kikuyu people and he wanted them published.
"We had first thought we would get one of our own to give some sequence to these loose essays, but when that didn't transpire, I took them to a mutual friend of ours, Ms Dinah Stock, a specialist in English literature. She agreed to take the assignment and it only took her about three weeks to complete the job. That done it was relatively easy to find a publisher who was prepared to pay Jomo a sum that was larger than anything he had received for work done since he left Kenya."
Makonnen Road
Finally came the time for Kenyatta to return to Kenya in 1946. Makonnen who stayed behind for another decade writes of their emotional parting: "We travelled from Manchester to Storrington where Kenyatta had been staying during the war (World War 2). After packing we boarded the train from London to Playmouth. It was a difficult moment realising we would now be separated after fifteen years being together. We looked at each other unable to speak and walked over towards the ship. (Kenya travelled by ship docking at Mombasa after a week in the high seas) I left him after embracing well realising the hell he was returning to."
Sure enough trouble awaited Kenyatta on return home. He found agitation for Kenya's independence at fever pitch. He was invited to be president of the newly formed first national political party for Africans, the Kenya African Union (KAU).
While Kenyatta preferred a negotiated and peaceful roadmap to independence, a militant wing within KAU supported by a vibrant trade union movement demanded independence "Now!" lest they take up arms. But with the British not about to let go, the Kenya Land and Freedom Army (Mau Mau) came into being, and a State of Emergency was declared. Much as Kenyatta had taken a moderate stand, the Mau Mau rebellion was framed on him. He was arrested and sentenced to ten years imprisonment after a sham trial.
In Britain, his friend Makonnen was harassed in an attempt to get any link with "Kenyatta's subversion" which would be the excuse to deport him to Guyana. Not finding any, he was grudgingly allowed to stay in Britain. Through Kenyatta's elder daughter Margaret Wambui, Makonnen clandestinely but generously contributed to Kenyatta defense and welfare at Kapenguria.
Jomo's friend later settled in Ghana where he was instrumental in founding of the Organisation of Africa Unity (OAU), the precursor to the African Union (AU). He relocated and settled in Kenya in 1969. While in the country, together with Kenyatta's daughter Margaret, they quietly re-united old friends Mzee Kenyatta and Jaramogi Odinga who had fallen afoul over differences in ideology immediately after independence.
Incidentally, all leading Pan-Africanists and Jomo contemporaries when he lived in Britain have streets in Nairobi named after them. They include Nkrumah Road (after Kwame Nkrumah), Dubois Lane (after W.E.B Dubois), Marcus Garvey Road, Ralph Bunche Street and George Padmore Lane. So why not have Makonnen Road?
After all, not many people know the meaning and origin of name 'Lang'ata'. It was the name of a crossing point in a shallow river next to Lang'ata Cemetery which has since dried up.
Postscript: And now that Uhuru Gardens has been reconstructed to a national museum and heroes square, why not have our departed presidents interred there instead of having presidential mausoleums scattered all over? Even ashes of cremated heroines and heroes ought to be preserved at the Uhuru Gardens Hall of Fame. What do you think?