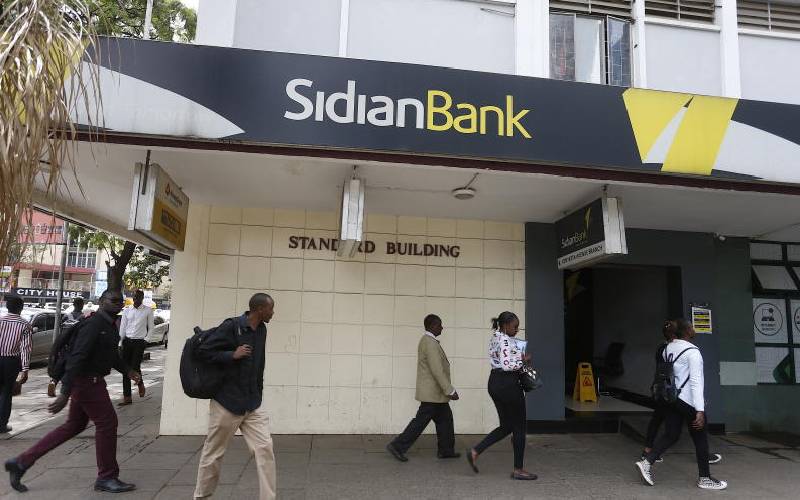 Nigerians have bought another Kenyan bank, Sidian when the ink on the acquisition of Transnational Bank by the same country had not yet dried.
And Sidian Bank may not be their last acquisition. Should we celebrate or weep over Nigerian acquisitions?
And why Nigerians? We came to know about Nigeria for various reasons. Let's start with literature led by Chinua Achebe, Wole Soyinka, and lately Chimamanda Ngozi Adichie. The second reason was coups, now less frequent.
Nigeria also pioneered indirect rule that was introduced by Captain Frederick Lugard. Is that why the title 'chief' is still very prevalent in Nigeria? More recently its Afrosinema and, sadly, Boko Haram. Some Kenyans would add the marriage of some prominent Kenyan girls to Nigerians, I hear even some MPs. We can't forget their churches.
It seems there are now two Nigerias. Corporate Nigeria is thriving, making acquisitions, and creating the Nigerian brand. To corporate Nigeria, I would add the academia where Nigerian scholars have made their mark.
Two scholars of Nigerian extraction were on my PhD thesis supervision committee as a student in the US's Deep South, specifically in Mississippi. I got value for my money. Political Nigeria is an enigma. It seems the settlement after the civil war pitting Biafra against the rest of Nigeria was not good enough.
There are still echoes of that war.
Their federal constitution, borrowed from America, does not seem to have resolved the grievances based on religion, oil and other resources.
Yet, we borrowed some ideas from Nigeria in our 2010 Constitution.
Would the problem of Nigeria be partly explained by copying other countries' constitutions without taking the socio-political circumstance? One could ask in whispers why Boko Haram and other insurgents are wreaking havoc.
Was power distributed so much in the federal constitution that no one has enough of it to confront such a national crisis? The political situation in Nigeria is a matter of concern to Africa and the rest of the world.
It's Africa's largest economy and is touted as having the potential to become the first black superpower. The current political situation does not augur well for the road to such a status.
Let's come back home. The acquisition of Sidian Bank shows that Nigeria Incorporated is thriving. The Nigerian financial sector has expanded its tentacles beyond Africa.
Why Kenya? The demand by the regulator, the Central Bank of Kenya, for banks to raise their minimum capital has led to consolidation. Those that don't merge prefer to sell-off.
Financial innovations
Nigerian banks are better placed to take advantage of our demand for minimum capital, they are bigger and consolidated before us.
The number of banks in Nigeria reduced from 89 to 24 in 2005.
These banks, bigger and more capitalised, also understand the African market better. Nigerian buyers probably want to leverage on financial innovations that Kenya is famous for.
They can use that knowledge to expand into other markets in Africa and beyond. We can add that Nigerian banks have footprints in developed countries, too.
It's also possible that Nigerian banks see Kenya as the entry point to the rest of the now expanded East African Community. Our banks have done well in the East African region.
Like Nigerian banks, it's time to leave the shores. Are the Nigerian banks preparing for the Africa free trade area?
Having softened our minds with Afrosinema, like the British with religion or Americans with their Hollywood, Nigerians have taken another bold step and built a formidable financial system, the nervous system of any great superpower.
While politics might drag Nigerian in her quest to become the first black superpower, the financial basics are falling into place. One reason America has outlasted other superpowers is her robust financial system based on the dollar.
The Nigerian Naira may not become a reserve currency soon, but Nigeria Inc has taken some bold steps. Once Nigeria builds a robust financial system, it will start acquiring other assets on the continent.
That could include companies, mines and oil fields, among others.
She could start funding mega projects such as railways and highways. Will she try and use her financial muscles to control the politics of other countries?
Nigeria should take her mantle as the leader of black Africa just like the US in the Americas or Germany in Europe. Her leadership would be espoused economically. We would love to see Nigeria as the locomotive of the African economy.
Some could argue South Africa should take that mandate, but Nigeria is better placed with her large population and 'blackness'. Can Nigeria sort out its political problems and take the economic lead? If Nigeria could act as a countervailing force to rising China or the West, that is something to celebrate.
We can only weep if she fails to resolve her political problems. There are so many followers waiting for Nigeria. Will it realise the Pan-African dream?
Finally, on a light touch, with Nigerians snapping up our banks, it's time we raised the dowry price for Kenyan girls marrying there. Remember I am a certified dowry negotiator?