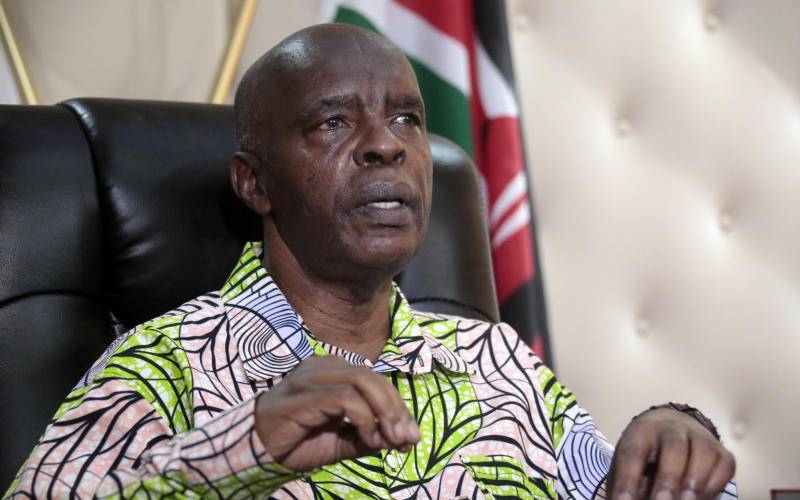 After two terms of stellar performance as Governor of Makueni, Prof Kivutha Kibwana will vie for the county's Senate seat.
He says his many supporters and majority MCAs want him back as senator so that he can protect the great achievements during his tenure, as well as advice and assist the incoming governor if and when requested.
He has no preferred successor and says he will work with whoever Makueni electorate votes in as their next governor.
This is what he said at a recent budget-making forum in Makueni: "My quest to be senator is people-driven. I have bowed to pressure from the many who want me back to protect and help extend the life-changing development that I have initiated in my two terms in office."
Talking about life-changing projects, the out-going governor isn't exaggerating. On June 28, 2018, he got a rare compliment from the Financial Times of London which cited Makueni as a show-case of how devolution has been a game-changer in impacting economic development in rural Kenya.
The paper reported that thousands of fruit farmers in Makueni are now fetching five times what they were getting for their produce after the county government constructed value-addition facilities for better markets.
The World Bank, the European Union, UNDP and USAid, too, have cited Makueni as case study of success story of devolution in the country.
At home, Kibwana has earned admiration from peers, and delegations from other counties have trooped to Makueni for bench-marking.
For the same reason, the county was symbolic venue for hosting the last national devolution conference and commemorations on the 10th anniversary of the devolved system.
Higher calling
Not able to fault Kibwana on matters of development or integrity, his challengers in the senatorial bid have come up with two excuses why he shouldn't be elected. One is a misconception, the other one laughable.
The first is that having been a two-term governor, Kibwana should aim for a national office, obviously a Cabinet appointment, which is what other two-term governors are gunning for.
They argue that a senator is a junior, local position. They are wrong. Senators are elected at counties but serve at the national level, and are like Cabinet ministers in the old Constitution who were elected but had national dockets and sat in Parliament.
While governors have executive powers confined only to a single county, senators have oversight powers on all 47 counties. Kibwana's sterling performance will be a boon for the entire republic once he sits in the Senate.
Pundits say his wealth of experience, including serving in the national Cabinet and in the civil society, makes him a great candidate for the post of Speaker of the Senate, Deputy Speaker, or Majority Leader.
Would Makueni voters want to deny their son any of those premium positions based on propaganda from misinformed challengers?
Senate not for football
The other excuse by his opponents — and a laughable one at that — is that the professor is now too old to hold political office! But how old is too old?
At 67, the professor is still young to be in politics. Senator Sam Ongeri is 82 years and wants to be Kisii governor.
When told he was too old, long-serving Butere MP Martin Shikuku used to mock his opponents that one isn't elected to Parliament to play football! Maybe Kibwana needs to tell his opponents the Senate isn't a football club!
Age has never been a hindrance to public service. In 2008, Americans voted in 47-year-old Barack Obama with Joe Biden as his running mate. And when his turn came 12 years down the line, they voted in 77-year-old Biden to same office.
At home, if both win, we will have 76-year-old Kangema MP Muturi Kigano sitting in Parliament with Bomet Woman Rep, 24-year-old Linet Chepkorir a.k.a Toto.
Indeed, right from Independence, Kenya has leaped abundantly when young and old blend for transformative leadership.
President Jomo Kenyatta took office at 73, and picked a Cabinet where majority were below 50 years. He entrusted crucial dockets like Economic Planning and Finance to Tom Mboya and Mwai Kibaki, respectively, when they were below 40.
But they blended well with Mzee Kenyatta and other "oldies" in the Cabinet, including Jaramogi Odinga, Joseph Murumbi, Mbiyu Koinange and James Gichuru.
Kibaki presidency is another good example. Though taking over at 72, he had the wisdom to blend the young and the old to drive his transformative agenda. His Cabinet had the old guards in Vice President Moody Awori and John Michuki, among others, as well as the Young Turks brigade of Mutahi Kagwe, Mukhisa Kituyi, Ochilo Ayacko. But they were all performers.
Michuki is remembered for reforms in transport and environment management, as his son-in-law Kagwe is for optical fibre cable and digital migration. Moody Awori is credited with reform in prisons, as Kituyi is remembered for his prowess in trade negotiations.
Story of 2 judges
A former controller in State House once told me how Kibaki appreciated the mixture of the old and the young. The Judicial Service Commission had forwarded to Kibaki two names to pick one to represent Kenya at the East African Community Court in Arusha.
One was relatively elderly in comparison to the other. The former controller recalled Kibaki telling him: "We give the job to the younger man and lift him. But soon we will also promote the elder one. We need both of them."
Indeed, the elder judge got promoted to the Court of Appeal. Today the "elder" and the "younger" are judges at the Supreme Court.
President Uhuru Kenyatta too, hasn't been averse to blending the old and the young for better service delivery. While he insisted on keeping Joseph Kinyua, who is past retirement age, as Head of Civil Service, he "poached" from Safaricom youthful Nzioka Waita to deputise him.
Both have worked seamlessly until the latter resigned to vie for Machakos governor seat.
Azimio presidential candidate Raila Odinga too, though 77 — and touted as old by his opponents who have nostalgia of their days at the notorious Youth for Kanu '92 — has never shied away from blending young and old.
At his party, ODM, he loves the company of Young Turks Junet Mohamed, Paul Mwangi, Edwin Sifuna, Gladys Wanga and Hassan Joho.
Lastly on Makueni, one of Kibwana's youthful challengers is going round dishing hand-outs to women and youth groups in the name of "development".
But no Kenyan needs hand-outs when county and the national governments have enough funds to transform lives as long as there is visionary leadership as Kibwana has amply demonstrated, and there is no wastage and theft of public resources!
Postscript: The 12th Parliament closed shop on Thursday. My hunch is that about 70 per cent of the lot will not be voted back.
About 60 per cent of members in the Eleventh Parliament were sent packing and have to make do watching House proceedings on TV.
As with the last Parliament, the worst turn-over will be in Mount Kenya region. Good riddance if they are voted out. There is nothing much to remember them for except their role in premature presidential campaigns!