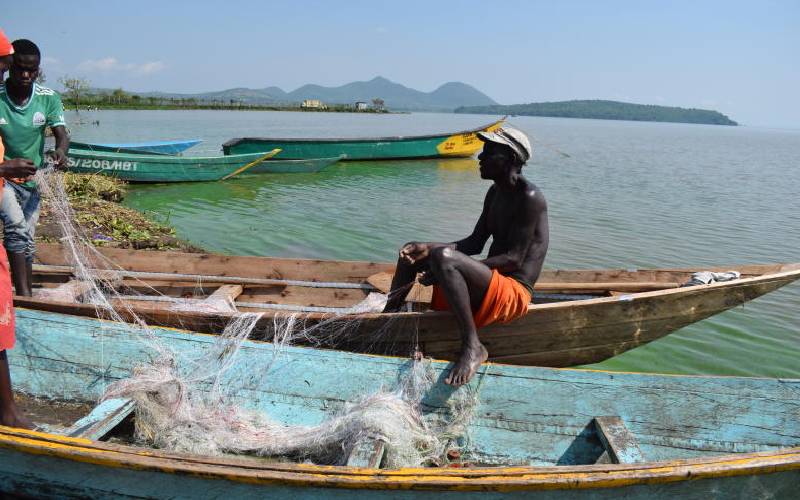 Lake Victoria fishermen have appealed to government agencies to move swiftly and cushion them from illegal fishing methods.
The fishermen say these illegal methods have contributed mainly to a decline in the fish population in the lake.
They further say the decline has contributed to a low fish catch which has greatly affected their livelihoods.
The use of small fishing nets to catch immature fish is one of the major concerns raised by the fishers.
Catching the young fish leads to the death of fish which can multiply in future.
Dalafin Ogweno, a fisherman at Kisaka Beach in Mbita Sub-county, said bad fishing methods have led to the invasion of fish breeding areas in the lake.
"What is happening in our lake is very unfortunate because some people fish at designated parts of the lake meant to be a breeding site," said Ogweno.
According to him, the situation will impoverish residents of the area if proper action is not taken in time.
"This lake is our main source of livelihood but we are losing the main resource which is fish," said Ogweno.
The Chairman of Homa Bay County Beach Management Unit Edward Oremo appealed to various government agencies to work hand in hand to eradicate the vice.
"Eradication of illegal fishing requires concerted efforts. We appeal to government agencies to join hands and help us eradicate illegal fishing in Lake Victoria," said Oremo.
The decline in the fish population has caused serious concern among the fishing communities in the area.
Fish sold in towns along the shore of Lake Victoria are transported from other counties.
For example, in Homa Bay town which is situated along the shore of Lake Victoria, a large quantity of fish sold comes from Lake Turkana in Turkana county.
As a result of the low catch, the market price for the commodity in the local market has skyrocketed forcing locals to opt for imports considered cheap.
For instance, three Tilapias from Lake Turkana are sold at Sh220 at Homa Bay Pier Market while the price of one tilapia of the same size from Lake Victoria is sold at Sh300.