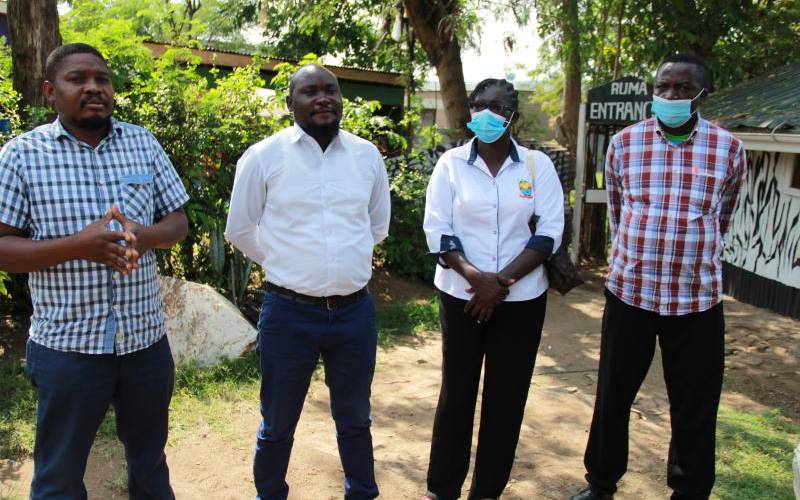 Health services in Homa Bay have been paralysed in public facilities after workers downed their tools.
Clinical officers and doctors went on strike last week but the situation has been aggravated after nurses also joined them this week.
The workers complained of delayed April salaries, failure in remission of statutory deductions, lack of promotion from one job group to another and understaffing.
The Kenya National Union of Nurses (KNUN) secretary Omondi Njonje, trustee Lilian Ogutu and the Kenya Union of Clinical Officers Executive Secretary Philip Mbom said they have no option but to down their tools in order for their employer to attend to their grievances.
Nyonje said the Homa Bay government had violated their agreement of paying them salaries by the 8th day of every month.
"We have not received our salaries at a time when we are taking children to school," Nyonje said.
He expressed concerns that failure in remission of statutory deductions is deterring health workers from acquiring medical care.
"Today if we fall sick, I cannot be treated using my National Hospital Insurance (NHIF) cover because my employer does not remit our contributions. We also incur huge fines exercised by financial institutions from where we borrowed funds," Nyonje said.
He also accused their employer of failing to promote them.
The secretary argued that there are many health workers who had worked for many years without promotion.
"There are some of us who have had promotion letters for more than a year but the promotion has not been effected in terms of salaries. There are many others who applied for promotion some years back but they have not got any feedback," Nyonje added.
Mbom expressed concerns that the county government had continued to dishonour its promises on the welfare of health workers yet Governor Cyprian Awiti's term comes to an end on August 9.
"It is May 16 and the county government has not given out any communication on the delay of salaries. The only option we have is to down our tools," Mbom said.
According to Ogutu, understaffing is a serious challenge in the county affecting service delivery.
"For example, Homa Bay County Referral hospital alone needs about 300 nurses. Even how to manage our duty shift is difficult," Ogutu.
However, Homa Bay Health Executive Richard Muga said they were putting measures in place to solve the health workers' grievances.
"Homa Bay is a county that relies on devolved funds from the national government to pay workers their salaries. We are putting measures in place to ensure their grievances are addressed," Muga said.