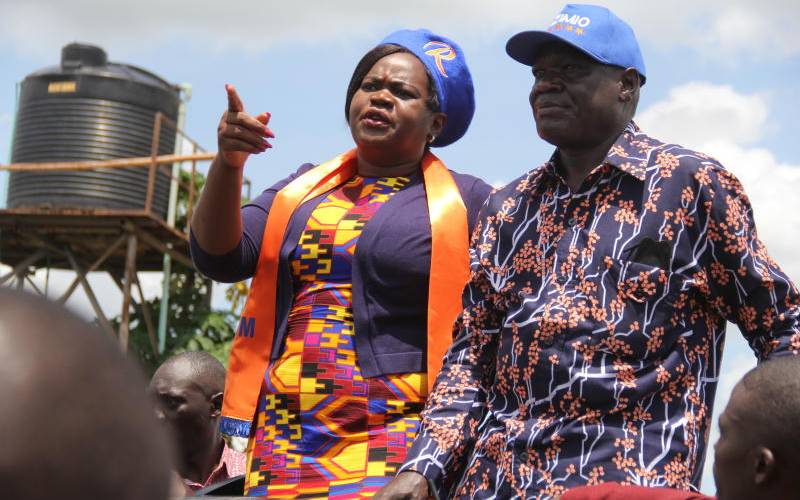 Homa Bay Woman Rep Gladys Wanga and former Nairobi Governor Evans Kidero have been told to incorporate the fight against teenage pregnancies in their Homa Bay governorship agenda.
Wanga and Kidero are the only contenders for governors in Homa Bay. Wanga is vying on an ODM ticket while Kidero is contesting as an independent candidate in the August 9 polls.
But Civil Society Organizations (CSOs) in Homa Bay regretted that the rise of social vices has been forgotten in the campaigns.
One of the issues is teen pregnancies which have impeded the education of many girls in the county.
Other issues include environmental degradation, climate change, child protection, youth and women's empowerment.
Homa Bay CSOs network chairman Mathews Owili, vice chairman Japheth Ojijo and Hassan Opidi (member) said the campaigns have given too little focus on social problems.
Speaking during a meeting in Rodi Kopany township, Owili said the aspirants were mainly focusing on agriculture, industrialisation and other development projects, ignoring social vices with grave damage to the society.
"We are worried that social vices affecting Homa Bay residents may not be addressed by our gubernatorial candidates if they are elected because we have not heard about them in their agenda," Owili said.
Owili said the issues need serious attention.
"We want the issues to be part of the agenda so they can be addressed when one of these leaders is elected," Owili said.
Ojijo who is also the programmes coordinator at Integrated Development Facility (IDF) said cases of teen pregnancies, high HIV-Aids prevalence and gender-based violence could be tackled through the goodwill of the county administration.
"The social vices have deterred the growth of many young people. Some of them have dropped out of school while others are learning in difficulties of serving as mothers and students at the same time," Ojijo said.