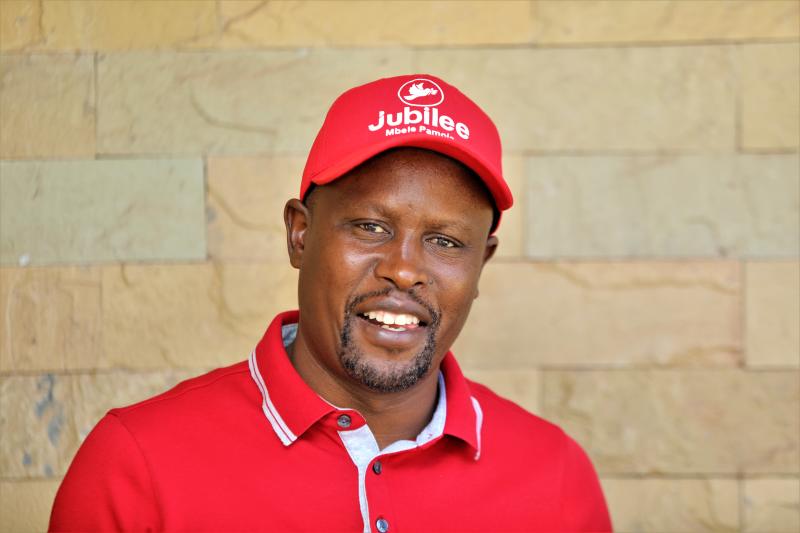 A bruising battle is expected as the Jubilee Party Director of Elections Kanini Kega attempts to retain his seat for the third time.
Mr Kega will be squaring it out with about 10 other aspirants seeking to represent the vast Kieni constituency in the National Assembly.
Seasoned politicians, as well as new entrants, have expressed their intention to unseat the National Assembly Finance Committee chairman, who was the only legislator in the six Nyeri County constituencies to be re-elected in the 2017 General Election after garnering 66,203 votes.
Among his opponents is former county council chairman Wachira Maina of Gatundu South MP Moses Kuria's party Chama cha Kazi and businessman Wainaina Njoroge of Deputy President William Ruto's UDA.
Mr Kega is confident of winning a third term. Acknowledging that he has faced challenges in as far as infrastructural development is concerned, he claims to have done 300 kilometres of tarmac while making many other roads motorable through graveling.
The legislator says he has increased electricity connectivity from 16 per cent when he assumed office to the 66 per cent, helping small-scale businesses to grow and therefore creating jobs.
On health, he claims to have lobbied for the building and equipping of the Naro Moru Level Four Hospital at a cost of Sh300 million as well as the setting up of the Kenya Medical Training College in Kiawara.
Education and security
He also cites the Sh1 billon Chaka Market and the Chaka Railway Station projects by the national government.
Mr Kega says the refurbished Nairobi-Nanyuki railway line has helped farmers market their produce.
The MP says he has rehabilitated infrastructure in about 130 primary schools.
To increase security, the legislator says 10 police posts have been built in his tenure.
"People, including my enemies, say I'm the only Kieni MP who had transformed this constituency and it will be a tall order to dislodge me going by my track record," says Mr Kega.
Through National Government Constituency Development Fund (NG-CDF), the legislator says he has acquired 15 acres of land from the New Kenya Cooperative Creameries for upgrading Chaka town into an industrial centre.
But his rivals are raring to take him on.
Mr Maina will be banking on his experience as councillor and chairman of the Tana Athi Water Services Board to address some of the issues affecting the constituency, which occupies 52 per cent of the county landmass.
Water for domestic use and irrigation top the priority list for the locals.
"If we bring water to Kieni, we will turn around the economic status of the people of this area," he says.
If elected, Mr Maina pledges to use the NG-CDF to turn around the education standards, noting that most school buildings were done over 60 years ago. The oldest institutions include Kimunyuru and Embaringo primary schools.
He also intends to build more secondary schools.
On youth and unemployment, the aspirant says he will develop incubation centres by tapping into the existing internet connection in addition to setting up business centres.
He also sees the need to set up a high altitude athletics centre to tap and develop talent among the young people.
Changing the youth to embrace agribusiness would also be on his priorities list. Mr Maina says the are has potential for fruits and fish farming.
Mr Njoroge will be trying his luck for the second time after coming second in 2013 with 23,339 votes against Mr Kega's 44,927 votes.
In 2017, he was taken ill eight months to the elections and sought treatment in India, prompting his son Joseph Wainaina to vie as an independent candidate. He trailed Mr Kega with 10,261 against 66,203 votes.
Lucky star
In the UDA primaries, Mr Njoroge won with 7,346 votes while Alex wa Total got about 5,000 votes.
This time, he believes the stars have aligned. He is also banking on UDA's popularity.
His priorities include addressing water scarcity through building of four mega dams to feed the area, which is in the middle of Mt Kenya and Aberdares Forest water towers.
"We will not be seeking to build new infrastructure to improve our education standards but instead I will rehabilitate the existing ones so as to cut cost and use the remaining resources to do other projects," he says.
On party politics, Mr Kega denies he enjoys any advantage as a top official. He says the party has transformed Mt Kenya through various projects by the national government.