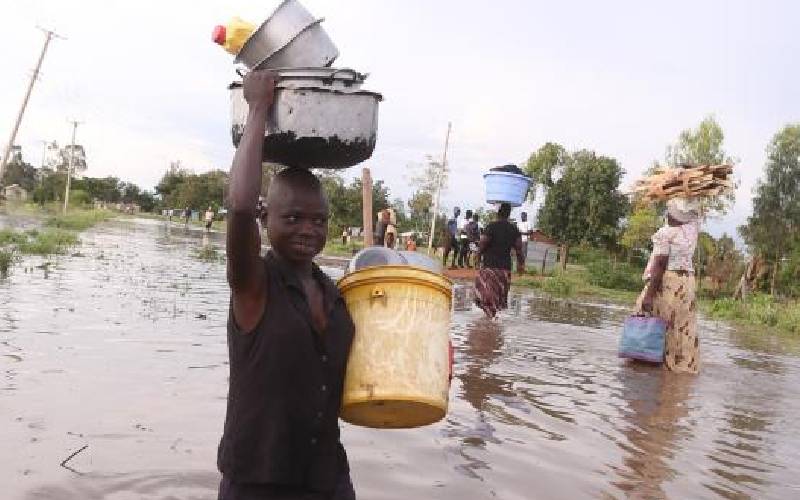 When The Standard returned to Nyando Constituency in January, several families still lived in temporary camps following flooding that had displaced them in 2019.
On the surface of it, all the floods victims seemed to share experiences; all had been woken up in the middle of the night by raging waters after a combination of River Nyando bursting its banks and Lake Victoria back-flow causing water to spill to villages.
Many had lost livelihoods, livestock, crops, and were unable to return to their ever muddy homes not too far from the camps.
But a deeper engagement with some revealed peculiar experiences and challenges. One such story was that of Lucia Atieno Ajwang', an old widow, living with two grandchildren aged five and seven. A Red Cross tent measuring 10m by 15m had been and remains their home since the catastrophe. They lack the very basic.
Ajwang's other worry was her inability to take her two grandchildren to school. "Their mother, my last daughter, left to look for employment in Nairobi. It is over a year now. She has never returned," Ajwang'.
And there was more. Prior to the visit by The Standard team last January, Ajwang had lost her grandson. "My son came with his wife and child to visit me at the camp, but the minor fell ill and died," she said, tears lingering in her eyes.
Coming at a time government demanded burial in the shortest time possible due to the Covid-19 pandemic, Ajwang's family had trouble disposing of the child's body as they could not access their marooned home to dig a grave. They sought land from a well-wisher locally, dug a grave, and buried the child there. The send-off was not befitting, she still says.
Many in the camps told of the trouble finding places to bury loved ones.
It is after reading Ajwang's story in The Standard on January 18, that Mrs Gladys Nyandoro learnt of the two minors' plight and promised help.
True to her words, two days after schools opened, Mrs Nyandoro drove from Kericho to Ahero, then 21km further inside on a rough road, to the camp in Ogenya, where Ajwang', her grandchildren and other families still live in poor conditions.
Mrs Nyandoro bought the minors school uniforms, books, pens, gumboots, shoes and other items enough for them to start learning at Ogenya Primary School, where she also paid fees, and offered to continue to her level best. "Children belong to all of us and we should ensure they attend school," she said.
Mrs Nyandoro described the situation as disturbing and appealed to other well-wishers and government agencies to intervene for the sake of the families still living in several camps in the Nyando plains.
The children, the one named after Ajwang' having suffered polio in the right hand, have no documents. "All that was swept by flood water," reiterated Ajwang'.
Overwhelmed by Mrs Nyandoro's gesture, Ajwang' tearfully told how she would watch the girls stare from under a mango tree at their age mates going to school every morning. "It broke my heart that I was unable to take them to school. I do not have any source of income and was unable to buy books and other requirements."
It was not immediately clear if Ajwang' had sought help from the local government primary schools to have the children begin classes before the well-wisher arrived. "But they have not lost so much time, they will still do well," said Mr Jacktone Otieno, a resident of Kakola, Ombaka, who witnessed Mrs Nyandoro's gesture.
The sentiments were shared by Linet Atieno, another flood victim at the camp, and who Mrs Nyandoro had been communicating with to get what the children needed. Ajwang' has no phone, and says every little money she gets goes to buying food.
At the camp dubbed "Kambi Maembe", more than 15 families are still hopeful, three years later, that their homes will be accessible sooner, as the local leadership continues with construction of dykes at the river.
Kambi Maembe is one of the many camps that dot Ogenya and Kakola Ombaka villages, where about 1,000 families are yet to return to their homes. Their problems were worsened by Lake Victoria back-flow.
When The Standard visited the camps last week, affected families were in distress as another rainy season begins. Felix Otieno, one of the victims, said they do not sleep every time it rains at night.
Another problem established when The Standard visited the camps earlier in January was teenage pregnancy, as many girls engaged in sex in exchange for money to buy basics, while others strayed after leaving their parents or guardians in the small tents to sleep elsewhere every night.
Increase in cases of malaria, and snake attacks and challenges for people with disability in the wet areas were also highlighted.