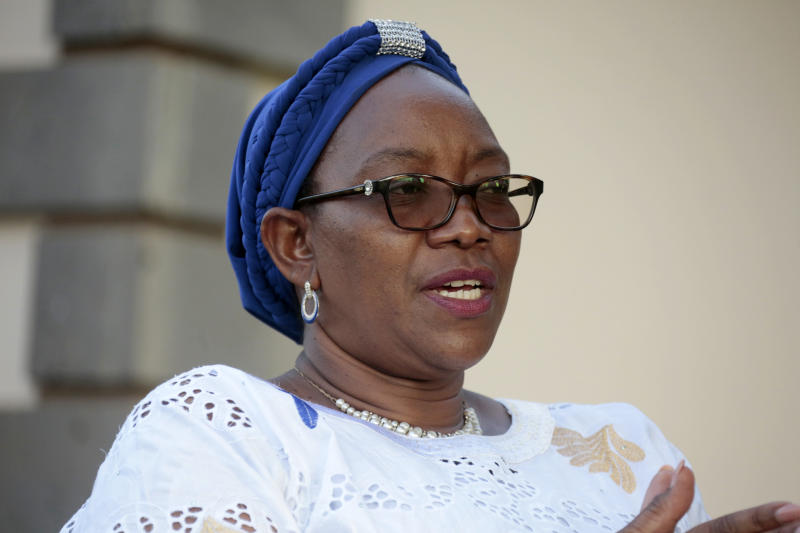 Former Water and Sanitation Cabinet Secretary Sicily Kariuki has stepped down from the Nyandarua County gubernatorial race after a consensus process in Jubilee Party.
Speaking from the Jubilee headquarters in Nairobi, the former CS who hadn't lost colour in her face assured the party her continued support even though she won't be contesting in the coming elections.
"After reflection, I suspended my candidature to vie as the governor of the county of Nyadarua. As I change tact, I will continue to support the Jubilee party as well as Azimio coalition and the candidates who are vying under Jubilee party and Azimio coalition," said the former CS.
Even though the Jubilee ticket holder is yet to be named following Sicily's exit from the race, the former CS stated that her decision was a form of goodwill for the party which faced a looming deadline from the independent Electoral and Boundaries Commission (IEBC).
The Independent Electoral and Boundaries Commission (IEBC) had given political parties until Thursday next week to submit the names of their candidates in the upcoming general elections. The former CS who had already put in place a formidable campaign against her top contender current governor Francis Kimemia, says the decision was not easy.
"We have been caught up with a stalemate and a looming deadline for the party to submit the party list to IEBC. I have decided to be part of the solution and not the problem," said Sicily.
"It is clear to us that at a given point, there are those who will continue and there are those who will give way to others. It takes leadership and it takes courage to step aside and avoid a stalemate and give in as she has done. I want to thank you," said Jubilee Secretary-General, Jeremiah Kioni.
From the beginning of the nomination period, Jubilee through a letter to IEBC resorted to sticking to issuing direct tickets where there is only one candidate and engaging in a consensus where there is more than one candidate. The party shelved the idea of having nominations.
"Jubilee Party will issue direct nomination certificates to unopposed aspirants and in positions where there is more than one aspirant, the party will select candidates through consensus and any other appropriate means in accordance with party nomination rules," read the letter.
In Nyandarua, the party was facing a dilemma in deciding who gets the governor certificate after a fierce duel between the former CS and governor Kimemia.
Sicily's decision would now make it easy for Jubilee to make its next move, one that would likely end up with Kimemia carrying the ticket.
"The process we have used as a party has very high chances of transforming our candidates into real elective positions," said Jubilee National Director of Elections Kanini Kega after Sicily made her decision.
Kioni further remarked to aspirants eyeing to run on a jubilee ticket that not securing the ticket should not be viewed as the end of the journey but those who lose can still serve in different capacities.
Even though, the CS resigned from her position in Cabinet and thrust herself into Nyandarua politics the decision to hang her boots in this race hasn't left her fettered as she says, "we will take another step, there will be another chance."