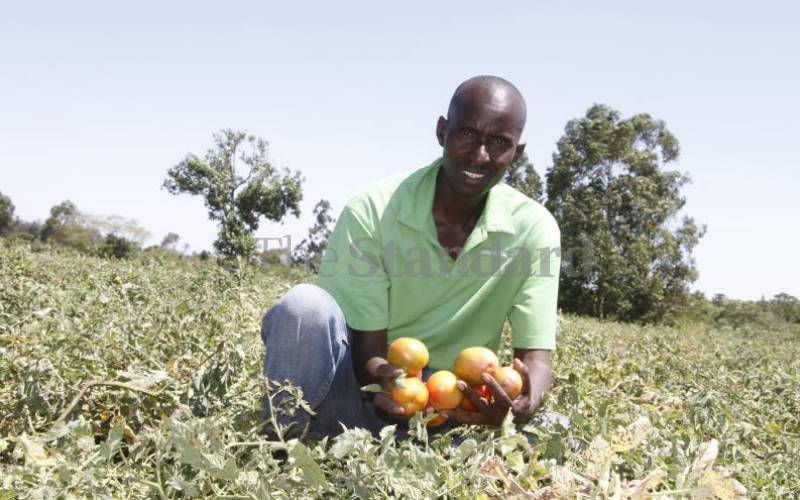 From the 1970s, Kendege village in Kuria East, was known for conflict and insecurity.
The bushy land was a hideout for thugs who would attack community members. It separates Nyabasi and Bukira clans, and so was also a source of conflict over grazing land.
Decades later after the onset of devolution, Mr Peter Chacha decided to turn a 10-acre bushy land believed to be a criminal's hideout into a vegetable haven, something that would, later on, change the lives of the community members.
With Sh200,000 savings, Mr Chacha took up horticulture farming. "I approached Kuria East MP Marwa Kitayama to have access to this land," Chacha says.
Mr Matiko Mosaka, a Kuria elder, says the community approached local leaders to allow turning of the land into something useful.
Earlier, the land was a centre of conflict between Bukira and Nyabase Kuria clans. "You could build a toilet and wake up the following day and find it demolished," Mr Mosaka says.
Mr Chacha, often accompanied to the farm adjacent to Kendege Technical Institute by wife and 12-year-old son, says since he ventured into horticulture farming, he has never looked back.
Mr Chacha says the venture has revolutionised his life. He grows cucumber, garlic, onions, cabbages, collards, watermelons, sunflower and beetroot. A 90-kg of cucumbers and courgette earns him Sh9,000.
He harvests as much as 200 bags of cucumbers and courgette from his vast farm per season. "The two vegetables take three months to mature and once ready, they are harvested twice weekly. I sell them to Nairobi bound traders who take them at a good price," he says.
Mr Chacha, who ventured into horticulture farming in 2010, after quitting his job at Delemare Farm in Nakuru, says the current peaceful political atmosphere has enabled easy transportation of the produce.
He also supplies kales and cabbages to schools within the county.
Ms Susan Boke and Ms Sarah Ghati, who sell tomatoes at Kehancha and Migori markets, say they used to make trips to Tanzania every week, but after their friends showed them where to get the vegetables, they no longer spend money on travel.
Ms Boke and Ms Ghati now use at least Sh600 each spent on transport to buy more stock. "In Tanzania, at the Isebania border, there was always a rush to get the best and constant supply. We sometimes returned empty-handed," says Ms Ghati.
Chacha's skills and style of farming has also attracted a number of youths who wish to train in horticulture farming.
"The inception of agribusiness has changed the perception of many youth. Currently, we are targeting youth who like agribusiness and we are ready to offer extension services to them as long as they are willing to learn," Mr Chacha says.
Ms Jane Boke, a student at Kendege Teachers Training Institute, says her interest in agribusiness increased when she interacted with Mr Chacha.
"With his support, I have turned our two acres into a successful agribusiness hub. Initially, my parents cultivated maize that fetched lower prices," says Ms Boke.
Mr Chacha, who has employed six youth at his farm, also sensitises farmers from his community on smart farming skills through a vernacular radio station.
"I am able to share my farming experience to a vast audience as well as reach out to potential clients. I also share the best crop variety that can be grown with little input for maximum yields," he says.
Mr Chacha participated in the Nairobi International Trade Fair Show where he emerged second overall, putting Migori County in the limelight in 2019, after which he was gifted a motorcycle by Governor Mr Okoth Obado.
"I was motivated by the motorcycle, which I use to access the farm and agriculture workshops," he says, adding that his passion for farming has greatly exposed him to the world of agriculture.