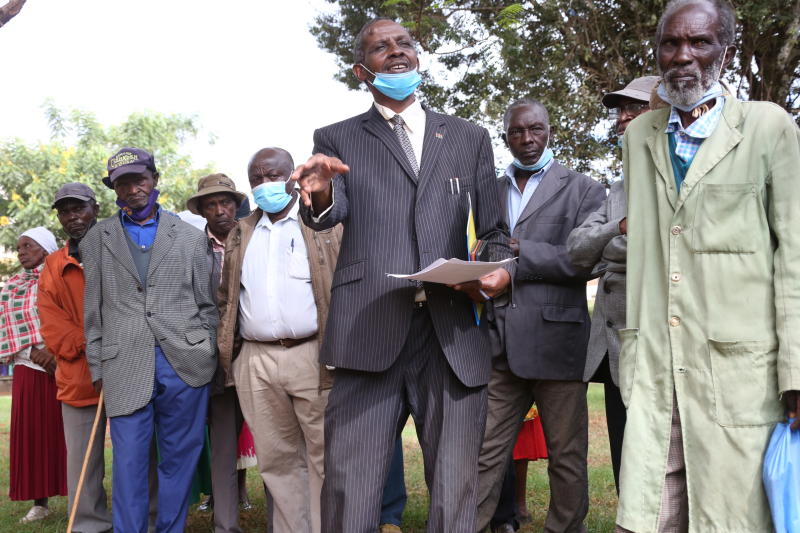 A group that has been seeking to repossess over 2,500 acres from the Catholic Church is seeking the help of Nyeri County government for their case.
The 3,500-member group, led by their lawyer and former Nyeri town MP Mr Wanyiri Kihoro, says backing by the county government will strengthen its case against the Catholic Diocese. The Mathari, Kamwenja and Hill Farm Maganjo Land Owners Association has sent a five page petition to Governor Mr Mutahi Kahiga, seeking admission of guilt by the county government and its precursors. "The predecessor counsels dereliction of duty owed to us led to the loss of the land," the residents wrote to Mr Kahiga.
They have been seeking the return of land referenced as Nyeri 9464, 1356 and 4166, according to the petition. "We are not demanding the return of LR No9463 (previously LO No1105), which is 1,050 acres that was allocated earlier by the British colonial government to missionaries as freehold. However, this land was used from 1958 to encroach on LR No 9464, which is part of our claim," Mr Kahiga was told.
They claimed the racial arrangements at the time the land was allegedly taken by the church had put all African owned land under the trusteeship of the Nyeri African District Council, which became the County Council of Nyeri and eventually Nyeri County. "This means the Nyeri County government bears responsibility for the successive encroachment on the land in contention," reads the petition.
They claim leases on LR Nos 1356 and 4166 were granted in February and October 1965 on the pretext that the land would be held by the Consolata Fathers in trust for the local people then living in emergency - era people.
"We have come to you so that you can help your people. We are also seeking agreement with you and the county government in this matter and your support," the group says in their petition to Mr Kahiga. It was signed by 14 officials and Mr Kihoro.
The group has been unable to meet the governor for two days. Lands and Planning County Executive Committee Member Beth Karimi has promised to respond to the petition next week.
Ms Karimi said it was unfortunate that the group had been unable to meet any senior official since the county executives were away this week.
But she acknowledged that the group had written to the governor and she had responded previously, citing three complications in the matter. "First, the land is private, second the matter is already in court," said Ms Karimi.
Appraised that the petitioners were seeking an admission of culpability by the devolved unit for its part in failing to protect the land when it was under its trust, she admitted she had only responded to the cover letter sent to her office and promised to look at the substantive petition next week and respond appropriately.