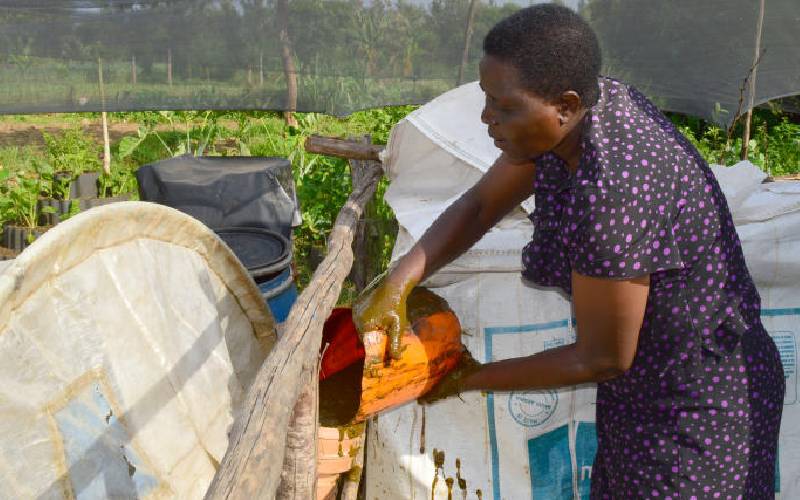 Ann Ogola, a resident of the populous Nyalenda slums in Kisumu County has been spending as little as Sh20 to prepare meals in a communal biogas plant where human and animal waste is turned into cheap, renewable energy.
The initiative by a group of women dubbed 'Smart Women' has come in handy on the back of escalating cost of firewood, charcoal and pricey cooking gas which is also in short supply. The high cost of food and essential household goods has not made life any easier in the slums, but the centrally located biogas plant has been an ideal 'communal kitchen' for the 60 women.
"I cannot afford the price for cooking gas or charcoal. I pay the (biogas) women for cooking meals there," said Ogola who pegged the cost of preparing dinner in the last three months at Sh50.
While Ogola cooks the meals herself, Evans Okoth prefers paying the women to cook for him and the meals take a short time compared to using firewood or charcoal. Using biogas, he adds, has reduced smoke inhalation and he now has fewer bouts of flu and coughing.
"Biogas has spared me from paying high price for gas, money which I save for other needs," offered Okoth.
The women produce biogas by connecting a septic tank to a bio-digester which breaks down the organic matter, producing bio-methane, a natural gas. A mixture of human waste, kitchen waste and cow dung which has anaerobic bacteria is decomposed and deprived of oxygen giving off methane gas. The gas is then collected into a big balloon at the top of the digester.
Under pressure, the gas is channeled into a narrow pipe leading into the kitchen and whatever remains as waste is used for organic farming. Susan Nunda a member of the group says the plant was a project to both serve as source of income while keeping their environment clean.
"We live in slum areas where our income is low and our environment is not clean, so we needed a solution for us and our community," said Nunda, adding that Nyalenda slum is synonymous with dirt and foul smell emanating from clogged sewer lines and poorly disposed of solid waste.
Initially, the women collected waste twice a week which was later picked by a county track. It later became a source of income as residents hire the biogas for between Sh20 to Sh50 which has "been a relief to the families who cook their meal and for us has been a thriving business," explains Susan Okoth, another member.
The biogas plant generates an average of Sh450 daily or Sh13,500 per month from clients preparing tea at Sh20, lunch at Sh30 and supper at Sh50 which most can afford, said Okoth.
Joseph Oganga, the Kisumu County Chief Officer, Energy and Industrialization, lauded the women's effort in spurring the use of clean energy as an alternative to unaffordable cooking gas and cylinders. Oganga noted that his department was embarking on training small and medium-sized enterprises on how to build, install and maintain the biodigesters.
Data from the Department of Energy and Industrialization shows the county has 300,745 households with about is about 18,000 households embracing clean energy which is about 0.6 per cent of the households.
"Thus the uptake of biogas usage is still low however, we are encouraging our people to utilize the technology in a county that has vast potential," Oganga said.
The county has installed the demo digesters at the Vocational training center in Ahero town and another at Maseno Agricultural Training Center. It takes Sh90,000 to install a biogas digester at the institution level. A home biogas system is currently installed at Sh65,000.
Charcoal production and the use of firewood in the slums create a huge demand for wood, which has frequently forced the government to impose bans on charcoal burning and forest destruction.
"The use of biogas energy should help preserve the forests and promote the use of biogas," said Oganga.
Dr Isabel Asamba, an environmentalist at Maseno University said women have become managers of waste through group engagement in waste to wealth, saving slum families money for other essentials like school fees and medical care.