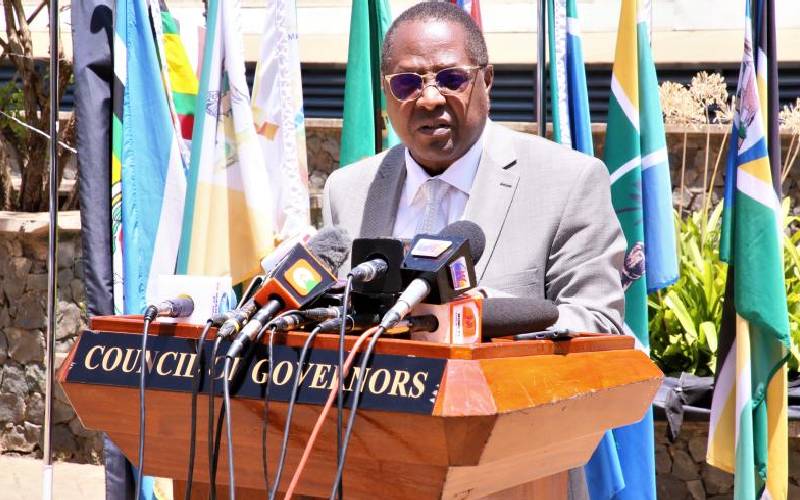 A Nyeri court has vacated its earlier order that would have seen Embu Governor Martin Wambora and three other senior county government officials sentenced in contempt of court case.
The four had been sued by the Kenya County Government Workers Union (KCGWU) after the county government failed to remit its members' statutory deductions amounting to over Sh13 million.
The government had been, in September 2020, ordered to remit the money to the union but failed to do so.
Later, Justice Njagi Marete ordered Wambora, County Secretary Jason Nyaga, acting Finance Executive Mercy Munene, and acting Chief Officer Damiano Njagi, to appear before the court on March 14 the following year for sentencing but they never showed up hence, the contempt of court charge.
And on Thursday, the Employment and Labour Relations court vacated its earlier order requiring Wambora and his co-accused to appear before the court for sentencing a move it said was intended to allow dialogue between the county government and KCGWU with the hope the dispute can be settled amicably.
"The earlier orders issued by this court for their arrest and subsequent appearance for sentencing have been vacated to give reconciliation and dialogue a chance," the judge explained.
At the same time, Justice Marete suspended a warrant of arrest against the governor and three other county officials.
Thursday was the third time the governor, who was represented by lawyer Ahmed Abudullahi Nassir, failed to appear before the court for sentencing.
The court had directed Nyeri OCS to arrest him and his co-accused and take them to court for sentencing.
Court absence
Justice Marete however warned that orders will be revisited in the next mention of the case on April 28 and directed the parties to file their reports of the settlement of the dispute with the court.
Lawyer Collin Amwanga, holding a brief for Ahmed, had earlier told the court that the governor could not appear before as he was reportedly sick.
"My client is sick. He has not been well for a while. We ask for a fair chance to be heard since we have not been properly heard on this contempt application dated January 25, 2021," Amwanga said.
Lawyer Robinson Kigen who represented Nyaga, Munene, and Njagi said his clients had suffered food poisoning. He said Munene was admitted to Aga Khan hospital.
"We were having a meeting with my clients but they couldn't make it to appear in court. They are suffering from food poisoning," Kigen said.
The lawyer had earlier made an application for the judge to recuse himself and filed an appeal before the Court of Appeal in Nairobi over the same.
The orders to have the county government remit the deductions were issued in September 2020 before Marete found the suspects in contempt of court after they skipped a sentencing date.
Lawyer Benard Odero for the union had asked the court not to overturn the earlier order saying the court must be consistent in enforcing its orders.