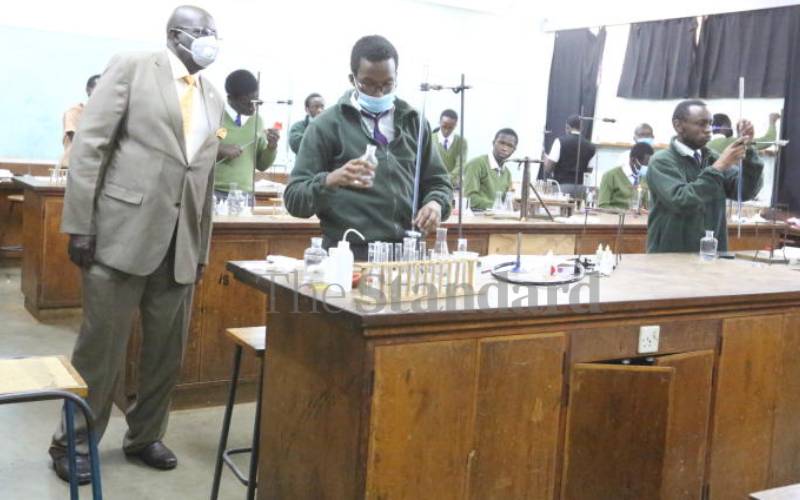 Education CS Prof George Magoha has said only two phones will be allowed in exam centres across the country.
The CS said only the centre manager and a security officer manning the ongoing Kenya Certificate of Secondary Education (KCSE) examination will be allowed to access the centres with their mobile phones.
The directive comes in the wake of reported cases of the use of teachers' mobile phones to send photos of test papers after the exam has started.
Speaking at Muhoho High School in Kiambu at the weekend, Prof Magoha said anybody violating the directive will be arrested and prosecuted.
"Our main headache is the use of mobile phones. From today (Monday) anyone caught with a phone apart from the two, will have them confiscated until the exams are completed," he said.
Prof Magoha continued: "Our team of investigators are on the ground and will effect the measures accordingly." The CS spoke while on an inspection tour of the school to monitor the construction of new CBC classrooms.
Prof Magoha said a number of teachers who have been caught sending photos of test papers after the exam had started are set to be arraigned.
"We caught about 20 teachers and confiscated 60 cell phones in one centre. The exam cheating is happening after the containers are opened and while the candidates are in their exam rooms, meaning a cell phone must have been used."
Prof Magoha says no single paper has been leaked as the exams enter the second week.
Even as the DCI announced the arrest of three suspects, Prof Magoha said all papers were delivered to examination centres with all unique Kenya National Examination Council (KNEC) security features intact.
Prof Magoha said the photos of test papers are sent to a group of hired people who tackle the questions and send back answers that are then given to candidates.
Prof Magoha said despite sealing leaking loopholes, a few people have over the last five years been opening exam packages a few minutes before the stated time.
The CS said the Education ministry is rushing against time to ensure junior secondary classrooms are ready before schools reopen next month.
During the inspection, the CS said 12 classrooms had been completed in Kikuyu, Kiambaa and Gatundu South Sub-Counties.
"We are optimistic that we are making progress. Before May, we shall have met the deadline of more than 6,000 CBC classrooms countrywide," he said.
At the same time, Prof Magoha said the Kenya Certificate of Primary Education (KCPE) results may be announced by the end of the week.
"The marking of the KCPE is running smoothly. As we speak, they are marking Insha and composition papers. We will announce the results any day this week as President Uhuru Kenyatta directs."