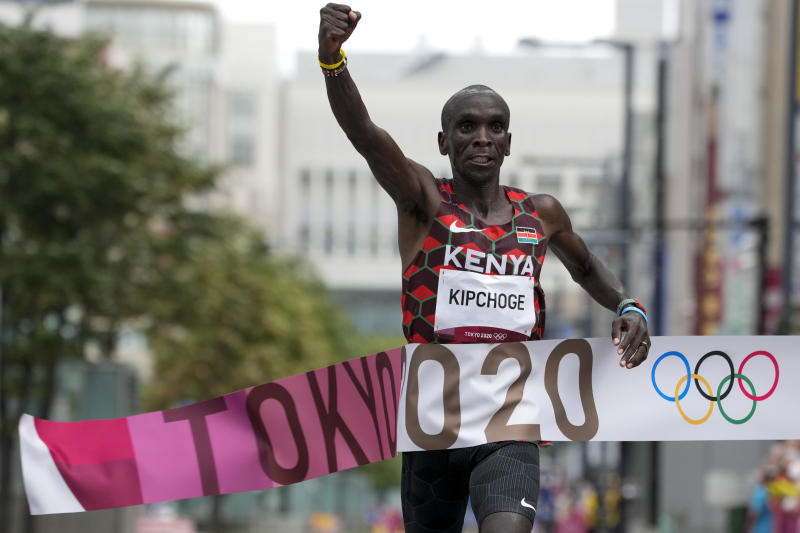 When Cheryl Nagawa was introduced to Mandela Ondula by his friend Richard Njogu on the sidelines of a 2016 Art Fair exhibition held at the Sarit Centre, the deal was for Mandela to mentor her to become a fine artist.
Little did Cheryl knew that a viral love bug would bite them and that three years into the relationship, the teacher-student would work on a joint artwork of one of the greatest marathoner of all time.
The two, born in worlds apart –one, in Gem Yala, in Siaya County and another –having been brought up in Kajiado County, were later bound by unforeseen forces that have been pulling them together in love and the artistic world.
While growing up, all Mandela wanted was to serve as a Catholic Priest. Cheryl, on the other, was looking up to securing a formal job once she completed schooling.
Mandela Cleophas Ondula and his girlfriend Cheryl Nagawa have made a sculpture in honour of King Choge. pic.twitter.com/r1KXbE9uFF

— Simon (@iamkimoney) March 9, 2022
"At that time, I wanted to become a priest but it never worked out," Mandela told Nairobian.
Mandela is the third born and the only son of the late Oshottoe Ondula.
The senior Ondula is the man who sculpted the famous Tom Mboya statue that bravely stands on Moi Avenue next to the Archives building.
Ondula died on June 3, 2020.
Cheryl was born of a Ugandan father and a Kenyan mother from Busia County.
Just like Mandela's father, Cheryl's late dad - Vincent Ssali, was also an artist.
At the age of seven, Cheryl had already lost her father. But she later found love from a fellow artist, a union that brought back the faint memories of her late father.
"I used to do small sketches while growing up and my dad being an artist would correct me if I did any mistakes in my sketches," recalls Cheryl.
Just like most Kenyans, Cheryl overcame a myriad of challenges while looking for a job.
Unsuccessful, she later turned back to her first love – art, to make ends meet.
But she was not good at it, though.
By then, Mandela who claims that he has over one and half decades of experience as a sculptor.
Through a friend, someone connected the duo – with the hopes that Mandela would mentor Cheryl to become better in her trade.
"She wanted to know more about scalping. At first, I thought that this is somebody who wanted me to teach her but then we developed an interest in each other and we ended up together," admits Mandela, a narrative that is corroborated by Cheryl.
"I used to disturb her in his office that I wanted to learn about sculpting and he could tell me to be patient. Three years later (2019) we decided to become an item because we had a lot of things in common," Cheryl.
Early this week, a sculpture of Eliud Kipchoge did round on the inter-webs. The artwork, which is estimated in the region of Sh700,000 was done by the couple as an appreciation to the achievements of the reigning world marathon record holder.
"We are not selling it," said Cheryl, adding that the artwork took them four months to complete.
"This work was not commissioned. We just did it, using our resources to appreciate Kipchoge.
"We did it out of love. We can't even put a price on it," added Mandela.
The couple has also sculpted famous personalities like Bob Collymore, the former Safaricom CEO, former Tanzanian founding President, the late Julius Nyerere and President Uhuru Kenyatta; though most of their work are church-themed.
"Mostly we get a lot of our income from the church-themed sculptors like a crucifix. I'm also a catholic, just like Mandela, so it's easier for us to sell spiritual-themed artwork," added Cheryl.
According to Cheryl, a simple sculptor like that one for Kipchoge will cost something in the region of Sh300,000 to Sh700,000.
The price ranges depending on the location of the sculptor (either indoor or outdoor) and the size and materials (pure bronze or fibreglass) used.
"The materials are costly. We import some of them from abroad. The bigger the sculptor, the higher the cost."
Though he never made it to the priesthood, Mandela, an alumnus of St. Gabriel's Seminary - Ojola, in Kisumu County where he was three years behind Larry Madowo, is currently serving the church through his artistic work.
"Sometimes we donate our work to the church. This is one way through which I serve the church even though I never made it to the priesthood"