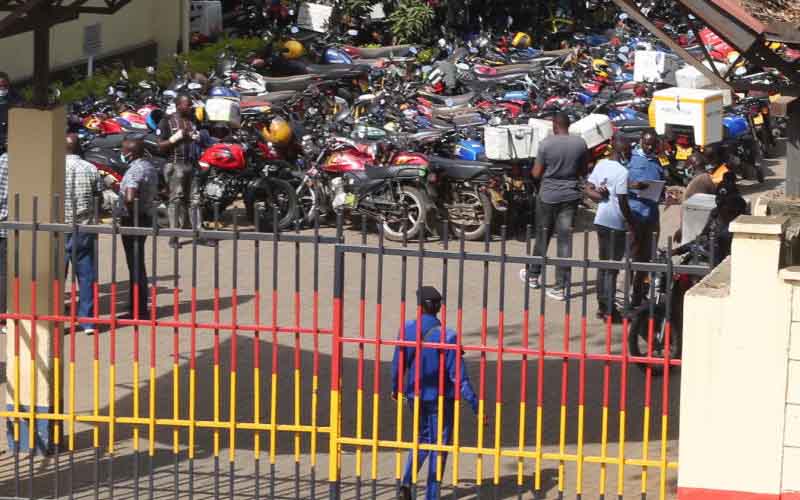 The search for a boda boda rider police have linked to an attack on a motorist last week continued yesterday, with DCI investigators spreading their net beyond Mukuru Kaiyaba where he reportedly lived.
On Tuesday, DCI chief Mr George Kinoti announced that Zachariah Nyaora had been forensically placed at the scene of the attack.
Mr Kinoti, on Twitter, announced that a Tuesday night raid on the suspect's house in Mukuru Kaiyaba by detectives from the Crime Research and Intelligence Bureau did not bear fruit. "The suspect who is aware of the ongoing crackdown on errant boda boda riders escaped our dragnet by a whisker, via a sewer duct in the densely populated settlement," DCI said.
Now investigators have come up with other measures to pile pressure on the suspect to surrender. The police have concentrated their search on Mukuru Kaiyaba, where his cellphone signal was last traced on Wednesday at 3am.
But having failed to trace the man, officers from the Kaiyaba police post held a meeting with local Nyumba Kumi officials and impressed upon them the need to provide information that would lead to his arrest.
To ensure everyone in the neighbourhood knows about the search, the Nyumba Kumi leaders have been tasked to spread the word to other residents. This, police hope, will help smoke out Nyaora.
Police have also visited the local social joints that the suspect frequented and spoke with their owners and workers on the manhunt.
Their counterparts in Kisii as well as the local administration have been tasked to trace his family to inform him (Nyaora) to surrender to the police.
Separately, another group of officers have reached the owner of the motorbike that Nyaora was riding and instructed him to pass the same message to him should they talk.
On Tuesday DCI said they were able to place Nyaora at the crime scene with the help of cybercrime experts. Mr Kinoti said investigators had also confirmed from the suspect's wife and close relatives that the man caught on camera, in a now viral video of boda boda riders assaulting the woman, was indeed Nyaora.
Public outcry over the incident prompted action from the police, who on Monday evening arrested 16 suspects and impounded five motorcycles.
President Uhuru Kenyatta also reacted to the video and ordered a countrywide crackdown of rogue boda boda riders.