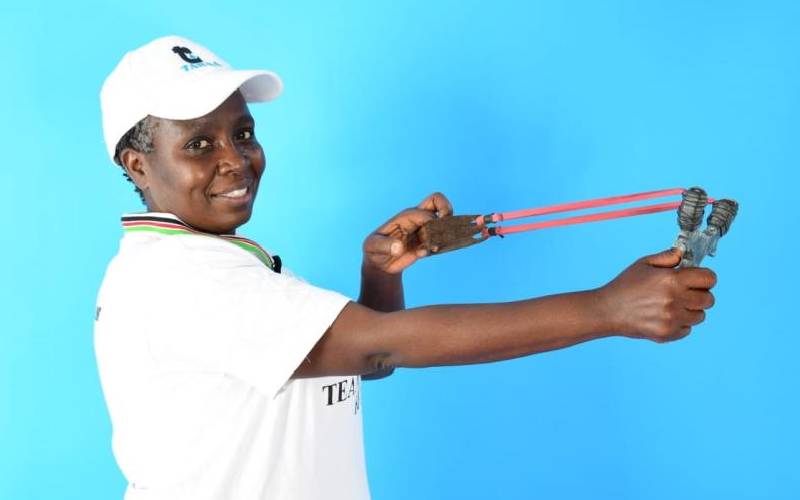 Two things you will always find with Rebecca Bor when you meet her; a slingshot and a bag of seedballs.
She has received curious looks from people, especially men, when they see her using the slingshot. To some, the slingshot, commonly known as 'feya', is a weapon and to others — like playful village boys — it is a means to a thrilling bird-hunting expedition or sweet revenge on an 'enemy'.
But to Bor, the slingshot is her lifeline, her tool for making a difference by increasing forest cover.
Born in Sigot village, Nandi County, her interactions with trees began in her childhood. Her late father Elkana Korigo Bor, a disciplinarian, despite not having any formal education, had a deep understanding of the importance of trees.
He would take tree seedlings in large quantities, go to nearby schools or churches and supervise tree planting during rainy seasons.
Bor vividly remembers how he would punish his children when he saw any of them cutting a tree branch, arguing that the tree could feel pain, just like humans.
Now a self-professed environmental champion, Bor has been working with Tana and Athi Rivers Development Authority (TARDA) since 1990.
As a graduate of Utalii College, she started at TARDA as an assistant housekeeper, rising to deputy manager at Masinga Dam Resort. After earning a degree in Business Administration at Kenya Methodist University, she was promoted to marketing officer in 2012. Her marketing job, which involved a lot of travel, was affected when she was diagnosed with arthritis towards the end of 2016. She was then posted to Starehe Sub-county in Nairobi as a coordinator, where she developed another medical problem that affected her nerves. Her conditions have, however, not affected her tree-planting efforts. In every financial year, each sub-county coordinator is given a target of 5,000 trees, but Bor always surpasses her targets.
In her free time, Bor works on the restoration of Nairobi and Ngong rivers through partnerships with youth groups, community-based organisations and street families.
Additionally, as a member of Team Environment Kenya (TEK), an environmental non-profit organisation, she has helped plant trees in 40 counties and established a tree nursery with KAG university.
"We plant 10,000 to 20,000 trees per month and together we target to plant 10 million trees by 2023," she says.
Her tree planting passion and conservation efforts have seen her lead residents of Plainview Phase Five Estate in South B to rehabilitate their backyards.
"Initially, the backyard space, which covers a two-kilometre stretch along a stormwater river, was a dumpsite and a haven for street families. Tenants were afraid to open their backyard doors,'' she says.
Today, the doors are open and residents are full of praise for her. Their backyards are clean, with trees, herbs and grass, creating spaces for relaxation and venues for events like weddings and birthdays.
''They don't have to go to the Arboretum, we already have one here. Everybody can relax in his or her backyard. We plan to make a recreational park along this stretch,'' Bor says.
Her efforts have also seen her involved in tree-planting initiatives with churches and organisations.
She is currently working with religious institutions, street families and various youth groups like Latewa Arts CBO to rehabilitate Nairobi and Ngong rivers riparian areas.
Her whole day is packed with phone calls prospecting for partners, stakeholders in conservation, crowdfunding campaigns for humanitarian assistance to support the street families, youths and other vulnerable communities who in turn support her initiatives as well.
She works with partners like Seedball Kenya, an environmental innovation company that seeks to promote sustainable and efficient regreening.
"Following a health condition in 2021, it became hard for me to plant trees,'' Bor narrates adding that she discovered seedballs — seeds placed in a marble-sized ball made from charcoal dust, nutritious binders and water.
"In a one-kilo packet, there are 500 seedballs. I carry them in my backpack and spread them using the slingshot without having to touch any soil. So far, I have planted 650,000 seedballs all over Kenya'' she says.
Bor can now plant as many trees as she wants regardless of her health condition. She spreads the seeds in riparian areas, schools, churches and forests.
"All I need are the seedballs and my slingshot," says the married mother of four. "I want to create an Eden in every place I go,'' she says.
She expresses fears that Kenya might not meet the 10 per cent tree cover by this year because many think tree planting is a government initiative.
Bor calls for concerted efforts to boost conservation, saying it's also an expensive affair.
She challenges Kenyans to use alternative technologies for cooking and building including recycled plastic poles and briquettes.
''The government, however, needs to reduce the cost of these alternative materials for building since they are more expensive even than wood. We also need to inculcate a culture of tree planting in our children from baby class,'' she advises.
"We need to make environmental conservation part of our culture".
Her dream is to see a greener and cleaner environment with clear, sparkling water flowing in Kenyan rivers for a healthier community.