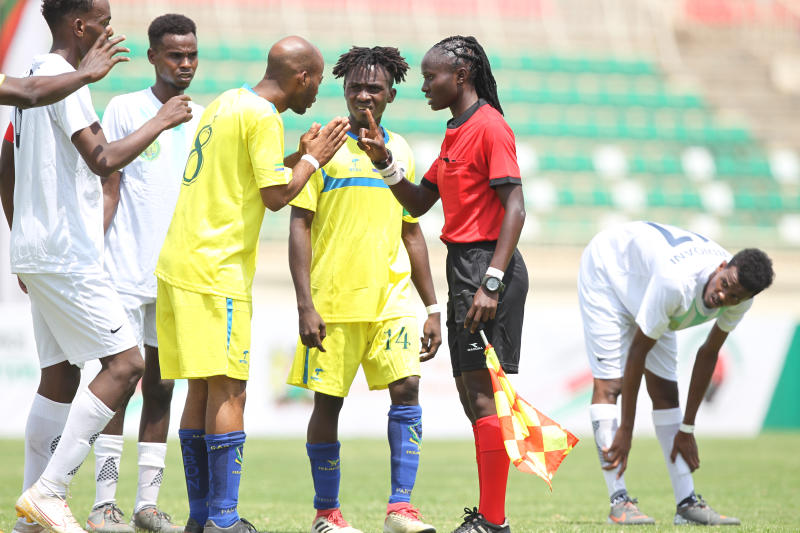 Football Kenya Federation caretaker committee has confirmed that funds have been disbursed to pay referees across different divisions in the country.
This comes at the backdrop of referees' seven-day notice strike over accrued payments.
Speaking during the unveiling of the new Harambee Starlets head coach Alex Almuirah, Anthony Isayi who is in charge of finance in the Caretaker Committee revealed that the referee funds have been dispatched.
"We have been able to release our funds to the referees, contrary to the reports that are there on social media. Today a batch of funds has been released to the KPL, NSL and Women Premier League referees. They will receive the funds by Thursday and those who bank with Co-operative bank will receive their funds by today evening or tomorrow morning," said Isayi.
The Committee admitted that they previously had arrears of National Super League (NSL) referees which were occasioned by a slow verification process and noted that as of now salaries are up to date till 31st December.
Isayi added that the Caretaker Committee is committed to paying referees and promised that plans to settle their January salaries are in the final stages.
"We have no questions or worry about paying our referees because we have a good plan and after we pay this we have another batch of payment in one and a half weeks. We pay our referees and we are proud of what we are doing to support talent in our country," concluded Isayi.
Additionally, the committee has further amplified the need for clubs participating in the local leagues to comply with the sports act in the designated time frame.
"We understand that some clubs have already started complying and getting to the registrar and some who had not been able to understand they are calling us. We are taking them through the process and we are compelled to ensure that all clubs who are participating in the league should be in compliance," said Ali Amour committee member.