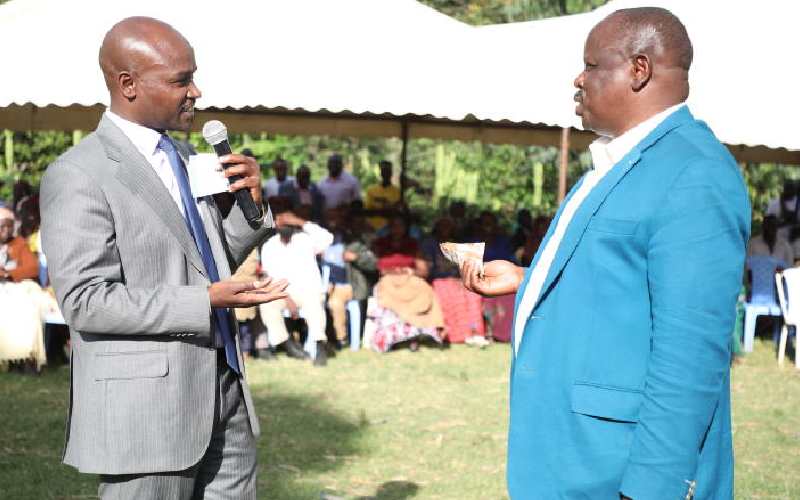 Deputy President William Ruto recently came face to face with hurdles his United Democratic Alliance (UDA) party is likely to face in the Rift Valley region ahead of the August election.
With less than seven months to the August 9 polls, a tough political contest pitting Bomet Governor Hilary Barchok and Chama Cha Mashinani party leader Isaac Ruto overshadowed the deputy president's tour of the South Rift region to sell his presidential bid.
Supporters of the duo engaged in shouting matches nearly spoiling the party for the DP.
Leaders accompanying him were not spared after being shouted down as they tried drumming support for UDA in the county.
CCM supporters who dominated the event could not tolerate leaders trying to sell UDA only insisting on leaders making their speech to concentrate on selling Ruto's presidential candidature, saying as electorates they would make the decision on who would be their next leaders on the ballot.
At one point, the DP found himself on the receiving end from CCM supporters who flashed party signs with shouts as he tried to drum support for UDA.
Confrontation nearly halted the programme forcing the Deputy President to intervene and take control of the day's program.
The drama unfolded during the breakfast meeting at the Governor's office after Isaac Ruto was blocked from accessing the venue.
After a scuffle, the former governor managed to make his way where he confronted Dr Barchok accusing him of ordering his guards to deny him access to the office where DP was meeting local leaders.
"How do you order your guards to block me from gaining entry to your office to welcome the deputy President. This is so shameful," Ruto shouted at the Barchok as the DP watched.
Noticing the building tension, the DP was forced to intervene asking the two to put aside their differences to avoid causing chaos at the rally.
"It is normal to have political differences but you need to relax and put it aside today. We are going to have another meeting to iron out the underlying issues and we have limited time since we have several meetings ahead of us," Ruto told them, as the leaders left the breakfast meeting.
They, however, did not know what awaited them at the stadium as the supporters had gotten wind of the drama.
Barchok and Ruto are locked in a heated contest in the race for Governorship alongside Petroleum Chief Administrative Secretary Eng John mosonik.
Earlier, Barchok had warned rival against attending the meeting saying it was a UDA affair asking him to plan his own event.
However, Ruto insisted on attending saying DP was a CCM presidential candidate and could not miss attending the rally at Bomet Green stadium.
He said as DP Ruto supporters nobody would stop him and his supporters from attending the rally.
"The DP is our Presidential candidate and we will not listen to those who think they can stop us from supporting him," he said.
The former governor accused Barchok of being selfish.
Isaac Ruto, who was in the company of CCM Secretary-General Albert Kochei, said they will not look back in their support for DP despite the provocation from UDA allied leaders in Bomet.
Kochei said UDA leaders in the region were trying to push them away from the DP circles.
Kochei said: "Our UDA colleagues are behaving like they are more close to DP than us and do not want US to stay near him."
"We are all equally supporters of DP and it is time they start accepting the facts and sell their agenda for election rather than riding on the name of the DP only," he said.
"We have realised that he is a pretender who strategically positioned himself to disrupt our rally and humiliate the DP" he said.Barchok said Ruto ferried supporters who heckled the Deputy President in a clear Indication that he was seeking attention and setting the stage for another round of rivalry with him.
"It is clear that he was seeking attention from the Deputy President in his push for a negotiation between UDA and CCM A head of the coming polls," he said.
Barchok said his decision to hold onto CCM was a clear indication of a rebellion on push by the DP to have everyone join the party.
"It was not about the contest between me and Ruto but was out to humiliate the Deputy President for selfish political gains," added Barchok.
Barchok who used a press conference to apologise to DP for the incident said UDA has been embolden by what happened.
Isaac Ruto who spoke to the press ahead of the DP visit warned the UDA aligned leaders against making derogatory statements against CCM saying they would be faced by his supporters.
"We will not allow leaders from outside the county to make derogatory remarks against CCM because that may spark fury and we will not want to go that direction," he said.
"We are stronger and have learnt our lessons, UDA will win seats in the coming polls including the Governorship against CCM," Barchok said exuding confidence.
However, Ruto has distanced himself from the chaos saying he had no role at all.The CCM party leader said he did not ferry anybody to the event and that he turned up alone to welcome the DP to the County.
"The narrative by Barchok is a lie, it's him who ferried people from all parts of the county," he said.
Ruto said rather than trying to push the blame on him for his failure he should accept that he failed.
"It is simple, Barchok is nolonger popular and would be voted out and he should not use me as an excuse for his failures," he added.
On the question of antagonising the DP, Ruto termed the claims as baseless.
He said Barchok was only out to taint him political saying CCM have made a resolve and would not look back.
"Deputy President is our Presidential candidate as CCM and we will vote for him to the last man," he said.
Ruto said they will not need permission from the DP's allies to back his bid.
"We like his agenda for the country and that is enough for us as CCM for vote for him," he said.
Ruto at the same time said his CCM party will not fold and will compete for elective position with UDA except the Presidential election.
"This is a fact they must start coming to terms with, CCM is here to stay and we will field candidates in all the positions except the president," he said.
The former governor has resisted attempts to have him fold CCM and join UDA saying there was no need since they share the same aspiration.
Political commentator Ivor Korir said the showdown was a contest not only for bragging rights in the county but also a warning shot to DP that all was not well for his UDA party in the county.
Korir said as a keen politician Ruto should have read the sign that the former governor may used his growing influence against his UDA.
He said the way Ruto carried the day may translate in his favor and see his allies elected to various positions against those allied to UDA.
Korir also warned that CCM's growing influence means that the DP should start embracing small parties that are leaning towards him and avoid the narrative that they are ethnic-based.
"It was not a good signal for Ruto's UDA that all his allies were heckled..he should now go back to the drawing board since that may undermine even his Presidential candidature as it may replicate itself across the country," he added.