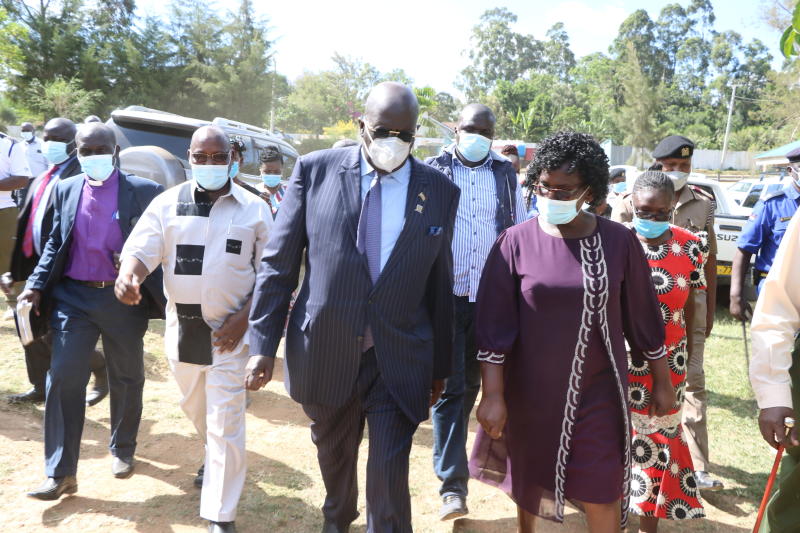 Education Cabinet Secretary George Magoha has maintained that errant students will be subjected to mandatory drug tests.
Prof Magoha said the testing was crucial in stemming indiscipline.
"The drug test did not emanate from the Ministry of Education but I was asked for my opinion on the drug test by the Maranda High School board. The school has been burnt twice in one month and I said that was the right thing to do," he said.
The Education CS took a swipe at the media for what he termed pushing a narrative that the Ministry of Education said all students should be subjected to mandatory drug tests, which was not the case.
However, he said errant pupils will be tested.
"Most of our learners are normal children but in cases where students will burn schools twice they will be subjected to mandatory drug tests," said Magoha.
Magoha, who was at Mwiyala Secondary School in Kakamega during a groundbreaking ceremony for Competency Based Curriculum (CBC) classrooms yesterday, said their intent was to ensure that errant students get back to normal reasoning. He said such students were making the lives of teachers unbearable.
Earlier this week, education experts, parents, teachers and other stakeholders termed Magoha's stand on drug tests as an abuse of children's rights and privacy.
Omboko Milemba, the chair of Kenya Union of Post Primary Education Teachers said the move was illegal and it was not in line with training of children.
Nacada also weighed in on the matter, saying that there was no law allowing mandatory drug tests and urged schools to use an alternative way of curbing indiscipline cases in learning institutions.
Yesterday, Magoha admitted that there was no policy on drug testing in schools but urged schools affected by arson to carry out the tests privately.
Phase One
The CS said the government is constructing 10,000 classrooms for Grade Seven learners in junior secondary schools and phase one of CBC.
He added that that schools have capacity to host learners but a few are experiencing difficulties and the situation is being managed.
"The process started three weeks ago and I can proudly say that the initiative is on the right track. Siaya is doing well and I have seen a number of classrooms being roofed while others are almost complete.
"In Kilifi, all 144 classrooms are being constructed and that is the case with Rift Valley," said Magoha.
He added that education officers were on the ground to ensure that the right things were being done.
He warned those planning to steal the taxpayers' money through the project.