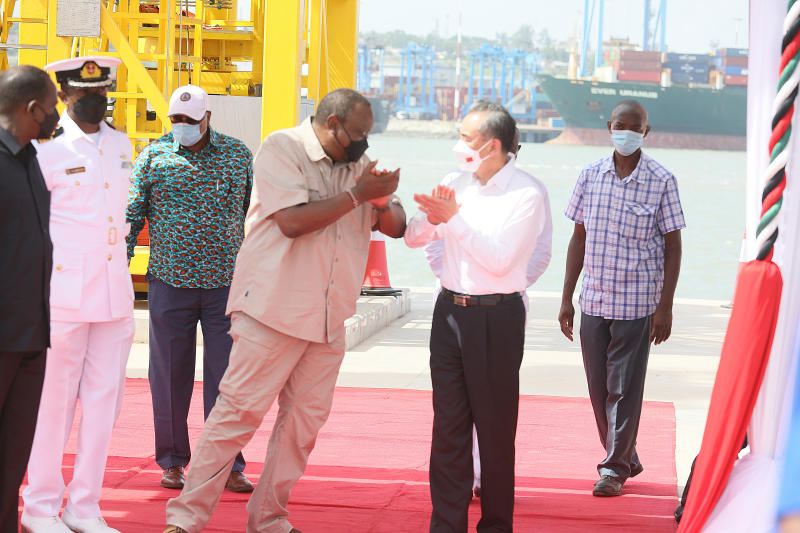 Kenya and China have signed six bilateral agreements that will facilitate trade between the two nations key among the export of avocado to the lucrative Asian economic giant.
During the signing in Mombasa, the China Foreign Affairs Minister Wang Yi also announced that it would give Kenya a Sh51 billion grant. He did not state how the grant will be used.
Kenya's Foreign Affairs Minister Rachael Omamo said tea and avocado farmers were the biggest beneficiary as they would not be allowed to export their produce to China.
In November last year the export of avocado was stopped by the government following complaints that some unscrupulous farmers were exporting immature avocado to China.
Addressing the press after the signing of six agreements, Omamo termed the move as a testimony of commitment of the two nations to foster bilateral relations to benefit the citizens.
"We also signed an MOU on the establishment of a working group that will look into issues of tariff and non-tariff barriers to fast track increase in exports from Kenya to China," she said.
Other than tea and avocado the trade agreements will also facilitate the export of aquatic products like fish from Kenya to China.
Wang Yi said his country was planning to help countries in the horn of Africa to have infrastructure and other developments as one way bringing peace in the region.
Kenyan CSs who signed the MOUs were CS Agriculture Peter Munya, CS Treasury Ukur Yatani, CS ICT and Youth Affairs Joe Muchero and CS Trade and Industrialization Betty Maina.
Wangi Yi said China would continue to help countries in the Horn of Africa to put up infrastructure that would open up the region for trade and investment.
He said this will create employment and end conflicts and hostilities among the communities living in the region.
Wangi Yi said his country will also appoint an envoy in the region to help in stimulating the development in the area in order bring peace among the communities living in the region.
He said China was working hard to eradicate poverty in Africa by putting up good infrastructure which will stimulate other developments to create employment to end hostilities.
Omamo who was accompanied by Health Cabinet Secretary Mutahi Kagwe said China had promised to donate 10 million more vaccine to help in combating Covid-19 pandemic
"As you may know China was one of the first countries to come to our aid in our quest to manage the pandemic. We take this opportunity to again appreciate China's unwavering support in the fight against the pandemic which came in form of donation of 200,000 doses of the Sinopharm vaccine and medical supplies and equipment," said Omamo
China also donated 12000 tones of rice to help those who had been affected by the pandemic.
"Under the poverty reduction and agricultural development initiatives, China donated 12,000 tons of rice for relief efforts for families that were affected by Covid -9 and we agreed to explore further cooperate in agricultural value addition, capacity building and trade facilitation for Kenya's agricultural products," said Omamo
"As a result, China has supported Kenya's national development agenda through extensive infrastructure development which has raised the stature of this country as a regional transport and communications hub. The SGR stands as a pivotal flagship project," said Omamo.
During the discussion the two sides lauded the expanding investment relations between the two countries and agreed China was one of Kenya's leading sources of Foreign Direct Investment.
"We agreed to work together to promote investments from Chinese enterprises in areas of agro-processing, textiles and apparels, leather processing, foot wear, iron and steel and machinery, furniture and wood, electronic assembly, auto assembly, construction, pharmaceutical, oil and gas," said Omamo