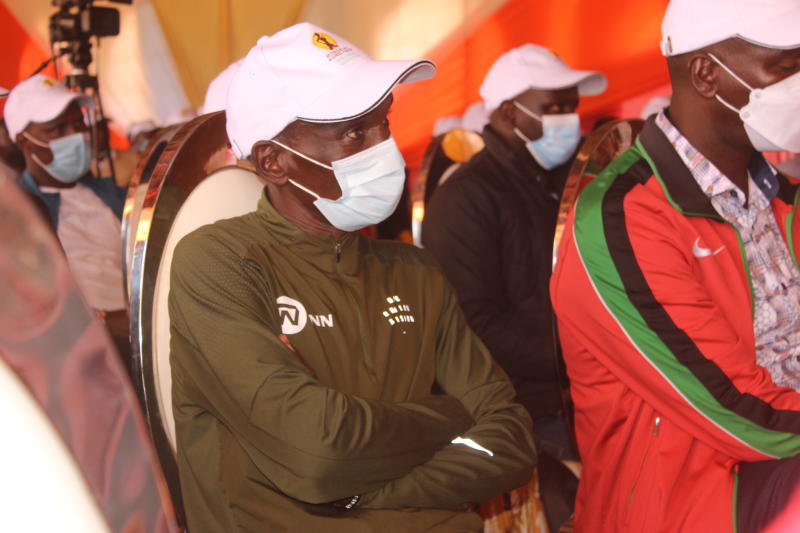 The atmosphere was celebratory, but when he rose to speak, marathon world record holder Eliud Kipchoge chose to go against the grain.
It was celebratory because the Memorial Agnes Tirop World Cross Tour was being launched which will take in Eldoret on February 12.
The ceremony was graced by Sports Cabinet Secretary Amina Mohamed, Athletics Kenya President Jack Tuwei and a host of other officials from the federation as well as Uasin Gishu Governor Jackson Mandago.
A straight-talking Kipchoge, to the face of the officials, warned that more young Kenyan athletes will continue to fall victims of gender-based violence and other evil.
He claimed slain Agnes Tirop was killed for not associating herself with individuals of good character.
Agnes Tirop's father Vincent Tirop and mother Dinah Tirop and her were also present during the launch as Kipchoge reopened old wounds.
He said the late Tirop, who was found dead in her house in Iten would have been alive and the Cross Country Tour could have been named after world beaters who died of old age or accidents.
"On February, we will be having a big event; it is called the Memorial Agnes Tirop World Cross Country Tour. Why was she killed? I am sorry for the parents (Agnes Tirop's)," Kipchoge said.
The global athletics sensation continued: "I am Eliud Kipchoge and I represent those athletes with the right character, the right education and lover of sport. The death of Agnes Tirop came as a result of people with a negative character, and I am sorry to her parents. Agnes Tirop died because of association with bad people – people who don't have values and are inside our sport; they are pretending to be coaches, advisors, consultants and everything but they have ill motives."
He told CS Amina that more deaths and depression will be recorded because Gender-Based Violence among both male and female athletes was deep rooted, and that it was difficult to address athletes' association with individuals who exhibit 'bad characters.'
According to Kipchoge, 80 per cent of Kenyan athletes have acquired bad character from their close associates. He could not however indicate whether his observation was based on any research.
"If you want to live in this world, live by your conscience. A lot needs to be done. We need to remove those people around us. I might be a champion, but a devil.
"Otherwise, we will be having a lot of memorial races. It will be good, for example, to organise Eliud Kipchoge race when I die at 80 or when an accident kills me rather than when somebody shoots me or cuts me. Let us not cheat ourselves," he said.
He said AK was not candid on the problems affecting young athletes who are beginning to earn money from races.
CS Amina, however, expressed confidence that a report of a taskforce which she constituted in June last year and chaired by legendary athlete, former two-time world champion Catherine Ndereba, will address GBV in sport.
She said naming the inaugural World Cross Country Tour after the slain athlete was part of creating awareness on the effects of GBV. She said the report will be unveiled in Kwale on January 17.