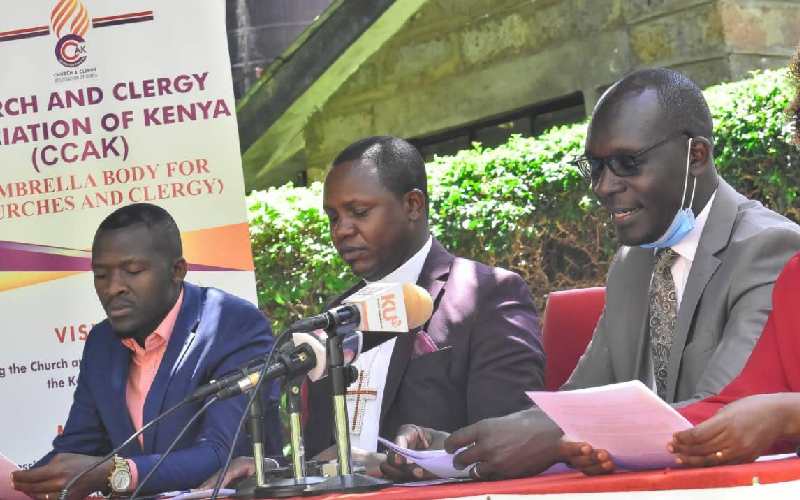 The Church and Clergy Association of Kenya (CCAK) has outlined irreducible minimums to the government as the country enters the election year.
The association has called for adequate preparation for a peaceful transition once the elections are done and a new government is in place.
Citing instances that have seen violence, death and widespread economic disruption following an election, the clergy called for, "the drums of war to be silenced now rather than later."
"The political players must therefore come out openly and assure Kenyans that they will not be the weakest link in our moral fabric and nationhood," read a statement signed by CCAK national chairman Bishop Hudson Ndeda and general secretary Bishop Geoffrey Gichuki.
The clergy have also called on National Cohesion and Integration commission (NCIC) and other state agencies to proactively ensure law and order is maintained to ensure smooth elections.
Following last month's pandemonium in Parliament that saw MPs exchange blows over the controversial Political Parties (Amendment) Bill, 2021, the association has condemned such acts and called for issue-based campaigns devoid of tribalism and sectarianism.
"If the zeal and manner in which the members debated and fought to pass or defeat the political parties' Bill was replicated in pushing Bills meant to benefit mwananchi, the country would achieve vision 2030 five years earlier," read the statement.
The association challenged the Independent Electoral and Boundaries Commission (IEBC) to "heighten civic education and provide a clear calendar of events leading up to the General Election."
CCAK urged the public to take advantage of the second mass voter registration set to commence this month to enlist.
The association further asked IEBC to remain non-partisan and to win the confidence of Kenyans to avoid apathy that affected the first round of registration that only saw 1.5 million new registered voters out of the 6 million target.
The clergy urged the government to stop making Covid-19 vaccination drive a front for discriminating citizens when it comes to access to government services.
"Both the vaccinated and unvaccinated Kenyans should not be discriminated on the account of not being or being vaccinated. Government services should be accessed by all," read the statement.