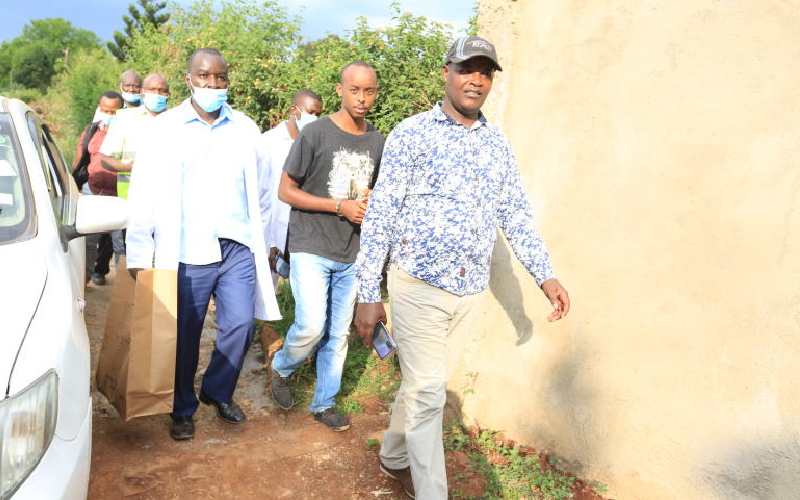 One of the things Kiambu residents will remember 2021 for is the gruesome murders that rocked the county.
The year started with the murder of US-based nurse Nicholas Njoroge Warunge, 55, and his wife Annie Wanjiku, a local nurse. They were killed in their home in Kagongo Karura village alongside their son Christian Njenga, 13, Njoroge's nephew Maxwell Ngenge, 13, and a worker, 40-year-old James Kinyanjui.
Njoroge had arrived in Kenyan on December 4, 2020 to spend the Christmas holiday with his family. He was stabbed 34 times, and his throat slit, according to investigations.
On January 9, 2021 Lawrence Warunge, the slain couple's first-born was arrested alongside his girlfriend over the killings. Warunge was later charged with the five murders. Detectives claimed Warunge had a clear motive to eliminate his parents as he was estranged from the family and had a history of drug abuse.
And on January 9, reports of the death of 23-year-old Velvine Nungari Kinyanjui started making rounds .
Nungari, was found in a room at Sinnot Hotel where she had been with Joseph Murimi, reportedly on a first date. She died while undergoing treatment.
An autopsy report revealed she suffered three fractures on the spinal cord with bruises and fluid deposits consistent with sexual assault.
The murder and rape cases against Murimi are still pending before the court. The suspect is out on a Sh200,000 bail.
In yet another bizarre incident, on April 16, Evans Karani was arrested after he was accused of killing a 25-year-old waitress, Catherine Nyokabi, in Witeithie, Juja.
DCI officers claimed Karani attempted to get rid of Nyokabi's body, but his efforts were thwarted by mother nature. While transporting the body in his car, Karani's vehicle got stuck in the soggy black cotton soil, forcing him to abandon the car with the body inside.
Karani claimed he had dated 24-year-old Nyokabi, a mother of one, for nearly four years but their relationship had been rocked with allegations of infidelity. He accused Nyokabi of having an affair with another man. He is still in custody pending the hearing of the murder case against him.
On April 18, residents of Tosha village in Gatuanyaga, Thika, were left in shock after a Grade Three boy who had gone missing a week earlier was found dead with body parts missing.
Paul Mwanzia's body was found decomposing in a thicket inside a neighbour's farm. His father told the police he had sent the boy to charge a cellphone at his grandfather's house.
Then came the execution of Daniel Gucoma, a car dealer, on June 23. Gucoma died in a hail of bullets in broad daylight. The lone occupant of a Subaru Forester was driving on Kenyatta Road, off Thika Superhighway, when a gang opened fire on him.
The suspects had been stalking the motorist on a motorcycle.
And on August 4, Jonathan Mukundi Gachunga and his wife Philomena Njeri, were found dead in an apparent murder and suicide. Gachunga is said to have shot his wife three times before turning the gun on himself.