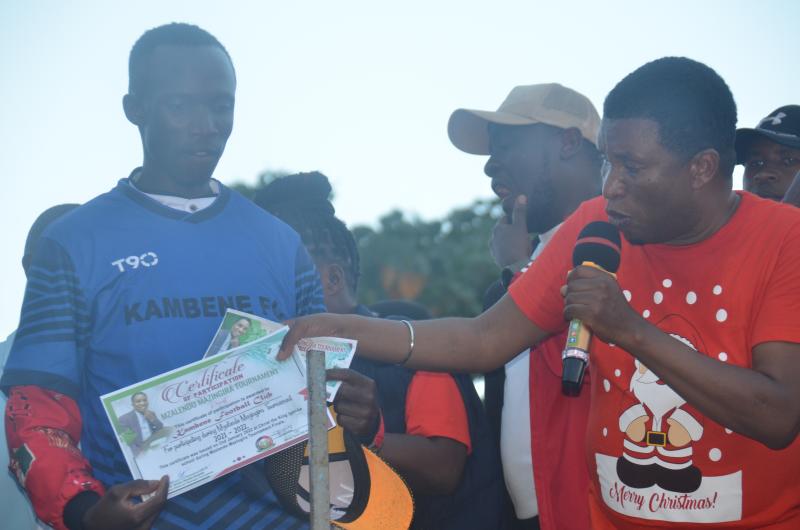 An advocacy group is using sports to inspire young people's participation in climate change actions and initiatives.
The Pan African Climate Justice Alliance (Pacja) recently organised a football tournament in Igembe South Sub-county as part of efforts to raise awareness.
Speaking at the end of the event that attracted 57 teams and large crowds at various venues in the sub-county, Pacja Executive Director Mithika Mwenda said participation of young people in climate change actions was important, adding that harsh climate compromises agricultural productivity.
Mr Mwenda, a climate change champion, said with each team boasting an average of 20 players and soccer matches attracting hundreds of spectators, it was an avenue for sensitising the community on the measures needed to survive harsh climatic patterns.
Pacja provided thousands of bamboo plants, sunflower and other plants that can withstand harsh weather.
Mwenda said sports is a powerful tool in inspiring youth to come together in conservation activities.
"Sports can be a powerful tool for mobilisation of environmental consciousness. Imagine if we turn all these youths from 57 clubs into our agents of consciousness, our agents of transformation," Mwenda observed.
The winner of the tournament walked away with Sh100,000, second placed received Sh50,000 while the other teams received smaller cash prizes, sports kits and certificates.
Mwenda said the organisation will train the youth on means of conservation and climate adaptation.
"I will seek partnerships from relevant government ministries and from the county and national governments to incorporate youth in sports to be our champions in building a movement for climate and environmental consciousness," he stated.
Mwenda said the youth have the energy to participate in agricultural and other activities that are environmentally friendly.
Surging movement
"These youths can potentially join the surging climate justice movement from across the world to reclaim their future. This is a potent power which has laid untapped, we are tapping them from the ground in our locally-led climate action pursuit.
"Mazingira Tournament is a pilot initiative whose success and lessons will be replicated not only in Meru but across the country in a programme driven by Pacja to trickle down climate action and environmental conservation awareness to the grassroots level," Mwenda added.
John Mutethia, a player and youth leader, said young people had suffered climate change effects.
"Our lands are not as productive as before because of unreliable rainfall. But Pacja has given us bamboo and sunflower as part of activities to enable us adapt. We want more youth to join the movement," he said.