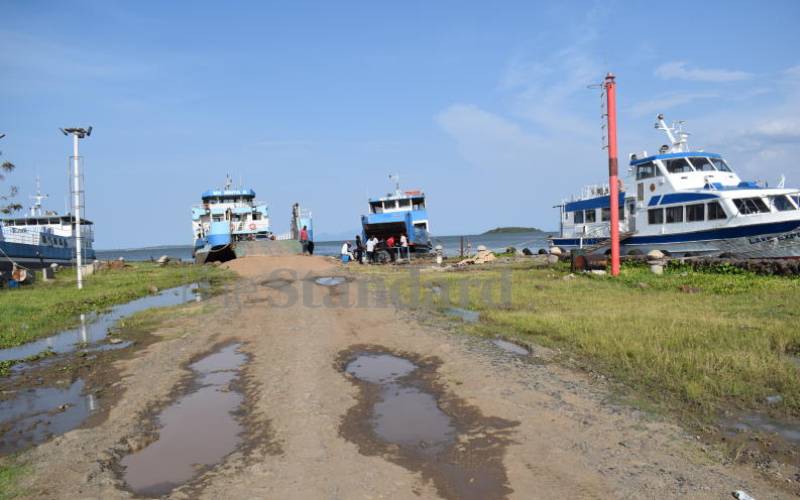 Residents of Homa Bay and Migori counties want the government to lift the suspension of ferry services in Lake Victoria.
The business community and passengers have decried economic losses after the government suspended ferry services in Lake Victoria from December 21.
The ferries owned by Mbita Ferry Services Ltd connect Homa Bay and Migori counties to Kisumu and Siaya counties.
One of the ferries christened MV Mbita II operates between Mbita town in Homa Bay County and Lwanda Kotieno trading centre in Siaya County.
Another one called MV Mbita I connects to Mfangano and surrounding islands to the mainland in Homa Bay County.
MV Mbita I operates between Mbita town and Mfangano island.
The ferries carry passengers, vehicles and motorbikes to various destinations.
They served the business community, tourists and residents, who travelled through Lake Victoria from Kisumu to various towns in Homa Bay and Migori counties.
But the Kenya Maritime Authority (KMA) suspended services of the two ferries over what it described as deficiencies that require compliance.
A letter written by the KMA Director of Maritime Safety Jeremiah Ojowi instructed the company management not to operate the two ferries from December 21.
"The two vessels have therefore been detained and not allowed to sail until the deficiencies are rectified," he said.
According to the Manager of Mbita Ferry Services Ltd Shadrack Kipchumba, some issues are minor and should not warrant the suspension.
"For example, the ferrys' watertight door rubber seal, which prevents entry of water into the vessel in case of an accident, is wearing out but is still a good condition," Kichumba said.
He said his organization is rectifying the issues pointed out by the KMA, but they should be allowed to operate as they fix them.
"They are very small issues which should not deter us from operating. We appeal to the KMA to allow us to operate as we fix the issues," Kipchumba said.
He said the government should be lenient to them due to the meagre revenue generated from the services.
"We only collect revenue of Sh150 per individual to help the people cross Lake Victoria. Some of the requirements, such as employing a captain with a Master's Degree is difficult because our income cannot sustain their salary," he added.
The business community and passengers are already feeling the pinch.
Hesborn Dondi, a welding workshop proprietor, said business has gone down in Mbita town for the days the ferries have not been operating.
"Steel doors and windows we make are mostly transported to Kisumu and Siaya counties through Lwanda Kotieno. The purchase has gone down after the suspension," Dondi said.
Florence Samo, a fishmonger in Mbita, said life has become difficult because their source of livelihood depended on the ferry.
"Serious transportation of commodities takes place between Lwanda Kotieno and Mbita. But we are stranded because our main means of transport has been suspended," Samo said.
She expressed concerns that the suspension had come during the festive season when traders are supposed to be generating more revenue.
"This is a festive season when sales are increasing, but this depends on ferries that people use to travel to our town," she said.
They appealed to the government to intervene and allow the ferries to operate to enhance economic growth.
"Transport is part and parcel of economic growth. Suspending ferries from operating is a serious setback to our economy. We appeal to the government to lift the suspension so that people can travel," said Dondi.
According to George Soti, a resident of Nyatike sub-County, the use of a ferry was cheaper.
"The distance is also shorter when we use the ferry in connecting to Kisumu than the road," Soti said.