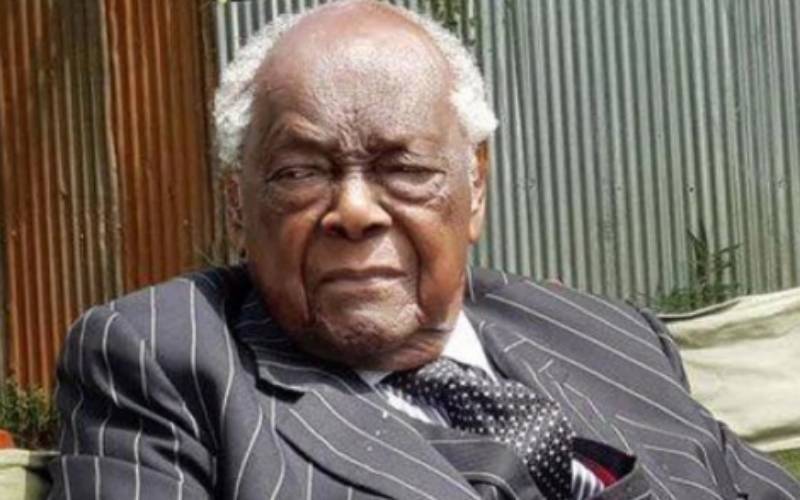 First Kenyan Attorney-General Charles Njonjo is dead.
Njonjo died aged 101 on Sunday, January 2, at his home in Muthaiga, Nairobi, his family says. Njonjo succumbed to pneumonia.
His body was, thereafter, taken to Lee Funeral Home, where it was prepared for interment.
Njonjo's family then proceeded to Kariokor Hindu Crematorium, where the former Attorney-General was cremated in the morning.
Charles Njonjo's son-in-law, Carey Ngini, told KTN News that the former Attorney-General had left a wish that he be cremated immediately after he dies.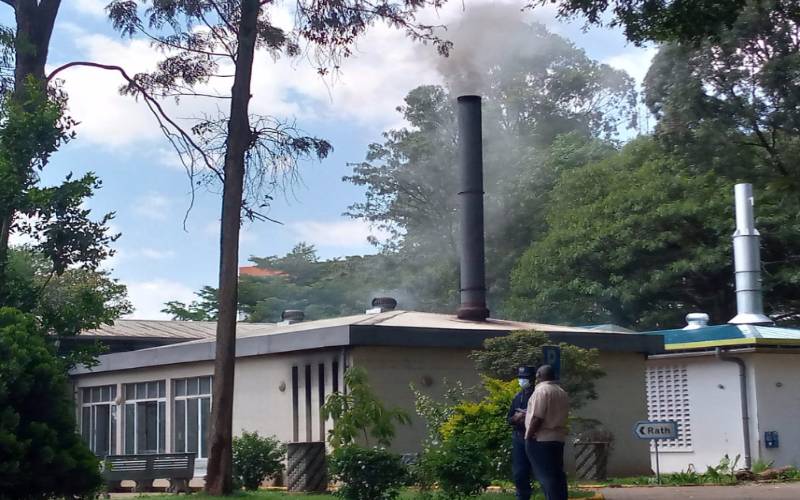 President Uhuru Kenyatta, in a statement on Sunday, confirmed news of Njonjo's death.
Njonjo's personal doctor, David Silverstein, who also served late President Daniel Moi, declared him dead at 5am Sunday.
The ex-AG had three children, Wairimu Njonjo, Wambui Njonjo and Josiah Njonjo.
Charles Mugane Njonjo served as Kenya's first native Attorney-General between 1963 and 1979. He retired as AG aged 60.
Njonjo was thereafter elected unchallenged to the National Assembly in April 1980 as the Member of Parliament for Kikuyu Constituency.
Late President Daniel Moi appointed him to Cabinet in June 1980 to serve as the Minister for Home and Constitutional Affairs.
Njonjo married Margaret Bryson in 1972. He was 51 years old at the time.
Bryson was the daughter of Anglican missionary in Kenya, Rev. Edgar Bryson, who was based in Kapsowar, Elgeyo-Marakwet County.
Njonjo took over from Eric Griffith-Jones, the Attorney-General of the British administration in Kenya, who was appointed to the position in 1955.
Njonjo was the son of the late Josiah Njonjo, a colonial paramount chief and one of the foremost collaborators of British rule in Kenya.
In 1939, Njonjo was admitted to the King's College Budo, a privileged East African school located in Nsangi, Wakiso District, west of Kampala, Uganda.
After he'd completed his secondary education at Alliance High School in Kikuyu, Njonjo enrolled at the Fort Hare University in South Africa, where he graduated in 1946 with a Bachelor's Degree in English and South African Law.
He thereafter returned to Kenya but had an ambition to study law.
At the time, African students were forbidden from being admitted to the Bar.
As a result, the colonial administration offered him a scholarship in England to study Public Administration at the University College of the South West of England at Exeter, now known as the University of Exeter.
The colonial administration wanted Charles to replace his father, Chief Josiah Njonjo, in the provincial administration. Charles moved to England in 1947.
He completed his law degree in 1949 but rather than returning to Kenya, he embarked on further studies so that he could be admitted to the Bar at Gray's Inn.
As soon as the colonial administration in Kenya learnt of his decision to study for the Bar, they cut off his stipend.
He was also asked to move out of 36 Great Cumberland Place, which housed Kenyan students and visiting dignitaries in London.
A friendly Welshman, Elwyn Jones, who was a London solicitor, took him in to train in his chambers.
Njonjo worked there until he was called to the Bar at Gray's Inn in 1952.
He was only the second Kenyan African barrister after Argwings-Kodhek, who had been called to the Bar in January 1951 at Lincoln's Inn.
Njonjo worked in London for two years, and returned to Kenya at the end of 1954. He then went into the State Law Office and on March 1, 1955 he was appointed as the assistant registrar-general.
In June 1956, he was posted to Mombasa where he worked as the deputy official receiver in charge of bankruptcies, and later crown counsel.
He stayed there for five years with his offices based at the Legal Mansion on Fort Jesus Road.
In 1963, he was appointed the Attorney-General of Kenya, taking over from Eric Newton Griffith-Jones.
Griffith-Jones had been Kenya's Attorney-General and Minister for Legal Affairs since May 1, 1955.
Njonjo become Attorney-General in independent Kenya under President Jomo Kenyatta.