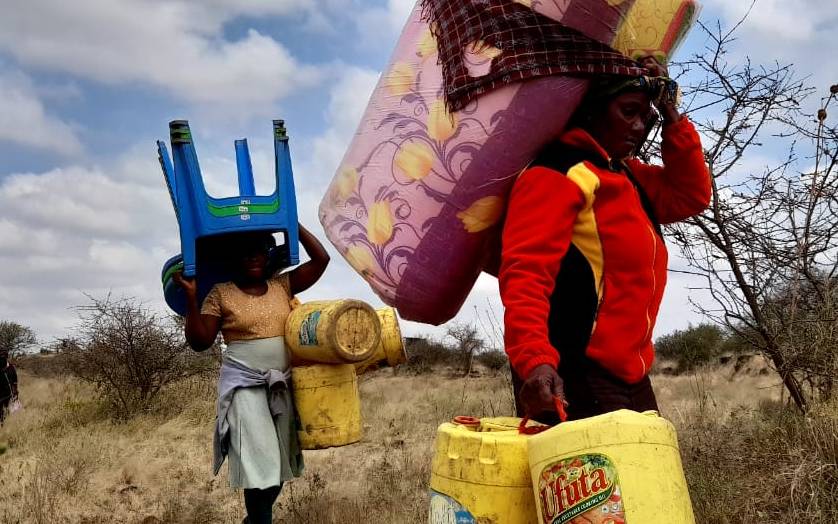 Two more people were on Monday killed in the escalating inter-communal fights between two communities at the border between Makueni and Kajiado counties.
Four people have now been killed in the past three days in the disputed Mikululo ranch which is located in Kibwezi West Constituency. To the west of the ranch is Ilukulenyeti in Kajiado East constituency.
One person is seriously nursing injuries at Makueni Referral Hospital.
According to a woman who had her son and neighbour killed, the attackers struck at the middle of the night armed with spears and swords demanding to know why they had occupied the land.
"Since February I have been living here in peace. Yesterday around 6 pm is when I arrived home from my daily hustle and we stayed here with my two children together with a neighbour who had visited us," said Florence Nduku.
She said they were in fear after another attack happened a night before and that was the reason to why they had invited their neighbour, a 70, year-old man to come and keep vigil together.
"We retired to bed around midnight. Before we could settle the worst struck. I saw a group of armed men approaching. They accessed the house by destroying the wall. They asked why we had occupied their land," she added
Nduku said that she escaped by a whisker as the attackers concentrated on her two sons and her neighbour.
She returned the following day only to find her son, 18, and their neighbour had been killed.
Erick Mwendwa, who was lucky to be alive, described in pain how he stared at death.
"They killed the old man kneeling down outside my house while my brother was killed as he tried to escape," said Mwendwa
One neighbour accused police of taking sides. He said they were woken up by loud noise from the scene and whistleblowing.
"We tried to intervene but when we met police and tried to show them the direction which they are not aware of they refused. They told us to go our own ways. They came back one hour later when killers had already disappeared," said Mwangangi Musila
When we visited, people were still in shock at the scene as the majority were collecting their belongings. One by one, they picked their pieces; hens with their eggs, iron sheets, bedding and the little they could salvage.
A day before the attack, Makueni County Commissioner Maalim Mohammed gave an assurance that no more attacks would be orchestrated but killings have continued.
The ranch members were granted the 73,000 ha by a Machakos court on February 22, 2019. The Mikululo Ranching Company Limited was termed as the rightful owners of a parcel of land.
Judge A. Ongote ruled that a permanent injunction be issued restraining Kenya Wildlife Service from evicting Mikululo residents from the piece of land.
Politicians from both sides of the counties and administrators in Makueni were reported to be highly involved in the land matters.
A security meeting ongoing as at now at a KWS camp at the periphery of the ranch.