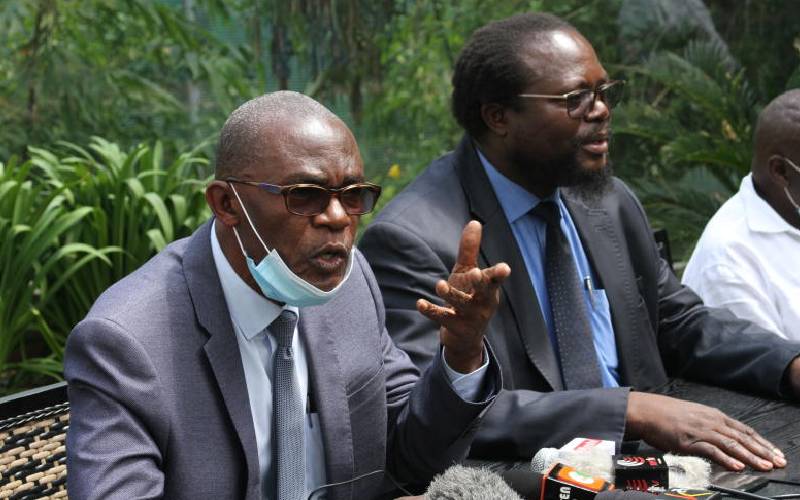 Eyes are on the Registrar of Political Parties Anne Nderitu to declare who between the two warring factions of Ford-Kenya is the bona fide office holder. The team, led by Kanduyi MP Wafula Wamunyinyi and his Tongaren counterpart Eseli Simiyu on Tuesday morning filed a notification of the party's change of leadership at Ms Nderitu's office. Nderitu said the office had received all the documents and would make a decision on the legitimate leadership in two days. "We will go through the documents deposited by both parties and will communicate to them in two to three days," Nderitu said.
SEE ALSO: ANC offices in Kakamega burnt down
Soon after they were done, embattled party leader and Bungoma Senator Moses Wetangu'la's lieutenants led by another acting Secretary General Chris Wamalwa (Kiminini) presented another set of documents notifying the registrar of the changes Ford Kenya party had made. Both Wamunyinyi's stalwarts and Wetangula's loyalists contend that they followed the laid down procedures in conformity with Political Parties Act and the party's constitution. Although Wamunyinyi's group retreated to a Nairobi hotel to inform its members of the ongoing activities, Wetang'ula's team was at Simba House, the party's headquarters. Yesterday, each faction was sending threats that those who will not toe the party line would be subjected to a disciplinary process. "If the former party leader continues to misbehave the way he is going about it, we will not hesitate to institute disciplinary action against him. I don't know what the disciplinary team will conclude but such a process is legal," Eseli said.